Thursday, December 17, 2015
7.4.0 beta: It's like a whole new backoffice
What's the first thing you need to do in a blank, fresh Umbraco install that still has that nice new car smell? Indeed: you go into on of the earliest and oldest parts of the system that.. let's say it needed some love.
We're sure you will miss the days where you create a new document type, then have to go the the tab called "Tabs" (the last tab), add a tab, then go to "Generic properties" (whatever that may mean) and add a property and then go to structure and be super careful to pick "allowed child ndoe types" instead of "document type compositions". Or you misclicked and selected allowed templates where you actually meant to pick allowed child node types..
You'll miss it. Like a sore thumb.
Document type editor
In February this year we invited a bunch of people to the Umbraco HQ in Odense to help us figure out what the future of the document type editor should look like. Based the ideas formed there we made a prototype which we tested with some more great people in the summer. And today we're finally ready to have you take the "end result" for a spin. That's in quotes as we'll obviously keep refining this based on your feedback.
It's hard to convey in words how much easier it is now to edit document types, so here's a video that can give you an idea of all of the new goodness, but really you HAVE to try it for yourself.
Did you notice that there's now folders, to organize your document types without having to make fake inherited document types?
The Grid
In a previous blog post we talked about the valuable feedback we've been getting about the grid and took in that feedback to greatly improve the user experience. No longer do you have to hover over everything to get a sense of what's going on. You click to interact with everything now, which also means that you can now use the grid with your tablet as well.
Again, it's WAY better when you actually try it yourself, but here's a quick video to give you an impression of what it's like.
As you can see you can now easily pick up whole rows and start dragging it to change the row order. There's also the "Reorder" button at the top which collapses all content so you can more easily reorder between many rows and columns.
Media section
But wait, there's more! The media section has also been given a big overhaul and there's now different ways to view the media library; using thumbnails or using a list view.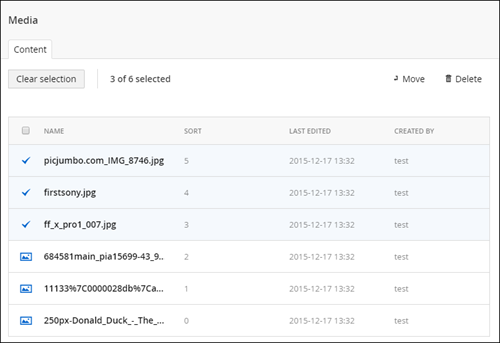 And if that wasn't enough, in both views you now have new media management capabilities: the "move" and "delete" buttons at the top. No longer do you have to move items one by one: oh happy day!
Other
The whole user experience of the backoffice has been given polish to make UI elements more consistent and predictable. You'll also be happy to learn that the "change password" dashboard has moved into the user dialog, where it belongs.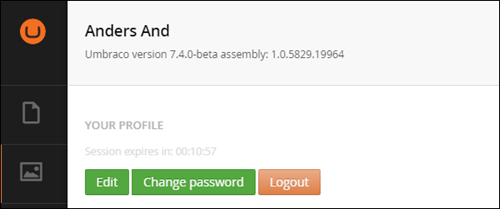 Get it now
Why are you still reading this? Go download and install the beta (also available on NuGet)! We're happy for any feedback you can provide, make sure to put any bugs you find in the issue tracker.
Working with this release really feels like you're working with a whole new backoffice one that's designed with the users in mind. We think you'll be just as excited as we are and are very much looking forward to your feedback!