Monday, July 4, 2016
A first-timers impressions of Codegarden
By Dennis Adolfi, Webmind Sweden
It's been just over two weeks since Codegarden 2016 and life is gradually returning to normal after such an inspirational and entertaining week. It also means I've now had a chance to collect all that information and all of those memories swimming about in my head, making it the perfect time to recap this experience.
It was my first visit to Codegarden and expectations were very high. As I have already mentioned, I hoped to be filled with renewed inspiration and get even more motivated to build even better applications with Umbraco, while also meeting a whole bunch of interesting, friendly people with similar interests. And looking back I can honestly say that not only were my hopes met, but Codegarden exceeded all of my expectations. Here's a recap of my Codegarden 2016.
Warmup Party
On Tuesday the 14th of June, me and my two colleagues, Jens Josefsson and Robert Möllefors, got in a rental car and set sails for Odense, Denmark. Once there, slightly stressed by the traffic, we literally had to run straight to Umbraco HQ for their Codegarden Warmup Party. Once we got there we got the grand tour around HQ by Niels Hartvig, had some drinks, met a lot of interesting people and at the end of the day we all felt like we´d got an extra Codegarden day, made new friends and gained even more insight´s about the Umbraco project. Also being the beer freak that I am, I particularly appreciated this year's Beer Pull Requests initiative, and I hope this becomes a tradition.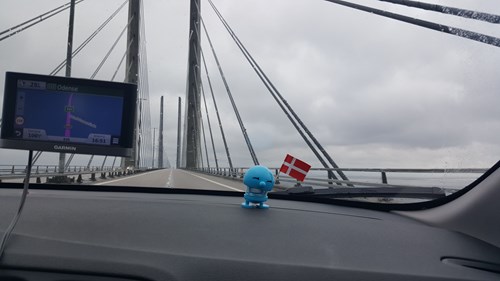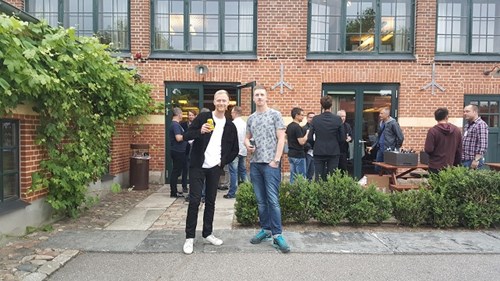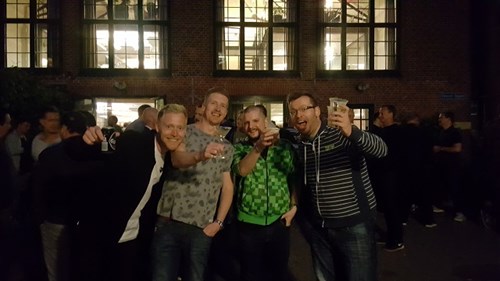 Day 1
My first day at Codegarden. It began with Douglas Robar welcoming everyone with the customary Level 5 Good Morning, which involves everybody standing up and greeting one or more new faces around them using some form of physical contact, such as a handshake or a high five. After which Niels Hartvig was introduced on stage for his keynote speech, which also included announcing this year's MVP´s, that I was extremely proud and honoured to be part of. A huge thank you to Umbraco for this awesome award.
We got to hear all sorts of interesting statistics about Umbraco and Umbraco as a Service, as well as quite a few predictions for Umbraco 8. After which it was full steam ahead for the rest of the day; loads of interesting sessions, socialising and workshops, all together with great coffee and delicious food. All of the sessions we attended were extremely interesting and very informative. It was particularly exciting to see our client, Christian Hoffman from Lambrettawatches.com, come all the way to Odense to talk about why they chose Webmind, Umbraco and uCommerce for their new online store. A huge thanks to Christian for doing this. Personally I also found it particularly useful getting hands-on experience and an insight into Flexible Load Balancing at the workshop with Jeavon Leopold and his crew, something that I believe, and hope, we will have a lot of use for in future projects. The day was wrapped up with an insight into "The future for Umbraco Core" with HQ's Shannon Deminick, followed by dinner and an after party for everyone held at local bar.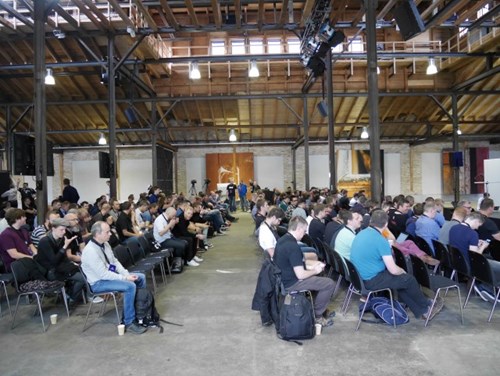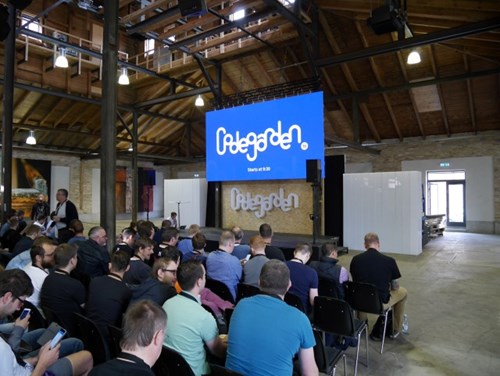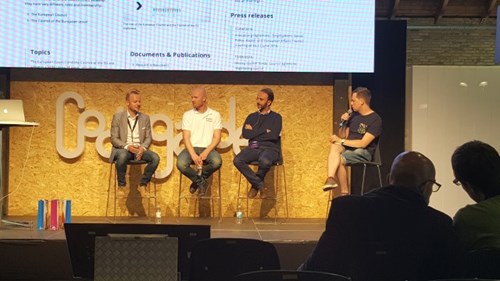 Day 2
We went on separate ways on the second day, following our different interests. Robert and I focused on the sessions that were aimed primarily at developers, for example, Umbraco + Firebase, Migrating mom to UaaS, Extreme Property Editors and Tour de Backoffice. Whereas Jens, my boss, focused on sessions that could be more interesting from a sales perspective, for example, Personalisation, Life as an eCommerce Shop Owner and Komplett Group. Robert and I also managed to attend the workshop about Umbraco as a Service, which was very useful.
We had a great time and despite our different interests and specialisations, we were all able to find stimulating sessions to keep us occupied the entire day. Finding interesting sessions wasn't the problem. Quite the opposite. There were so many intriguing simultaneous sessions that it was hard to decide which one to attend. My only negative is that if you´re attending a workshop, you miss quite a few sessions. Luckily though, most of the sessions where recorded and can be found online.
Dinner & Bingo
Then came the legendary Umbraco Bingo and the best sushi I've ever had. Because it´s "what happens at Umbraco Bingo, stays at Umbraco Bingo", I'm not going to elaborate on everything that happened on this event. But safe to say, it was as crazy as I'd anticipated and a dinner I'm unlikely to forget. The evening progressed with a long and enjoyable after party, with further opportunities for mingling and establishing new contacts. I met a lot of great people that evening, from both the Umbraco community and from HQ. Many thanks for a great evening.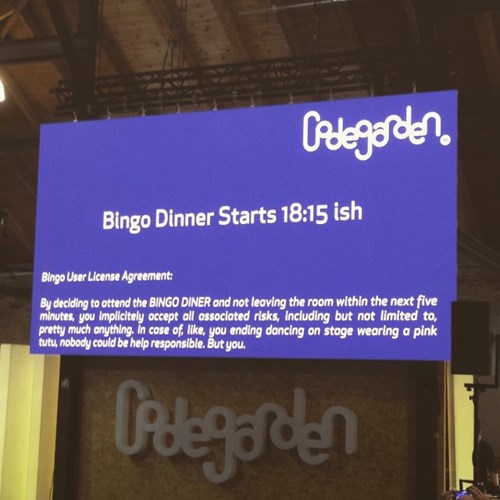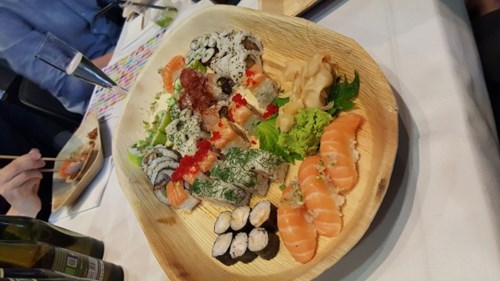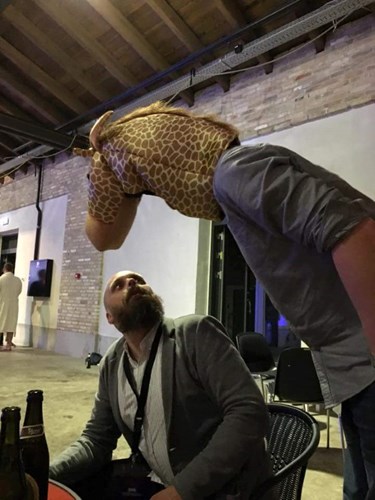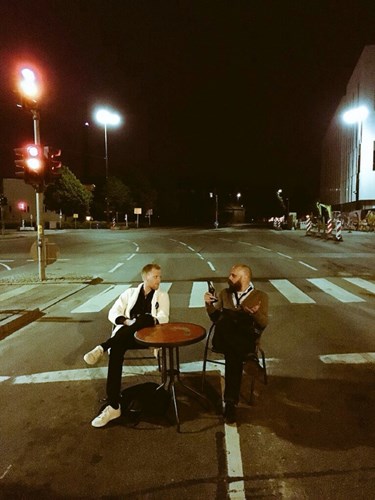 Day 3
We were a little in the dark about the third and final day, as we weren't familiar with the term "open space sessions" until then. It's a really fun set-up that basically involves anyone at all picking a topic they'd like to discuss in more detail within a group, and then everyone else picking one of those topics and joining that group. There are no selected speakers in these groups, instead everyone is free to discuss that topic and ask each other questions. By the end of the hour, you will have gained an insight into other people's perspectives while hopefully having learnt a load of new stuff. I really liked this set-up and was actually slightly surprised by the level of involvement in these groups. It's always interesting to get a glimpse on other people's point of view, and you can always learn a lot from listening to other people's opinions and ideas.
Once again Robert and I focused on the technical sessions, while Jens focused on sessions relating to sales/marketing, personalisation and eCommerce. We all attended the session about "How to Improve Codegarden," in which everyone got a chance to share their opinion and say what they liked about this year's Codegarden and how they thought it could be improved. That session felt very typical of Umbraco's distinctively transparent approach and in line with their values about always giving the community a chance to influence, not just the future of Umbraco, but also Codegarden as a conference. Rounding off the entire event were the Package Competition and the Umbraco Awards. It was fun to see all the awesome packages and all the advanced and really beautiful sites built with Umbraco. Awesome job everyone!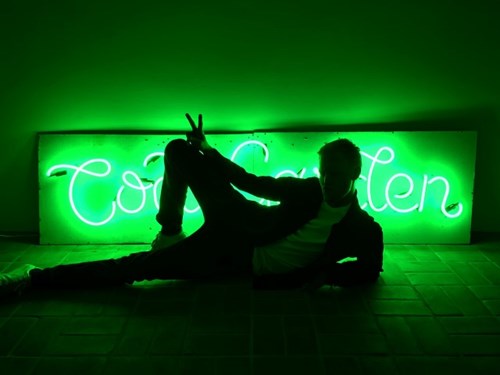 Summary:
So, how do you summarise a conference like this? Was it as rewarding and inspiring as I had hoped? Definitely. Has it enriched me as a developer and can I use what I learnt at Codegarden to build better and more technically advanced applications? Absolutely. Would I recommend Codegarden to anyone thinking about making their Codegarden début? Unquestionably.
This conference really fills you with so much inspiration and when I'm sitting in the car on the way home, I'm already thinking about all the cool new stuff I learned and that I want to use in my next project. It really is nothing like a regular conference, and I'm already looking forward to next year's Codegarden.
Hope to see you there, but until then, take care of each other and have a great year!
Convinced? Want to attend Codegarden 2017? Then get in early for a great deal on early bird tickets and secure your spot now!