Thursday, March 14, 2013
Codegarden session: The 5 best Packages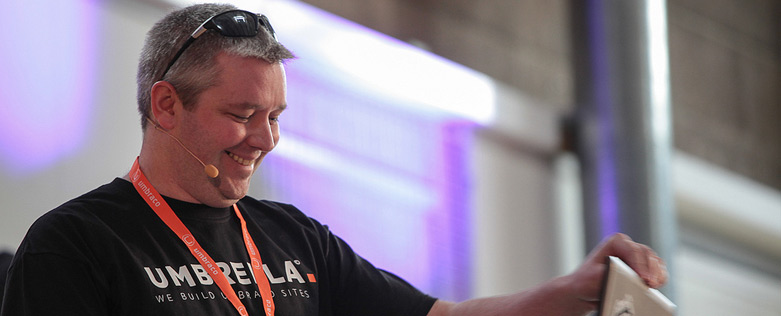 Lee Kelleher, speaking at the Codegarden 2012 Keynote
The 2nd chapter in our series on sessions at this years 3-day Umbraco Codegarden Conference. taking place in Copenhagen, June 12th-14th, early bird tickets are available untill april 1st.
Lee Kelleher is a Director at Umbrella, an Umbraco Certified Partner.
A key figure in the Umbraco community Lee has contributed and developed many packages including the ever popular uComponents project. Voted Umbraco MVP status in 2010 & 2011.
Umbrella have delivered sites for Jaguar, Asthma UK, Mark Boulton Design and Microsoft.
Lee and Umbrella also consult and support various agencies and developers around the UK with their Umbraco projects.
The quick Lee Kelleher intro-speech, where you from, what do you do, packages, etc etc
Hello, I'm Lee Kelleher. I'm from the UK, originally from Liverpool, now based near Bristol. I run a company called Umbrella. Discovered Umbraco back in 2007 and have been building websites with it ever since. I guess many people in the community know me as the "uComponents guy".
Tell me about your session, what will someone being at your session at codegarden learn?
Over the past few years, I've had the fortune to speak at various Umbraco events, which have all been about uComponents... so when considered to speak at this year's CodeGarden, the suggestion was made to talk about "anything, but uComponents"!
Given the number of Umbraco websites that I have built; I will be present my top 5 most useful packages, (not uComponents). This is an ideal opportunity for attendees to discover lesser known packages and functionality, as well as hints & tips to aid their own Umbraco development.
As for what are the 5 packages? You'll have to come to CodeGarden to find out.
What do you look forward to at this years Codegarden?
To me CodeGarden isn't about the technology itself, it is about the people and how a technology can bring like-minded people together through knowledge and sharing. This year will be my 5th time at CodeGarden and every year I look forward to meeting friends (old and new) to learn more about how we use Umbraco.