Wednesday, March 21, 2012
Contour 2.0 Beta
The last couple of months I've been working hard at getting Contour (HQ's official form builder) ready for Umbraco v5. Today we are releasing a beta version that you can install on your Umbraco v5 sites.
What can I do with the beta?
If you've already used Contour it will look almost identical, all the UI bits are in place so you can create forms, attach workflows, view and export entries, use prevalue and datasources and fine tune form security for your backend users. All that from a new section in your Umbraco v5 backend. There's loads of great lessons learned from making it that I can't wait to share and I'm preparing an awesome CodeGarden session about it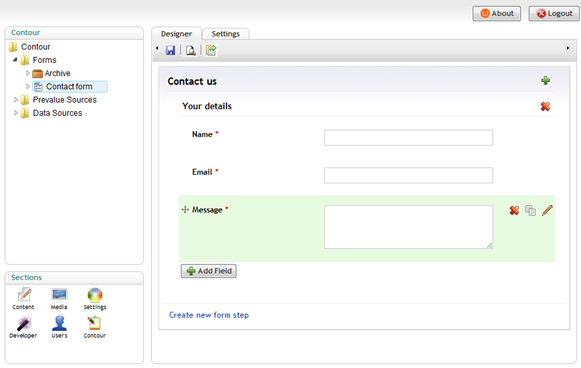 The beta will be fully functional untill 01/04 after that it will go into trial mode and you'll need a valid license (still using the same license model so existing licenses should simply work).
Getting started:
In order to run the Contour beta you'll need to be running an Umbraco v5 5.0.1 build (since Contour relies on some recent fixes), you can get the latest build here: http://nightly.umbraco.org/Jupiter/501/
It just takes a couple of clicks to install Contour and once it's active you can start adding forms to your pages. To see how easy it is check this short intro:
Whats missing?
We're aiming to get all the features you know from the v4 version in the v5 port but currently there are a few bits missing.
Datasource: umbracoNode
Prevaluesource: nodePrevalue
PrevalueSource: umbracoPrevalues
Record editing
Page id missing on record
Place holder parser for umbraco properties
Once these are in place we'll have the final release ready
Report bugs
If you encounter any bugs during your tests it would be a huge help if you report them by going to this page.