Thursday, May 3, 2012
Contour 2.0 is out
After several months of development I'm pleased to announce that Contour 2.0 for Umbraco 5 is out! Contour extends umbraco with a new section that makes creating contact forms, entry forms and questionnaires just as easy as using Word.

Getting started
In order to install Contour 2.0 you'll need to be running Umbraco v5.1 (we are targeting 5.1, 5.0.x isn't supported, newer Umbraco version will be supported obviously).
It just takes a couple of clicks to install Contour and once it's active you can start adding forms to your pages. Simply navigate to developer/packages/local packages , choose the Contour nuget package and follow the installation wizard, once it's installed you should have access to the Contour section. For a detailed installations instructions check the beta video.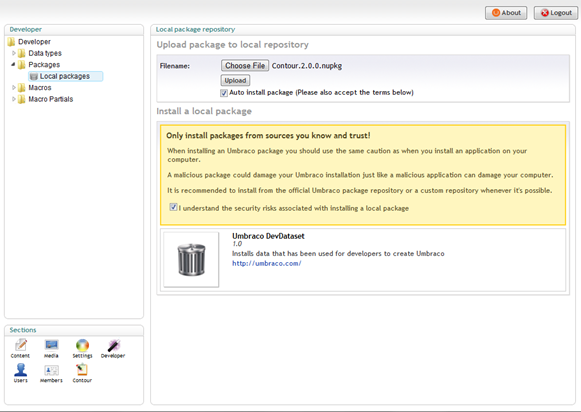 Try before you buy
Contour is a commercial product so after installation it will run in trial mode until you provide a valid license file. There have been no changes in the licensing model compared to the Umbraco v4 version so all existing licenses should just work and new ones can be ordered through the site as usual.
Upgrading
If you are already running the beta or RC build of Contour upgrading is simple, just delete the \App_Plugins\Packages\Contour directory and install the release through the Umbraco UI, all your forms and entries will still be available after upgrading.
Download
Contour 2.0 is available from it's project page on http//our.umbraco.org (including new developer documentation)