Friday, November 9, 2012
Contour 3.0 Features: Easier to work with lots of forms
Final post in the Contour 3.0 feature series. These 2 last add-ons are aimed at installs with a large amount of forms.
Structure forms
By using a little convention in the form name (using a slash) you can create folders to house your forms in.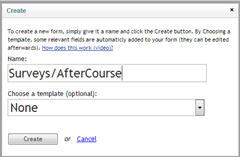 Small but useful feature if you are dealing with a big collection of forms.
Default form settings
It's now also possible to save form settings and apply them on all future forms, with the addition of a new button in the form settings toolbar. This should be a time saver when dealing with multiple forms.