Friday, November 9, 2012
Getting started with Contour 3.0 Beta
So now you know about all the new stuff coming up in Contour 3.0 (code first, conditional logic, full markup control, easier to work with lots of forms) and wanna give the beta a try. Here's a quick guide to get you going:
Download the package
You can get the beta package from the build server http://nightly.umbraco.org/Umbraco%20Contour/3.0%20WIP/
Install the Beta
Go to the developer section > Packages > Install local package and follow the installation wizard

Design forms
Go to the new Contour section and start designing your forms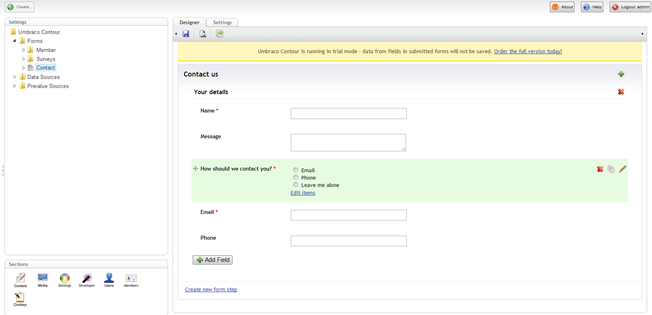 Add script references
The new razor form render needs jQuery, jQueryUI, jQuery validate and jQuery validate unobstrusive. So you'll need to add those to the head section of your template/view
 <script src="http://ajax.aspnetcdn.com/ajax/jQuery/jquery-1.8.2.min.js" type="text/javascript"></script> <script src="http://ajax.aspnetcdn.com/ajax/jquery.ui/1.8.22/jquery-ui.js"></script> <script src="http://ajax.aspnetcdn.com/ajax/jquery.validate/1.10.0/jquery.validate.min.js" type="text/javascript"></script> <script src="http://ajax.aspnetcdn.com/ajax/mvc/3.0/jquery.validate.unobtrusive.min.js" type="text/javascript"></script> 
Add the form to your page
Use the insert macro button the insert the contour form macro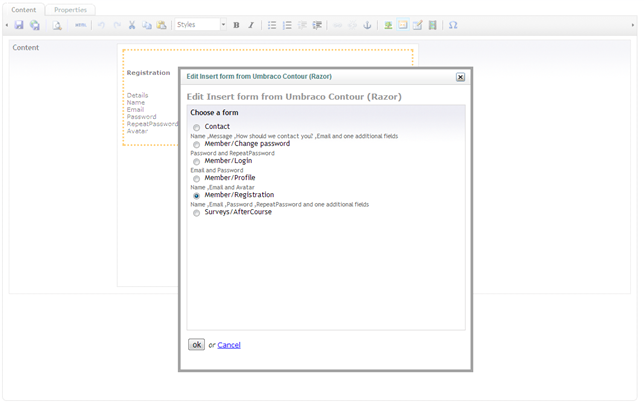 Report bugs
If you find any bugs please report them on the public issue tracker found at http://issues.umbraco.org/issues/CON
Enjoy!