Monday, June 3, 2013
Lotte Pitcher: Lessons learned from first time at CodeGarden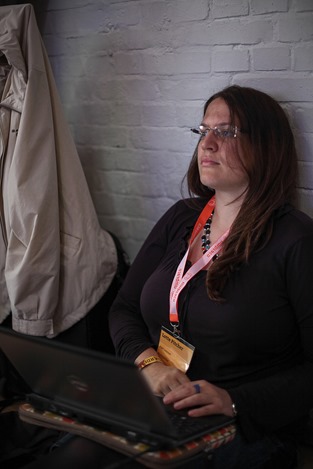 Last week we heard Lee Kelleher share his experiences from being at four CodeGardens before. This time, it's a bit different. I asked Lotte Pitcher who was at CodeGarden for the first time last year, the exact same questions.
Who are you and why is Umbraco and CodeGarden relevant to you?
I run PAM Internet, a small web development company in London. We develop with ASP.Net, SharePoint and, of course, Umbraco.
We discovered Umbraco 18 months ago, and wish it had been earlier. Technically, it was such an obvious fit for our years of .Net experience. It is now, definitely, our preferred framework to use to build public facing websites.
At CG13 I expect to learn, and to be inspired. As a small business owner, I find it hard to make much time for either normally. At CodeGarden there are the obvious things, such as hearing about packages I was unaware of, and seeing what the HQ is up to. But I also really enjoy the opportunity to see how other developers work, and what tools they use.
What's your best memory from previous CodeGardens?
The boat trip at the end of the first day of CG12.
Last year was my first CodeGarden, and I went on my own knowing only one other person (Darren Ferguson who had done my level 2 training course). Having only used Umbraco for about 6 months I was a bit daunted by spending 3 days with Umbraco-geniuses. I'd been to a couple of Microsoft conferences previously and, whilst very educational, found them soulless and impersonal.
It was on the boat trip that I realised just how different this 'conference' was. These weren't ubergeeks – but a bunch of fun, friendly and interesting people who happened to do a similar thing to me. This was a community I wanted to be part of!
If this was your first CodeGarden, what's your top three list of tips you'd wish someone had told you?
Tell your office to manage things as though you are on holiday. Chatting in the breaks and the evening to other Umbracians is just as important as attending the sessions (if not more). You will be missing out if you are back in the hotel on your laptop as soon as the formal sessions finish.
Make a note of the people who have helped you out: whether with a package, on the forums or who post useful stuff on Twitter. Seek them out, say hello, and offer to buy them a beer to say thank you.
Get plenty of sleep beforehand. Seriously!