Friday, November 16, 2012
Most downloaded CMS in 2012
Today the Champagne will flow at the Umbraco HQ Office as we passed an incredible milestone - we're now the most downloaded Web CMS on the Microsoft stack!


Umbraco download stats from 2006 to 2012
Ever since the early days of Umbraco, we've seen a steady growth in downloads (and obviously installs) and while the priority always have been around making an awesome product and fostering a friendly community, it does feel incredibly motivating that you can climb to the top with those values in place.
The math
Of course stats are a grateful thing and it's said that it's easy to bend them to whatever conclusion you want to achieve. So here's the math: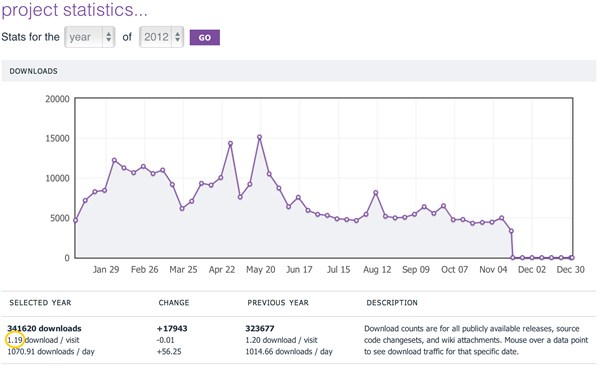 Umbraco download stats from 2012 - yellow circle shows ratio of download / visit
Our source is download numbers at Microsofts website for open source projects called "Codeplex".
When you browse projects on Codeplex you can see statistics if you append /stats to the url - for instance, here's the stats for Umbraco.
We looked at download stats for the year of 2012, but as Codeplex tracks any download - whether it's the product, documentation, starter kit, etc - we had to clean the numbers based on downloads per visit ratio. As in no matter how much you download, at max you download the product once.
So while we'd love the idea that we were downloaded 341,620 times we need to adjust it based on our ratio of 1.19 downloads per visit. So this means that there's been

287,075 downloads of Umbraco in 2012 so far.

Then we did the same exercise with other CMS hosted on Codeplex and started dancing when we saw the results.
More than a quarter of a million downloads in 2012 so far. Time to stop blogging and start popping the cork.
Have a great weekend!