Hi everyone, my name is Bjorn van de Wouw
...and I am the new addition to the Umbraco HQ Suits team. As Umbraco is growing a lot in the Netherlands, it was about time to get a Dutch speaking person on board (well, in the sales team that is). My primary task is to help get in contact with Umbraco interested agencies on the Dutch market but I'll also be working with the existing partner portfolio and help them get a good experience with our products and services.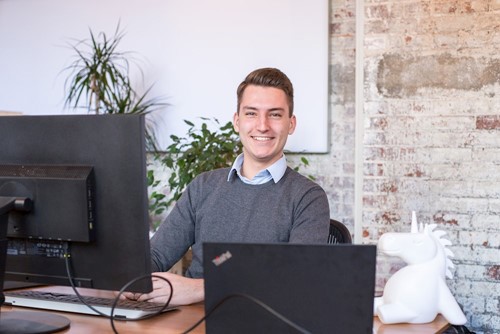 I am excited to start calling my fellow Dutchmen which I have been doing last year as well as an acquisition manager for a large international nonprofit organization. It has taught me a lot but I am curious to see the differences in sales for a totally different product and organization.   
Currently, I am still studying International Business Administration at Tilburg University but I took a gap year to be working for Umbraco.  
Let me tell you about myself
I grew up in a village called Boxtel in the south of the Netherlands. Although it is a lovely place to grow up, I moved to Tilburg after 2 months of being at University.
While this city is known to be one of the ugliest cities of the Netherlands it is a great place to study with a large student ratio and lots of activities. It is no surprise I joined a student organization in my first year already and joined a fraternity of 30 people for whom I have been doing their finance in the past year.   
In 2017 I had one of the best experiences of my life when I went on an exchange to Singapore. I studied at Nanyang Technological University which is ranked the best university in the world under fifty years of age. It is no surprise that I am currently doing an internship abroad as in Asia I gained a passion for traveling.
The people and courses were interesting but traveling made me want to see even more of the world and meet new people. This is one of the reasons Umbraco will be a great company to work for as I will be speaking to people from lots of different countries and backgrounds.   
During my exchange, I applied for a board year in the Netherlands for AIESEC for when I would return. I was lucky enough to be chosen to be part of a group of 30 students who serviced voluntary projects as well as professional internships.
With a team of 11 people, we were responsible for the incoming trainees and my task was to find companies in the south of the Netherlands where we could place the internationals. This is where I gained my first experience and love for sales and was meeting even more people from abroad. 
I have been quite busy the past years, yet I have still been able to find the time to go out and have a beer (or 20 😉) with friends and go to almost every student party I was able to find. Let's just say that this was good for my social skills and not dive too deep into specifics 😅
The best nights though were often the ones at home with a board game and a beer. However, I would always play with the conviction that winning is more important than participating, so I am not claiming it was always fun for everyone 😉 
So far, the first days in Umbraco have been great. The vibe at the office is very nice (even with all the unicorns) and my team consists of 4 great people witch I am excited to work with for the coming months. I am convinced that I will learn a tremendous amount and gain a life experience I will never forget.