Helle at Umbraco
Hi there, my name is Helle and I'm the newest Partner Friend Maker at Umbraco HQ and has teamed up with the rest of "The Suits". This means that I'll help build even stronger relationships with our current partners and onboarding new ones into our amazing partner programs.
So far I've already talked to quite a few of our different Umbraco partners and it has been a true pleasure. I've already experienced so much positive feedback and enthusiasm about Umbraco 😍
Who is Helle?
I'm from Odense and have lived here most of my life – besides from one year in the US and eight years in Copenhagen. I have two kids, Mads (7) and Julie (9), in an arrangement I tend to call "Mom-weeks" and "Helle-weeks" (more on that later 😉).

I'm 40 years old and I've been working with sales and marketing for 16 years and started my career at Dell Computer back in 2003 after graduating from Copenhagen Business School with a Graduate Diploma in Marketing Management. I don't want to bore you with my entire resume, but I've mainly been working with tech-products throughout the years.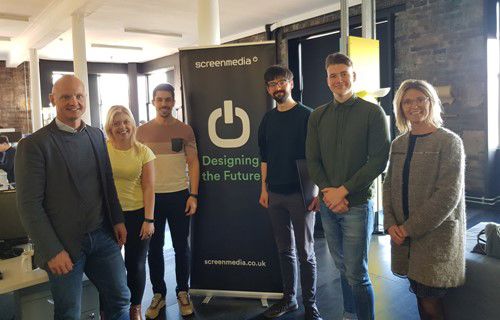 What I do when I'm not at Umbraco HQ
Now back to the "Mom-weeks" and "Helle-weeks" 😉
Let's start with the Mom-weeks:
When I have my kids they're my no. 1 priority. The days consist of school, homework, friends, a LOT of soccer practice, going to climbing and skater parks, bike rides or just eating a big ice cream at this little place in Odense called "skovsøen". I really enjoy spending time with them and they challenge me every day - in many ways 💚
Helle-weeks are slightly different. Quiet mornings with a good cup of coffee and maybe an early morning run. I've been into sports all my life and despite my height, I played on the national youth team in volleyball.
Nowadays, it's mainly running (marathon, trail etc.) but I'm always up for a challenge whether it's a bike ride from Copenhagen to Odense, a 55K long trial run in the woods in Silkeborg, a silly obstacle race or learning how to solve the rubix cube. So ask me if I want to climb Kilimanjaro with you and I'm in!
When I'm not "running around" I enjoy hanging out with my lovely friends, going to the movies, cafés, wine bars or just having a quiet evening by myself. My favorite season is spring and I can't get enough of green plants & flowers 🌺
And like everybody else (I guess), I love to travel and experience foreign cultures. But to be honest, the recent years I've mostly traveled to beaches, pools and snowy mountains 😊
And now I'm also part of Umbraco HQ and I can't wait to get to know all of you and meet the community and partners from all over the world. Also, I'm really excited to attend my first Codegarden next week.
Maybe I'll see some of you there 😊