Hey, I'm Marek,
...and I'm the new CCC; Creative Campaign Creator of the COMA team (Communication and Online Marketing Astronauts). My job here at Umbraco HQ is to create content that delivers the information you are looking for, in a way that you enjoy reading it 🤓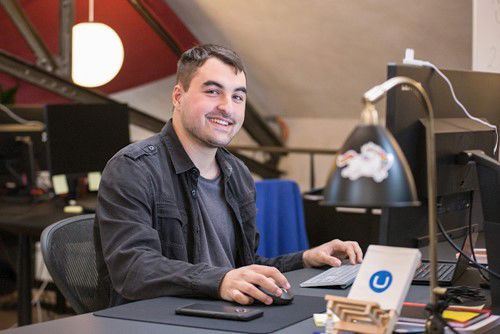 When a tree falls in the woods, how do people know if they want a coffee table out of it? (Don't quote me on that, but I am fairly sure that's how it went) 🌲
At Umbraco, we make a lot of cool stuff.
And we would like you to know about all this cool stuff we make.
That's where I come in.
My day to day consists mainly of copywriting for blog posts and campaigns, laying out content in a way that makes sense and some light design and editing.
This way, I help make sure that all our marketing campaigns are up and running, while also making them easy on the eyes.
So, who am I?
I'm a 23-year-old multimedia and innovation student, originally from the heart of Slovakia, but I've been living in Denmark for the last 3,5 years and I don't plan on leaving anytime soon.
When it comes to skills, I'm a jack of all trades if there ever was one: I was about 12 when I started making game videos in Adobe After Effects.
When that got boring, I started designing and printing my shirts and hoodies, which to my surprise later turned out to be a skill that people look for. Turns out when you add some witty writing into that mix, you can call yourself a marketer.
After moving to Denmark, I discovered the world of SaaS and startups, eventually designing and marketing my way all the way to Umbraco HQ.
How about some more unconventional skills? 
Despite what the glasses (which I'm not wearing in the picture) would have you believe, I'm a really good shot, with a few medals to prove it. Rifle, bow, potato cannon, paintball gun, X-Box controller, you name it. 
On the other side of the spectrum, I am abnormally good at making animals out of balloons. Sadly the opportunities for doing that are not as common as that online clown college had me believe 🤡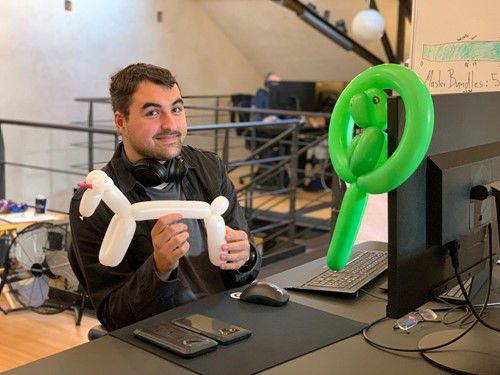 Where am I, when I'm not at work?
My natural habitat is the attic of our lovely little house in Odense SØ, where I can be found glued to a beanbag chair, reading something that will hopefully make my future content sound clever. I also play more PC games than I like to admit, and I enjoy playing Airsoft/Paintball whenever I get the chance. 
And that was it for this time! 😄 
So next time you see an ad or a post from Umbraco with something interesting, it's possible my doing 🤭