Hi everyone!
My name is Rasmus and I'm the newest member of Team Headless at Umbraco HQ. 
I've been with Umbraco for some time now and I really enjoy it here. Everyone has been very welcoming and friendly.
Some of the things I've been working on so far for Headless has been CDN setup for media, updating Headless to Umbraco 8 and adding support for authenticating with API keys (you can see its preview of in the latest product update blog post).
Right now we are working on getting Umbraco Headless ready for the launch later this year, which I'm looking forward to and I can't wait to see what y'all are going to build with it!
In the future, we'll, among other things, be looking into how we can support custom property editors, how we can get previews to work in a nice way and how we can utilize GraphQL.
About me 
My interest in computers started at the age of 6 when my parents got me a Commodore 64 for Christmas. In the beginning, I played games on it, but it didn't take long before I figured out it could do more. After that, I started writing programs from the manual in BASIC. 
When I was 12, we got our first PC and - when we got internet (56k) shortly after - I quickly found the "View source" feature in Internet Explorer and started to learn and code HTML and JavaScript. 
When framesets and tables got too boring, I found ASP and VBScript, and it opened up a whole new world to me. Suddenly you could run code on a server as well as store and retrieve data in an Access database! One of my first projects was for our Counter Strike Clan. It included a website that had a news section, a forum and integrations with the Counter Strike server. The website had a section which showed the current map, score, and online players, and it also had a history of the players' score. 
In 2005 when ASP.NET 2.0 was in beta I thought, "Now it's the time to learn C#" and I ordered the Visual Studio 2005 Beta on DVD.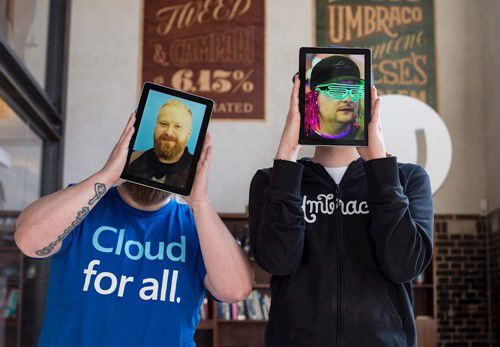 Umbraco and me 
It was also around this time that I found Umbraco for the first time on Codeplex, and I built a website for a local sports club on version 4 with Web Forms and XSLT. I later upgraded it to v6 without any problems which, at the time, really amazed me. 
Besides those instances, I only helped implement and optimise a couple of Umbraco sites (on version 4 and 6) for the next couple of years meaning my Umbraco journey really started with Umbraco version 7.
The story starts like this: I remember that we were going to implement a new Umbraco site for a client just around when Umbraco 7 was released. My project managers were sceptical about using version 7 because we needed the Multi Url Picker from uComponents, and they were convinced that it wasn't very easy to extend Umbraco 7. I went home and thought that it couldn't be that hard, and the next day I'd already released the Multi Url Picker for Umbraco 7.
It became such a popular package that it's been a part of the Core since 7.14 and 8.0.
And me in my spare time...
I still do Umbraco stuff, but when I don't, I mostly spend my time watching Twitch or playing video games. I mostly play on my Nintendo Switch or on my PlayStation 4 and it's usually adventure games and platformers. 
I also like going to flea markets where I mostly look for video game consoles and games. Unfortunately, they're hard to find in Denmark so I usually come home empty-handed. 
When I'm not playing games I enjoy watching TV shows or movies: mostly SCI-FI and horror. My favourite SCI-FI movie is Stargate and Stargate SG-1 is my favourite series. I also really like John Carpenter and I'm a huge fan of his Halloween series.
And that was all I had to share with you about me and my Umbraco journey! 
Until next time 😉