Monday, May 17, 2010
The Codegarden 2010 program is ready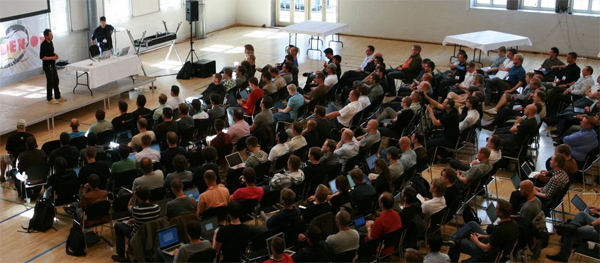 It is with much joy I can lift some of the covers on what is going to happen at this year's Codegarden, the annual Umbraco conference.
This year has our most ambitious program to date. The quality of this year's sessions are incredible, we have been fortunate enough to get some of the most experienced umbraco developers to share their knowledge and experiences.
Today we're announcing the overall conference format, with the pre-conference, the 3 tracks of umbraco sessions, and the open space format. As we get closer to Codegarden, we will share even more details and background on the different sessions as they get announced.
Learn asp.net MVC from 3 of the most experienced MVC developers around. Simone Chiaretta (ASP.NET MVP, ASPInsider and author of Beginning ASP.NET MVC on Wrox) , Jon Galloway (Microsoft) and Steven Sanderson (Microsoft MVP, author of "Pro ASP.NET Mvc) will host MVC bootcamps to get you up to speed on the new technical foundation for future versions of Umbraco.
View the details on the MVC bootcamp
This year we will have 3 tracks, covering umbraco from all angles, with sessions on all levels, from beginner to ninja. There will be something for everyone.
Track: From 0 to 100
From 0 to 100 covers specific topics indepth and gets you up to speed in just 45 minutes, with a focus on giving attendees the tools and knowledge to start using and taking advantage of the subjects covered right away.
Track: What we've learned
What we've learned are sessions on the many nuggets of knowledge you gain while implementing Umbraco solutions. Get the insider tips from some of biggest and most experienced Umbraco developers out there, sharing cases and solutions to development challenges.
Track: Integrations
Ever wondered how you connect Umbraco to your ERP, CRM, twitter, facebook or any other application or service? The Integrations track is all about building Umbraco solutions that use 3rd party services and applications.
View all the currently announced sessions
If you are not satisfied with the sessions offered on the 3 tracks, you can suggest your own topic for the conference open space, that invites anyone to suggest or take part in any umbraco-topic.
Go suggest a topic right now to get it on the conference agenda. Unlike the previous years, all open space sessions will be set before the conference, so hurry and suggest a topic now, and vote for those you want to see included in the program.
Remember: Discount ending on June 1st
If you order your codegarden ticket before June 1st, you will save 100€ on your conference ticket, so make sure to order your ticket today.