Tuesday, August 11, 2015
uHangout - Why How and When
Kris chats to Warren Buckley about the uHangout weekly podcast, another way you can contribute to and learn from the talent that lies within the Umbraco community. Be sure to tune in at http://uhangout.co.uk/ Fridays at 1pm BST.
What was the inspiration behind starting uHangout?
The uHangout podcast has been a personal project of mine for 2 ½ years where I talk with members of the Umbraco community about their work - from demoing a great new package or idea to showcasing websites built using Umbraco.
As a veteran of the Umbraco community I have seen it grow and blossom at an amazing speed. The number of community packages has grown from maybe one or two a month, to what is now maybe three to four every week. With this massive growth I found it hard to keep up with the packages the community had made and to find the time to try them out. As the our.umbraco.com homepage shows the latest five packages, it does not take long for the package to drop off this list and perhaps get lost and forgotten about. So I decided to take it upon myself to experiment with Google Hangouts on Air to talk to the Umbraco community to help us learn and discover the great packages, content and code from the wider community that may have become harder to find than before.
I am very passionate about the Umbraco community and would say I am evangelist of the product, ever since I discovered it around nine years or so ago. The Umbraco community (or my second family as I like to refer to it), are such a friendly bunch and very passionate about sharing their ideas with us all so we can all learn and grow as one big happy family!
Who was your first guest?
My very first guest to the uHangout project was Jon Humphrey a developer in the Umbraco community who was showcasing a website implementation that he was working on. At the time I don't think I realised what this show and tell format show would later grow to be.
How do you select your guests?
It's mostly me reaching out to members in the community to see if they would be happy to come and join me to demo their latest package or project, in addition to that I occasionally put out requests for speakers. There is no vetting and allows anyone in the community to come forward. This works well as it makes for a more interesting demo or show where I can interject with questions and make it far more engaging rather than a very conventional presentation style.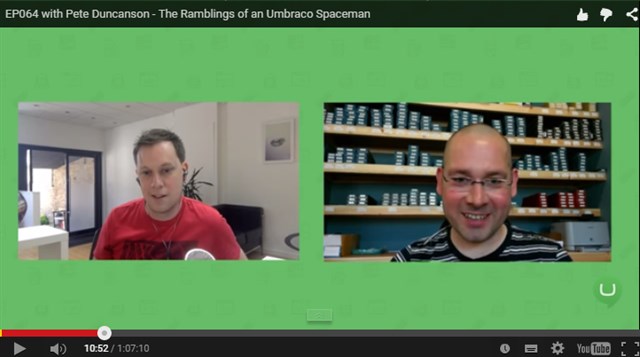 Do you get a lot of interest from speakers?
This is a hard one, I am not flooded by requests of people wanting to come and speak. As a community we seem to be very busy, working on projects for our clients. Hence I try to reach out to people to see if they are willing to come on and talk and try and find a time and date that suits them. This is probably the hardest part about uHangout, organising speakers and setting dates. So if you are reading this and ever have something you want to demo then get in touch with me please!!
How has the response in the community been to uHangout?
I would like to think the community has responded well to the project though I think it is still a bit hidden from the wider Umbraco community, rather than the small subset of the Umbraco community who use or follow the #umbraco hashtag as this is currently the main way I promote the project.
But the people who are aware of the project have been fantastic in supporting me and the project. I have recently really felt the love and compassion as after two years of doing uHangout I wanted to add some professionalism to the show and I needed a piece of software called WireCast to help with improving production quality. I was unable to afford it so I plucked up the courage and wrote a pitch for an IndieGoGo campaign to ask the community to help me with my idea. I set a realistic expectation in my head that I may only get 15% of the funds needed and that I would need to fund the rest myself, and I was very happy with that. I was blown away when the Umbraco community came into full force and the campaign goal was reached within about four hours. The generosity from the community and kind messages that went with it helps reassure me that what I am doing is a good idea.
What do you hope to see as the future of uHangout?
I would like to see it grow and evolve like any project but for me I did a recent talk with Pete Duncanson on the show in a different format and rather than a demo we just had a good ole chat about the Web industry, Umbraco and more. So people were able to tune in and not have to watch the video unless they really wanted to see me and Pete's lovely faces, but this was more of a traditional podcast format. This went down well as it has become the 2nd most popular video within 48 hours reaching just under 1000 views so this is something I would like to potentially pursue further.
What has been the most surprising or inspiring Hangout you've recorded?
Well there has been plenty of fun, surprising and inspiring Hangouts but one that stands out for me was the AMA (Ask Me Anything), or in this case Ask Us Anything style with the entire Umbraco HQ team whilst they were on their company retreat. The questions from the community were great and the HQ are always fun to chat to even when they are dressed up in tweed ;)