Monday, June 13, 2016
Umbraco 7.5 beta out now
Today we're proud to introduce you to Umbraco 7.5.0 beta, which aims to make you a better Umbraco developer, without any effort on your part! We're calling this beauty "The Community Exploration Compilation".
If you've always wanted to level up as an Umbraco developer then this is your chance, this new release of Umbraco comes packed with all kind of handy tools for you to make your sites better in an instant. We're introducing the following new features in Umbraco 7.5.
Health check dashboard
We all know Umbraco is infinitely configurable and there's plenty of web development shops out there who have long checklists of things to check and correct before going live. We're bringing back a feature we had in v6 and earlier and named it: health check. This dashboard in the developer section of Umbraco gives you a quick overview of the number of things that are great in your site and the number of things that could do with some improvement.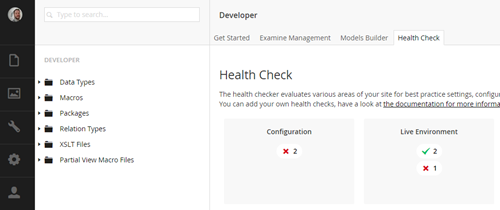 But don't worry about the details, we've got your back: we'll fix things automatically for you with the press of a button. Convenient, no need to find and change config files, we help you out.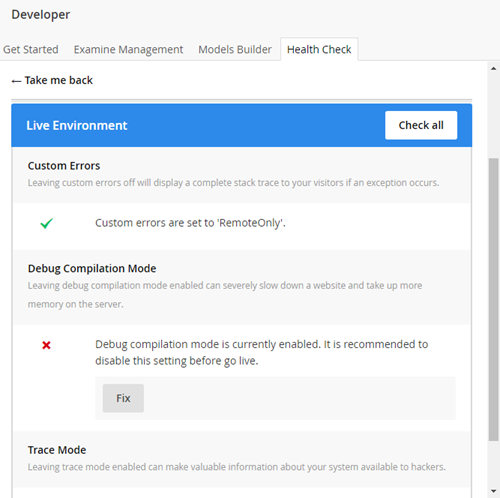 Of course you can write your own health checks to plug into this dashboard as well, making it easy for your team to check if all of the best practices documents are being followed. Extending the health check dashboard is fully documented.
Package installation and packaging updates
The package installer has internally been called "the stoplight" for all the red and orange blocks of color (it's also known as "the giant warning") has not been the most welcoming place to start installing packages. This changes today with a new package search (the search results need to be tweaked some more in the next few weeks):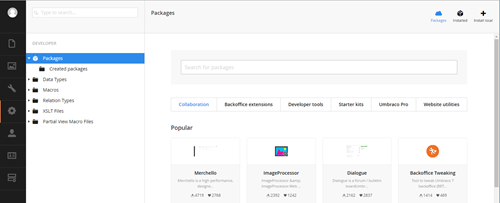 The overview after choosing one of the search results: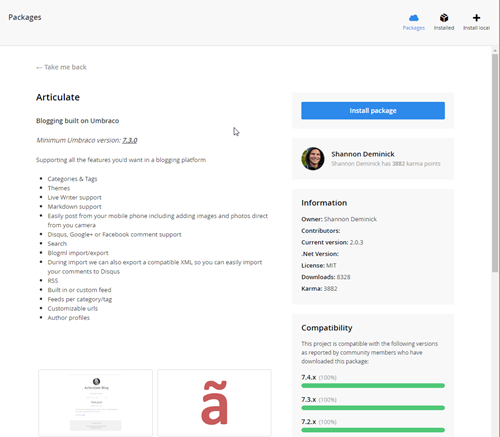 Installing a package is now a matter of either clicking through the search results above and hitting Install, or a friendly drag/drop uploader for local packages.

Also very important to mention is that as of this version you will be able to release packages that require a minimum version of Umbraco to be installed. So when 7.6 comes out you can peg your new package to that version, the package installer will keep you safe from installing packages that are not going to work.
List view: sorting and creating children
Up until now you could only sort on "system" fields in Umbraco like the node name. As of this version it's possible to do sorting on any property you want!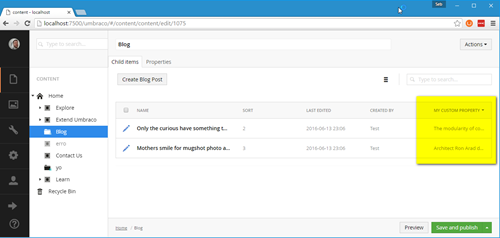 Speaking of the list view: if you only have one allowed document type under the current list view then the "Create" button is no longer a dropdown with 1 option, it will just create a new document of the allowed type.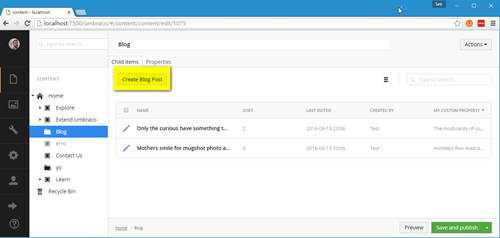 301 redirect management
What happens to the old URL when you rename a page in Umbraco? Yup, you get a lovely 404 error, that old page is nowhere to be found any more. All that Google-juice, all gone. Of course there's lovely packages out there, but why should you need to know about this, it would be much nicer if Umbraco was friendly out of the box. As of this version we will finally do the right thing: send people trying to access the old URL to the new URL. This carries a 301 header saying: hey, this page moved permanently, please update your links (Google!).
Note: If you have existing 301 tracking packages installed, we disable the native feature so as not to conflict with that.
Backoffice password recovery
This should've existed a long time ago. Enough said.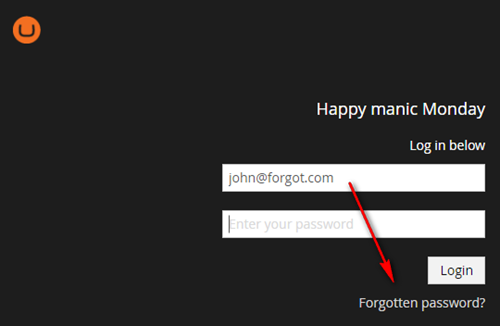 Are you excited yet?
We owe a massive thank you to the community who have helped us out so much with this version of Umbraco, it literally wouldn't have been possible without the help of countless pull requests to help us implement these wonderful new features. Together with you we've explored possibilities, pushed the boundaries and came to great solutions. Great work everybody, thank you so much!
We're super stoked about 7.5.0-beta! It's a solid release with additions all over the place. We've kept the number of breaking changes to 0 so far so it will be a super easy upgrade.
Umbraco 7.5.0-beta is now available for download on Our Umbraco and from NuGet. Let us know what you think!