Wednesday, August 17, 2016
Umbraco 7.5.0 - helpful, faster and easier
We're extremely excited and happy to present Umbraco 7.5.0 today – the Umbraco release that exemplifies our mission to continue to make Umbraco a bit simpler every day. This release sees Umbraco get that little bit more sophisticated, with features that really work WITH you.
What's new? Since the latest 7.4 release we've been getting a lot of wonderful help from the community in bringing some exciting new features to Umbraco.
Redirects
When you change the title of a page, you really want the URL to fit the title right? So if your page was called about then your URL would have been /about. Let's say we change that title to about-us, then the URL changes to /about-us.
So, we now have a problem when people visit /about, but with Redirect this is taken care of. Umbraco automatically creates a redirect from /about to /about-us. Voilá, magic.
Of course, this also works when you move pages to another location in your site!
And to help you out, you get a convenient dashboard to manage the redirects that are created in the developer section. More information is available in the documentation.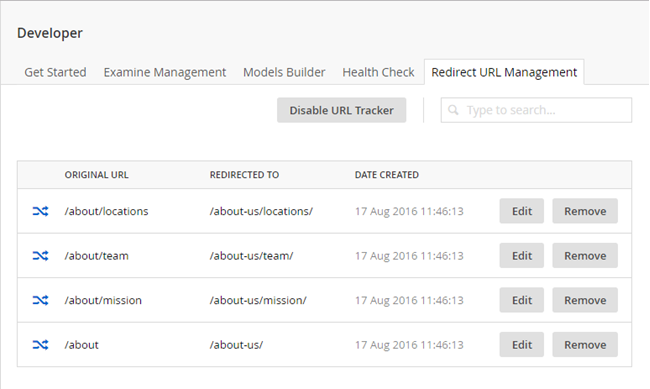 Health Check
Umbraco needs to run on a lot of different environments, operating systems and servers. That flexibility comes at a price: there's now a lot of configuration settings that make Umbraco run better on specific environments or in specific configurations. And who can remember all these settings? Indeed, nobody can! And nor should you have to. We now help you out by offering a health check for your Umbraco install. You get an overview first:
Which you can dig into:

And the best thing about this is that you don't even have to fiddle with configuration files, there's a "Fix" button that will do the hard work for you.
Pro tip: developers can add their own checks to completely customize this dashboard to their specific needs and company guidelines.
Packages
Ever try to find and install a package from the Umbraco backoffice? Did you ever come away.. underwhelmed? That's about to change! The whole package section has been revamped to make browsing and searching a enjoyable experience and to give you all the information you need to see if a package fits your needs and your website.
Package developers can now even require a minimum version of Umbraco so you will not be installing packages that are not compatible with your current Umbraco version.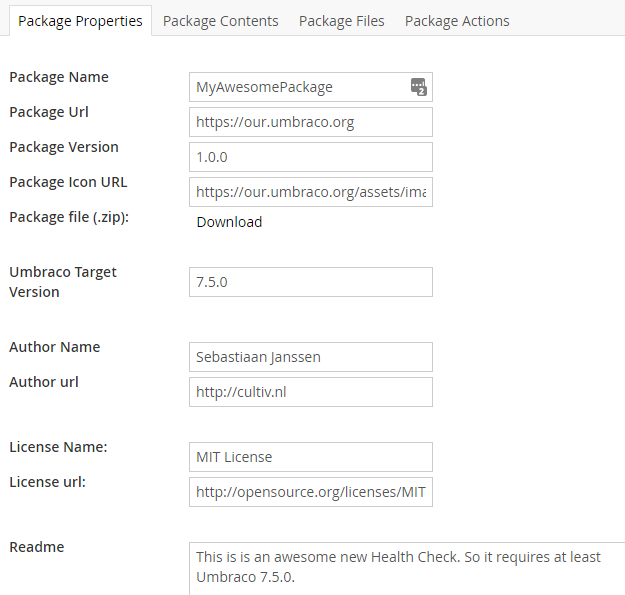 And when you then try to install it in a not-supported version, it will give you a clear message indicating why it will not install: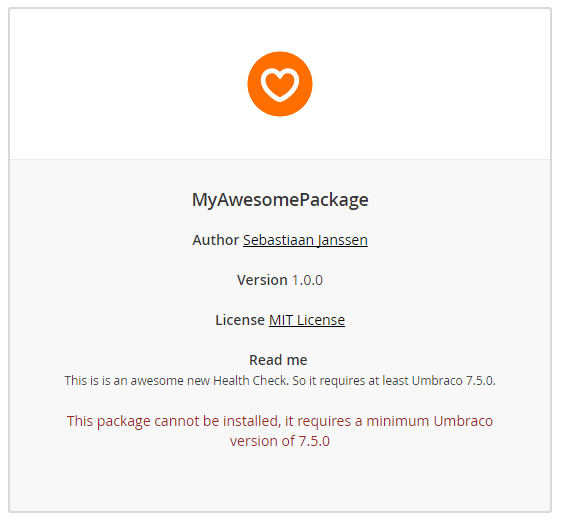 Password recovery
After all these years. Yes, we now are helping you resolve the administrative burden of your editors calling you in blind panic: "It says 'Happy Wonderful Wednesday' but it's not wonderful at all, my password does not work, HELP". From now on they can reset their own password while you are having a quiet and Happy Wonderful Wednesday indeed.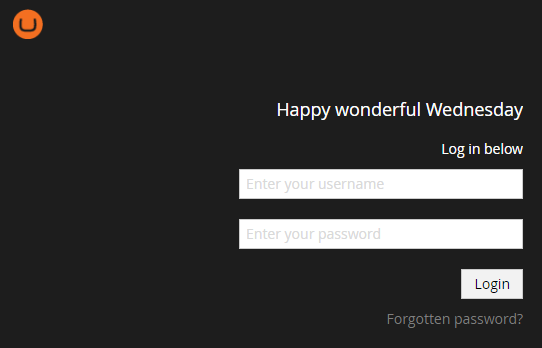 Honorable mentions
There's many other things new in this awesome release. We've seen in our testing over the past few months that you get a free performance boost by upgrading to Umbraco 7.5, memory usage has decreased significantly and response times should be faster.
Have you ever tried to do scheduled publishing on a server that's in a different timezone then where you are? You used to have to remember the server's timezone and calculate the offset manually. No more!

How about ordering list view by custom properties? Sure!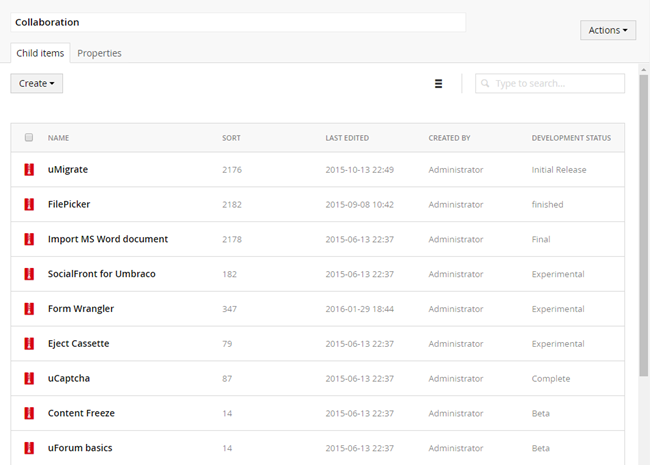 While upgrading, do you need a reminder of what changed between your old version and 7.5.0? No problem:
And then there's a huge list of bug fixes, some large, some small (for example: mario@plumbers-and.pizza can now be created as a member, in older versions the TLD could at most be 4 characters), all lovely to have fixed!
Get it now!
Still reading? You're very patient!
We would like to give a big shout out to all of the people in the community who helped us make this release so awesome! Out of the 171 closed issues for this release, 62 of them were direct contributions by the community, that's over 35%, wow! High five, you ROCK!
New projects on Umbraco as a Service will now be created with version 7.5.0 by default.
If you're still one of those people that likes to download Umbraco and install it manually, you can, as always it's available on Our Umbraco and on NuGet.
We think you'll be very happy with this release, let us know how you feel about it!