Friday, March 16, 2012
Umbraco on Safari
With the release of Umbraco 5 demand for training worldwide is at an all time high and for the first time ever we had an opportunity to open up courses in South Africa. So with bags packed with course books and a boat load of excitement I set off on what would be a big adventure.
After 18 hours of travel I finally arrived in Johannesburg, the biggest city in south Africa. I had been told many horror stories by former South Africans of muggings, hijackings etc so I was somewhat apprehensive about looking like a tourist. Joburg is a massive contrasting place, a mix of 3rd and 1st world separated by security fences and is completely landlocked. The streets are full of people peddling phone chargers, car badges or asking if they can clear the rubbish from your car for a fee. You are always alert and watching out for the insane minibus taxi drivers who follow their own road code (none). After a while however you get used to it.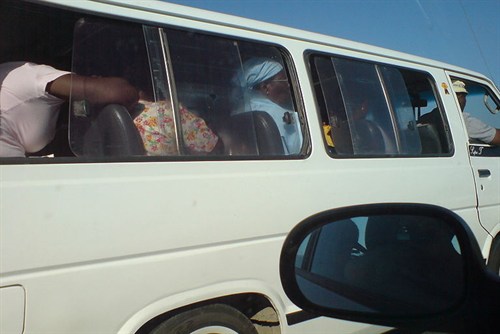 Minibus Taxi (photo from wikipedia because I was too chicken to take one :P)
My first challenge was making my way to the hotel. I had been given instructions to catch the Gautrain, the ultra modern light rail system that was installed during the World Cup, and then the Gaubus to my hotel. However things didn't quite go to plan. The train got me to Sandton, which is the new business district of Joburg. It's the new business district because "the old one has been hijacked by Nigerians" I was later informed. I guess this is where most of our spam originates. On arrival I wandered around the station trying to find the Gaubus. There were loads of buses parked in the station but no drivers. After a searching around for another 15mins a security guard informed me that "the buses do not run today". This is typical of public transport in South Africa. Its next to non existent. So a taxi was my only choice. I had been told to be careful about what kind of taxi to get into and under no circumstances should I get in a minibus taxi. Minibus taxis are somewhat of a game of Russian roulette from what I can tell. Most of them are would not be road legal in most countries and I had heard a story that one driver had been caught driving one with a spanner rather than steering wheel because it took up too much room and without the steering wheel he could fit more passengers. They apparently have also discovered others that have used cardboard for brake pads. The drivers pack in as many people as they can then drive a circuit picking up and dropping off passengers much like a bus. However I couldn't figure out how you tell where they go?. Anyway I managed to find a cab that I figured I could trust. My driver spent the whole time texting while driving well above the speed limit. As we approached our turn a lady in a car behind us did not check her speed.. BAM we were in a car accident. It was a pretty interesting introduction to the city. I made to the hotel shaken but not deterred.
My hosts in Joburg, Oilstone, were a fantastic group passionate about Umbraco and excited about the opportunities for the platform. They chose to certify almost their entire organisation from administrators through to the company directors to ensure that as an organisation they could truly say they knew Umbraco. After 4 days in the training room, Oilstone emerged equipped and excited about Umbraco 5 and ready to take on new projects.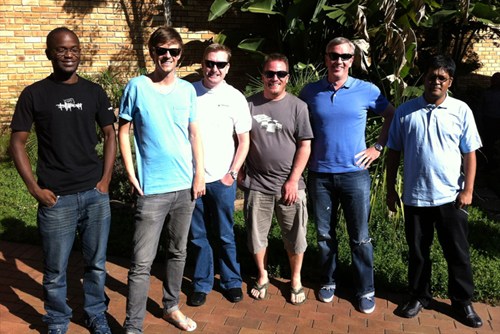 Level 2 students Jobrug
This was the VERY FIRST TIME the new version 5 course had been taught, and as a teacher, I personally thoroughly enjoyed teaching it. Level 2 in particular was a lot of fun! I'm pretty sure the attendees enjoyed it also, with many expressing how much they learnt and got out of it.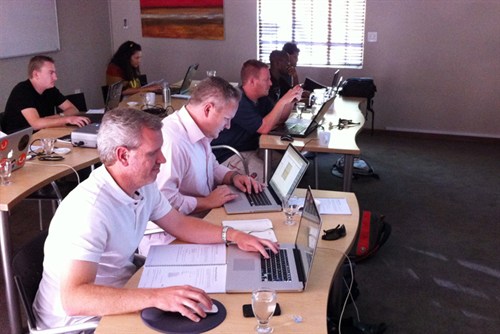 Level 1 students hard at work
Next I was off to Cape Town which is a seaside city surrounded by stunning scenery. One of Cape Town's main trades is tourism, with activities such as cage diving with great white sharks, wine tours, whale watching, and the cable car to the top of Table Mountain. There is loads to do and unlike Joburg, it's generally a safe place to be. I had a day to myself so I decided to go check out Table Mountain which rises almost vertically over 1km about sea level. You travel to the top via a cable car which is fitted with a rotating floor allowing everyone on board to get a glimpse of the view. It is well worth it if you ever find yourself there.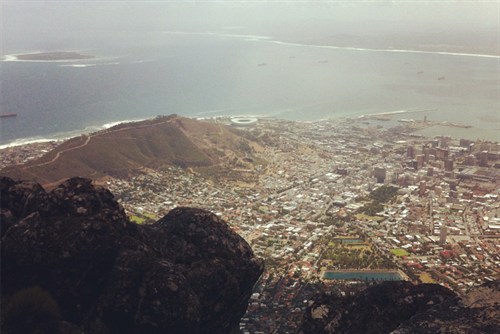 Cape Town from the summit of Table Mountain
The courses in Cape Town were hosted by Blue Grass Group who are massive advocates of Umbraco and who are actively promoting Umbraco with a view to build a community of Umbraco developers in Africa. The course attendees were varied, from agencies to contractors. The courses were again a great success and all left positive and energised, pleased with what they had managed to achieve.
I have left South Africa able to add not only three new companies to the growing list of Umbraco certified partners but in fact a whole new country. I enjoyed my time there and can truly say that Umbraco has a bright future in the region if the talent and passion that course attendees showed is anything to go by. I am sure that we will be back again to run more courses in the near future.
I am excited about teaching this latest version 5 course in some of our more regular cities. Courses are quickly filling up with some now completely sold out. If you would like further information about course locations, dates and availabilities please check out the course schedule. These courses are aweomse, and we'd love to see you soon.