Thursday, November 26, 2015
Umbraco version 7.3.2 available - Community Edition
We are very pleased to announce the immediate availability of Umbraco version 7.3.2!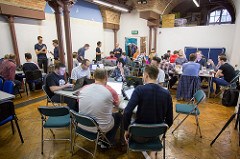 Update: we fixed some urgent bugs in 7.3.2 and released 7.3.3 a few days after this blog post.
We are even more proud of the fact that this release is primarily based on Community fixes, there were 32 pull requests that have made it into this release #H5YR!! Many of these PR's were creating by folks attending the hackathon at the 2015 UK Fest last month. Everyone that has contributed a PR now has a contributor badge on Our :) (tweet Sebastiaan if yours isn't showing up)
There are 48 issues fixed in this release so go get upgrading :)
Release notes, download and install/upgrade instructions are here: https://our.umbraco.org/contribute/releases/733/
Courier 2.51.3
Another very worthy mention is that Courier 2.51.3 was released last Friday. This is the most stable release of Courier yet. This release fixes 10 very important issues including some issues with images & grid deployments.
You can get the latest version here: https://our.umbraco.org/projects/umbraco-pro/umbraco-courier-2/