"Lasting digital solutions. Brewed on quality"
This tagline is both for our name and for our most important goal: creating quality solutions that are as easy for the editor to use as brewing tea!
When Tea Solutions was started in 2007, our founders had two clear visions: creating high-quality solutions and making sure these solutions were easy to manage for the editor.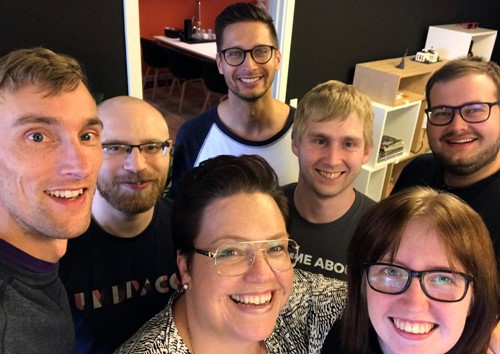 Today Tea Solutions is based in the Western part of Denmark. But Denmark is small, which allows us to easily work with customers over the entire country. With 7 employees, we can both develop large and complex solutions, and maintain the close and personal contact with our customers, which we appreciate highly.
From Tea CMS to Umbraco
Originally, we worked with our own CMS, Tea CMS. But it fast became clear that this CMS was not fulfilling our visions, and in 2008 we set out to find a CMS that could meet our expectations.
We tried different systems but were frustrated by the fact that most systems did not offer much freedom for developers and were very user-unfriendly for editors.
Umbraco changed all that! Umbraco offers a CMS that enables us to create tailor-made, quality solutions. Solutions that can meet our customers' expectations, and at the same time are developed on a solid technical foundation.
Umbraco offers our developers the possibility to create the quality solutions they strive for, and the freedom to implement the demands and design wishes of our customers. At the same time, we work with a secure platform that we trust.
All in all, we see Umbraco as a toolbox, that contains all the tools necessary to make our clients wildest dreams come true!


We're proud to be a Gold Partner
Becoming a Gold Partner this year was a big step, one we are very proud of.
For us, the most important aspect of becoming an Umbraco Gold Partner, is that it gives us credibility. It shows our clients that we are committed towards Umbraco, and that we are specialists in our field.
"The thing we appreciate the most about Umbraco is that it makes our clients happy. Period. It's a great CMS that gives us the tools to build amazing websites with the editor experience in focus and without compromising the quality work we want to deliver, "
 Anders Burla Johansen, CEO & Owner, Tea Solutions
This partnership gives us a voice in the future of Umbraco and ensures that we are always updated on the latest Umbraco developments.
But most important is the support. The support platform enables us to solve problems faster and more efficient, in turn enabling us to give our clients the very best service.
We are happy to be a part of the world's friendliest community and are looking forward to the next Umbraco conference where we can learn more about Umbraco and their newest developments!
"Having worked with our CMS since 2008, Tea Solutions can be said to always have been in the family. And I have no doubt in their skills. Which makes it my honor to welcome Tea Solutions on board the Gold Partner club!"
 Anders Trans Sørensen, Major Friend Maker, Umbraco HQ