https://www.elkedjan.se/
Elkedjan is Sweden's largest national chain for electrical installers. It has member companies in 190 places with more than 1600 members throughout Sweden. What such a big company needed, was a solution that could connect different member firms, create more brand awareness and engage users with their offerings. Toxic Interactive Solutions managed to do just that using Umbraco. And now they'll tell you how. 
Skills used
Accessibility
Business Development
Communication
Intranet
Mobile
Identifying the right need
Elkedjan has been our digital partner since 2018, so when they first got in contact with us, they wanted to update their graphical profile and website.
Since Elkedjan is a well-known brand throughout Sweden, our mission was to create a graphical identity that could communicate their brand and connect them with the member organizations.
During the business developing phase, we identified a different need which made us change the direction for the project.
Instead of focusing on a new graphical expression, we started with the members and how to create more engagement within the organisation. 
We then divided the assignment into three main areas: 
Creating an intranet that could be presented both as an app and a desktop version. 
Creating a platform with unique websites for Elkedjan's members. 
Creating a platform for Elkedjan's public website.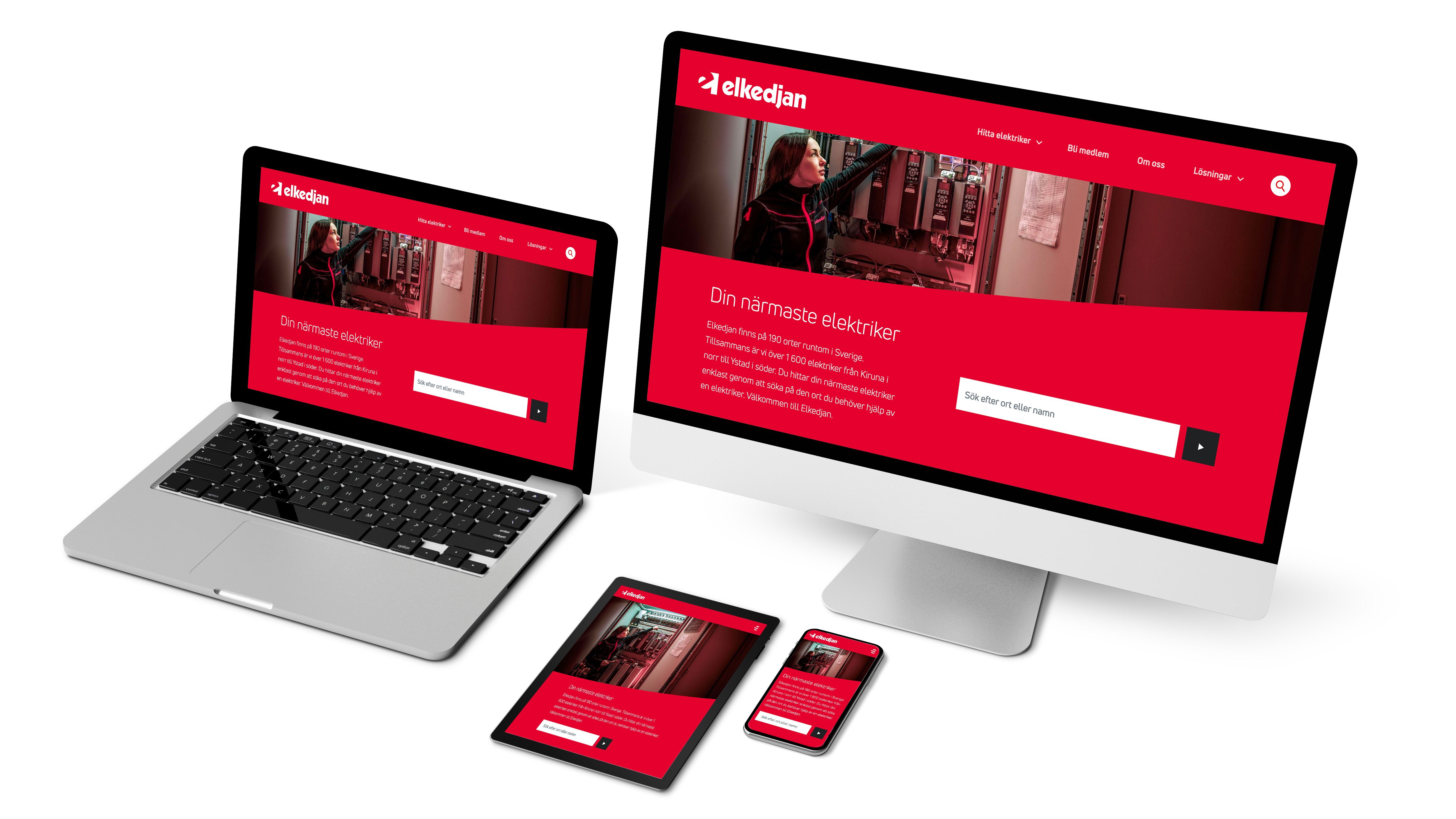 Setting the goals and creating a vision 
Our responsibility was to manage this whole project as well as design, develop, test and launch all these steps. All development in this project, including the app, web and the intranet was done using Umbraco as a platform. 
We started the project with a workshop to identify what goals Elkedjan wanted to achieve both short and long term. We then agreed on the priorities accordingly and began setting up a plan for execution. 
We conducted an inventory of existing platforms, systems and integrations and evaluated the technical architecture, information feed. Thereafter, we created a design with the required functionality based on the knowledge collected. 
Besides the three main tasks, our goal was to ensure that no matter where in the purchase journey the target group was, they should get a great feeling of Elkedjan's brand.
With our design and functionality, we ensured a seamless process that is easy and gives the target audience a valuable experience.
What we did
The App and Intranet: 
We believed that the app was a platform that would mostly be used by the members. Therefore, we decided to build it as a social network where the members could share pictures from their day at work, ask questions and share information that could be of use for other colleagues. 
The app was designed so that the members could integrate both with colleagues from their own business or members of Elkedjan as a whole. Everything is centrally controlled in the same system. 
Member websites 
The goal here was to create a fundamental template based on Elkedjan's visual look. This offer gives Elkedjan's members a quick time-to-market solution that they can use as a base and later update with their own company specific information.
The Public Website: 
The goal with the new website was to drive traffic for all B2B members, but also for the B2C segment. One key feature of the new website was the search function which allows the visitor to easily find the nearest electrical installer. This way, the consumer is introduced to Elkedjan's smart concepts such as the solar system, electrical installer and charging for cars in an intuitive way. 
Our aim was also to have the website emphasise the weight of the Elkedjan brand, as their services are available to everyone in Sweden, no matter their location.
To do all this, we started the process of business development by creating a workshop with the CEO, marketing manager and sales manager. All three were assigned their own room with the task to draw their "dream" website for Elkedjan with nothing but a pen and paper. 
When the exercise was done, we had three different websites based on differing point of views. We took bits and pieces from all three and merged them into the result you see today.
"Toxic has been an innovative and fast partner that has given us the digital lift we were looking for. In addition to their excellence in the areas concerned, they have had a humble approach to our organization and offer an easy-to-understand interface where we can easily and efficiently update, develop and manage our solutions"
How did we do all of this? 
Step one was to build a strong and powerful intranet that could be utilized both for a desktop and an app version. These platforms have room for a lot of information that helps the members in their everyday lives. 
This solution ensures that you can search for a piece of information and get support or help from another member of the network, but it also enables members to take part in campaigns and other collaborations. 
All this would have been impossible without Umbraco, as it complements the needs of Eldkedjan in several ways. It´s a user-friendly CMS that gives many opportunities to in terms of content creation and communication. It's also very intuitive to use, so we leveraged Umbraco as a container for the business concept, image bank, logos, press material and guidelines. 
In short, Umbraco sets the foundation for Elkedjan to be able to show their offerings and services in a secure and intuitive way, making it easier to communicate industry-wide information, such as current laws and security issues.
Some of the results we saw were: 
More engaged members 
Quicker problem resolution between members 
More control of the brand and the visual identity of Elkedjan
Increased traffic for Elkedjan as a whole and their members