https://www.savorseattletours.com/
Savor Seattle Food Tours, who connect adventuresome guests with Seattle in the most unique (and tasty) way, wanted to revitalize their brand and have a new website with a mobile-first approach. The Garrigan Lyman Group took the job and they'll tell how they did it. Bon Appétit:
Skills used
Design
Branding
Umbraco Cloud
Sector
Tourism & hospitality
Food & beverages
A solution with some truly ''appetizing'' results! 
Increase in contact form submissions
Increase in newsletter subscriptions
The "ingredients" of the case
We worked with Savor Seattle Food Tours to create a refreshed and revitalized brand, new mobile-first website, and a host of new Umbraco patterns/tools that have been leveraged in subsequent site builds. 
The project brought exceptional lessons in how to bring a high-level of service, best-in-class technology, and a fabulous user experience and creative vision to life.
Successful cookin'
The key goal to achieve was to bring the Savor Seattle Food Tours' experience to life on any size device with a refreshed look and feel to give visitors a taste of each tour.
After a brand refresh and a soups-to-nuts site re-brand, the new website launched with an innovative "Tour Finder" that helps visitors navigate to the perfect adventure by answering just one question. 
Not just that. Now Savor Seattle Food Tours has a website with a streamlined UX design for a quicker entry into the purchase path.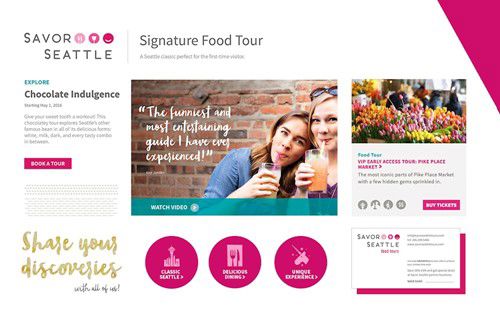 From WordPress to Umbraco Cloud
Leveraging Umbraco Cloud, this project focused on how to bring an enterprise-class service level, hosting solution, and content management tools, to a small-medium sized business.
The client was an avowed WordPress user, and with some education and training, was able to unlock the potential of Umbraco Cloud.