https://www.sportengland.org/
Sport England is working towards getting more people active across England – regardless of age, background or ability. Building an active nation is a great purpose, one that should be backed by a solid website. Which is what our Gold Partner Sigma achieved by upgrading Sport England's website from Umbraco 4 to Umbraco 7. Have a peek at this adventure (and expect some sport puns).
A solution that increased the new visitor sessions by 60%
An optimised website promoting an active nation
We, Sigma, were appointed Sport England's digital partner in 2014 and since then, we have worked on multiple projects with them. This includes working on their sector-leading website and sites for other initiatives such as their nationwide 'Be Inspired' campaign.
The start
Sport England were previously on Umbraco version 4 and over time, this had become cumbersome and the processes for content editors were overly complex.
The hosting of the website had also become particularly unwieldy and so there was a desire to move away from this setup towards a more simple and scalable approach.
The number of templates (60+) in the old Umbraco backoffice had started to impact the maintainability of the site plus introduce lots of inconsistencies and a fragmented user experience.
"Umbraco version 7 provided the content teams with a richer experience in content creation and management. It also allowed us to implement a modular approach to building specific pages on the site which has minimised the ongoing maintenance as well as giving the flexibility needed to Sport England,"
The training
A range of core and third party packages were used in correlation with Umbraco, namely Examine, ImageProcessor and Umbraco Forms. These packages were used to develop image library search functionality and to implement the contact and enquiry forms for the site.
We also used:
⚽ uSync to help set up seamless continuous integration and continuous delivery to all environments.
⚽ Nested Content, YouTube for Umbraco & nuPickers ensuring a more user friendly experience for adding and configuring content on the site.
⚽ CMSImport to assist with the automated migration tasks.
⚽ SEO Checker to handle SEO best practice validation and redirect management.
In terms of hosting, Sport England selected Microsoft Azure, with a move away from their dedicated servers. They were particularly pleased with Azure's ability to horizontally scale and how quickly it handles new releases with limited downtime due to us utilising deployment slots as part of the continuous integration and continuous delivery setup.
"Sigma's expertise is essential to the strategic running of Sport England's digital channels. The staff blend technical expertise with an emphatic understanding of web users' needs,"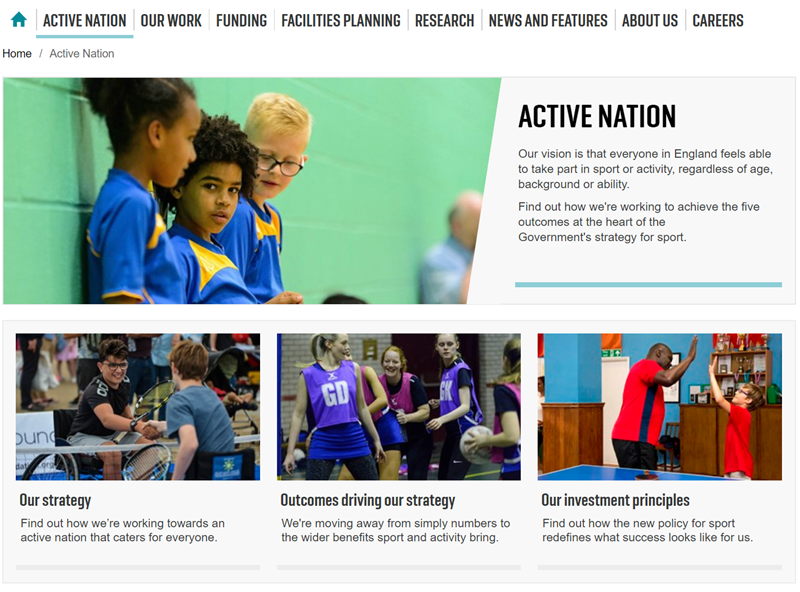 The run
Sigma initially upgraded Sport England's website from Umbraco version 4 to version 6 to provide an immediate improvement. In order to stabilise the site further we then undertook the larger task of a subsequent migration to version 7.
The move to version 7 included a full template rationalisation process which reduced the number of templates to 14 whilst adding even more flexibility for content editors within the agreed framework.
During the upgrade a full rebuild was required using existing HTML/CSS assets to take best advantage of the new features within Umbraco and a full content migration exercise was delivered. This included automated migration where possible, along with a full content review and rationalisation.
Umbraco has allowed us to leverage the scalable features of cloud hosting to provide a robust and resilient platform.
The finish line
Sport England immediately saw benefits from their migration to Umbraco version 7, with increases of 60 percent in new visitor sessions and more applications for funding coming through.
The reduction in templates and a modular approach has improved the website appearance and user experience. Pages can vary greatly in content whilst still being consistently structured.
Sport England were particularly pleased with the functionality of Umbraco in that we were able to design and develop multiple microsites within the main site framework. Consequently, this reduced their existing requirements for multiple microsites external to the main Sport England site.