Beyond content
A key decision for the infrastructure of any university is deciding how their many contributors (lecturers, students, alumni) input content to the university website. There are countless choices out there. From a broad spectrum of options, a few titans of industry appear regularly.
However, the way universities use and rely on their CMS has dramatically changed in just a few years. Complexity has grown tenfold. Most university CMS platforms still focus on the idea that 'everything is content' and push developers, content creators, and marketing teams toward the view that 'you can put anything in our CMS and it will just work.'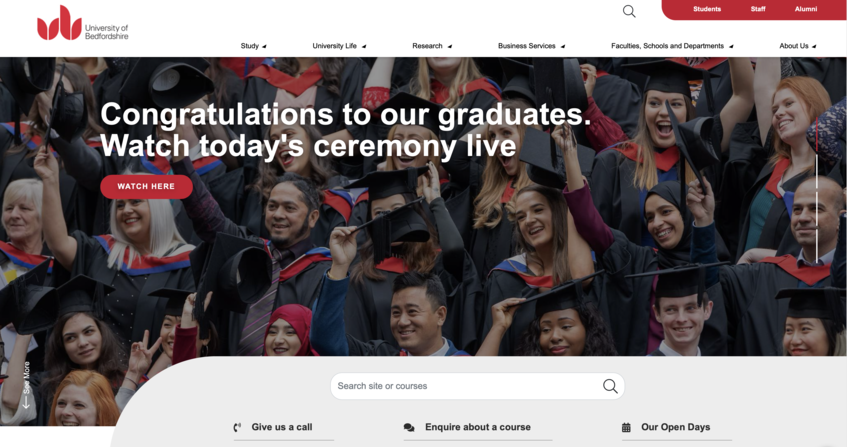 The practical limitations
With an 'everything is content' approach, integrating external data sources can impose severe limitations for universities. It can even result in more - not less - manual input. Workarounds can compromise the performance and force developers to work longer and harder to ensure stability.
A great practical example for universities would be integrating SIT data with a university's course data. We've seen this challenge with many universities, including the University Of Bedfordshire.
With alternatives, courses would (a) need to be updated manually, resulting in human error, or (b) use a convoluted automation process that would slow down the website and be consistently out of date between updates.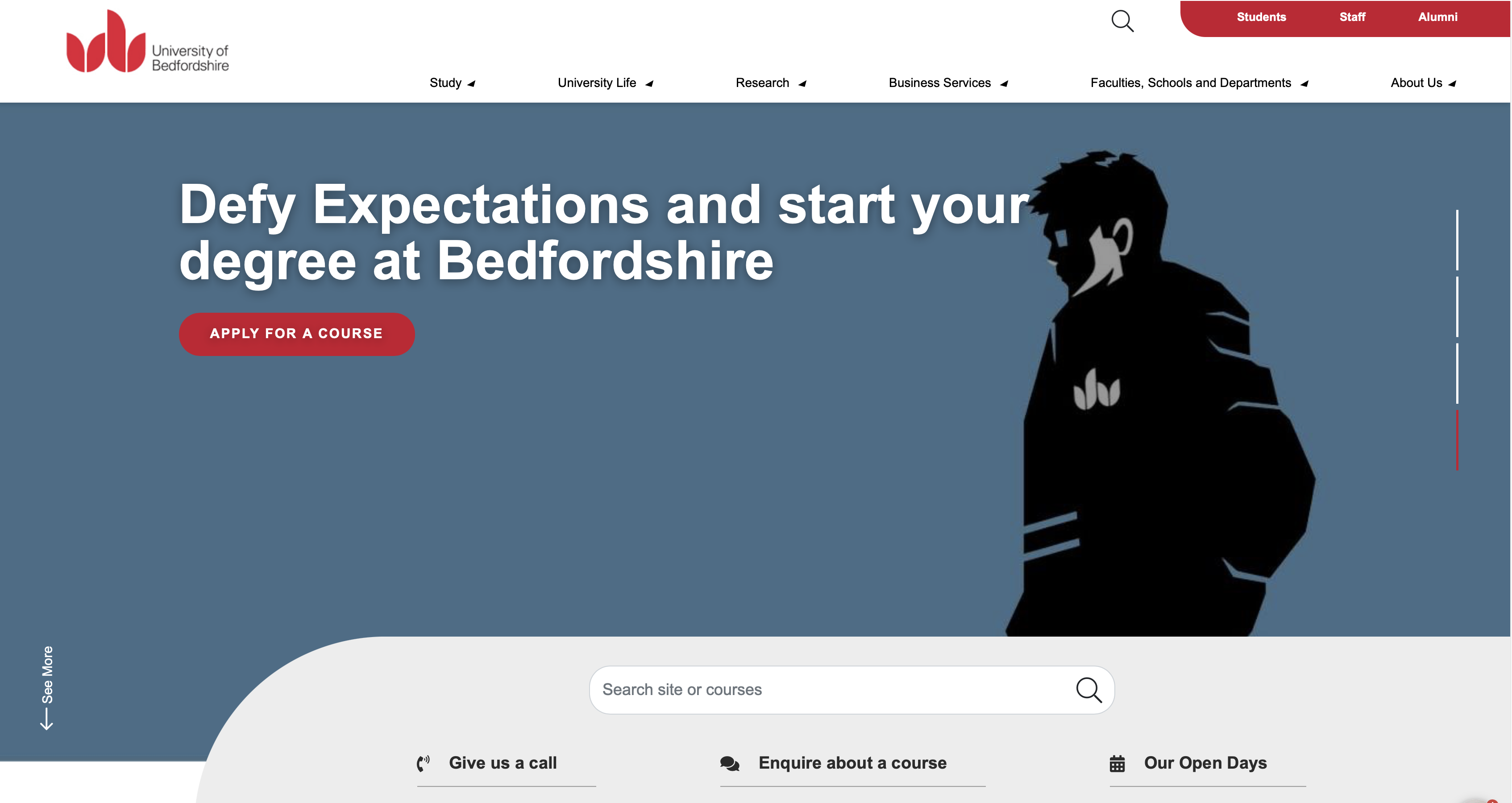 Flexibility and a philosophy of extension
With the new demands of University CMS in mind, there's one that rose to the top for us. One that saw a university CMS platform as more than content alone: Umbraco.
From the list of everything we could use as a framework for developing university infrastructure, Umbraco was the only one that truly offered flexibility and choice.
Umbraco bills itself as having 'no limitations' and allows developers to 'develop and extend your website'. These are crucial terms – terms that we believe are completely justified in their use and are critical to what universities need.
Umbraco has done away with the idea that all data, workflows, and assets must be stored within the CMS framework. Instead, Umbraco focuses on integration.

Umbraco has enabled us to further devolve content on our website and create a larger network of editors across the University with over 200 colleagues trained in the CMS. This has led to an increased volume of content updated and has been driven by the simplicity of the Umbraco editor. Plugins such as Plumber have improved processes between editors and work published on site and has reduced reliance on the central marketing team to deliver content, allowing them to focus more on strategic developments.
Umbraco Heartcore and why it matters
Umbraco is driving this philosophy further forward with the introduction of Umbraco Heartcore – a headless content management back-office designed around rich integrations.
We'll get technical for a short moment here: Content is made available with a RESTful API to deliver content everywhere. Umbraco provides content wherever it's needed.
It's now possible to allow the CMS system to focus on what it was meant to do – manage university content! – whilst providing seamless integration capabilities with a limitless number of other technology components and datasets. As engineers, we now have a choice as to where we store, retrieve, or generate data without being limited by the encompassing nature of a CMS platform.
With Bedfordshire, the SIT data is automatically synchronised and input into the Umbraco CMS in the required format. No manual work. No convoluted, automated workaround.

By using Umbraco we have also streamlined our process with SITS. This complex set of data required significant development which Codiance were able to smoothly deliver in turn reducing our manual process by around 5 hours a week.
It should always be this simple, right? We're sure there are countless university CMS users who'd have assumed the same. We're sure most face these dilemmas.
Codiance Higher
As a company, we've taken what we've learned from the University of Bedfordshire and created a framework of functionality that we're calling Codiance Higher, designed specifically to bring the benefits of Umbraco to the Higher Education sector.
We believe Umbraco is the most appropriate CMS platform for almost everyone: it provides a rich content editing experience and endless extensibility in a secure, robust and maintainable platform that's designed to scale.
To anyone faced with CMS changes that are long or expensive, or are continuously editing workflows to publish content, please drop us a line!
Read more about the implementation for the University of Bedfordshire here.