Umbraco CMS
Umbraco, the world's leading open-source content management system built on the latest .NET (ASP.NET Core) technology, offers all you need to create a powerful, user-friendly website.
Flexible building blocks and rich integration possibilities let developers spin up truly customized solutions that are a joy for content editors to manage thanks to an intuitive user interface.
Try Umbraco and see for yourself why the CMS is loved by thousands of developers and content editors around the world!
World-class content management
Umbraco CMS is content management at its finest. Editors can fulfill daily tasks, preview and publish content, schedule campaigns, and much more. All with a simple and intuitive interface optimized for creating and managing content.
But we know that content is not just text. In Umbraco, you can upload and crop images, add videos and documents, and use it all to make your content pop without leaving the page you're working on. The Media Library lets you organize and manage your media items, and even keeps track of where each item is used across the project.
Umbraco is more than a Web CMS. It's possible for editors to create and manage content in multiple languages, for multiple channels, and reuse content where needed. So whether you want to write blog posts and news for the web, manage data for a mobile app or promote campaigns on digital signage, Umbraco will deliver.
Take a look at all of Umbraco's Content Management features - or let us show you around!
See for yourself how Umbraco works and what features it can offer your team. Book a discovery call of Umbraco, and let our specialists take you on a personalized tour.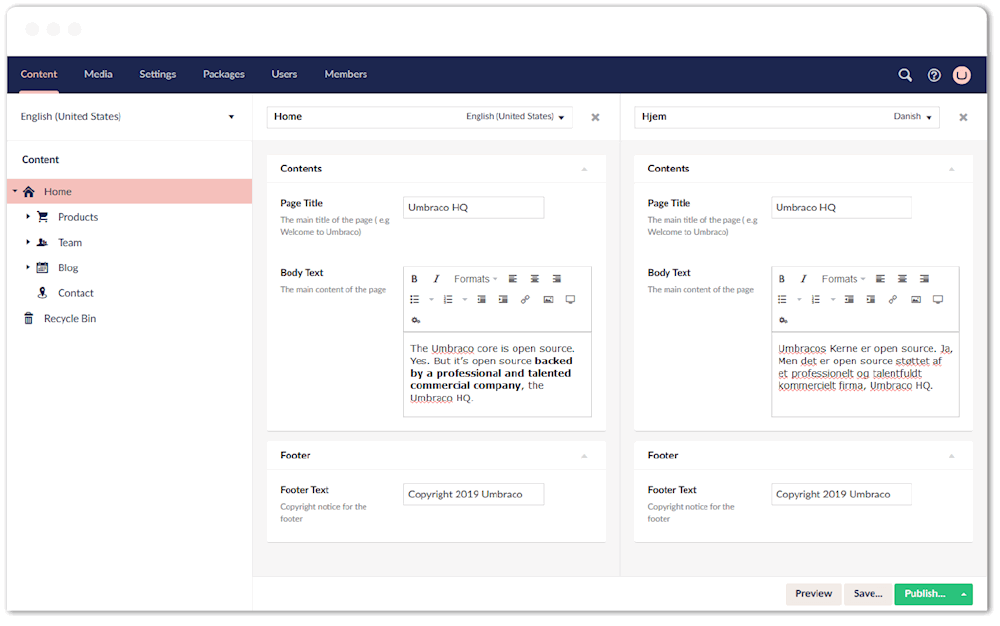 Empowering developer experience
Umbraco empowers developers to deliver a customized editing experience for any type of content. Built on the .NET (ASP.NET Core) framework, Umbraco leverages the latest in web development technology.
A powerful API and service layer works in tandem with flexible content models to ensure it's not only easy to get started but also to scale with any solution. Use Umbraco's routing pipeline and Models Builder to render content in no time. Enhanced MVC and WebAPI controllers make it easy to work with Umbraco-generated content.
There are out-the-box tools to cover most common scenarios and a fully-fledge extension APIs for customizing the backend to more specific needs. Anything from custom editing UI to dashboards is built with extendability and flexibility in mind.
Discover how Umbraco can accelerate your company's digital journey. Book a free 15-minute discovery call where our friendly Umbraco specialist will take you through how the benefits of Umbraco can work best for you.
Integrate with anything
Umbraco's intuitive UI, great developer experience, and flexibility provide the perfect basis for a truly composable digital experience platform (DXP). Create a tech stack that fits you, not the other way around, and enrich your digital content and online presence.
Whether it's with custom integrations or the extensive list of pre-built components for a wide range of popular vendors - it can all be done with Umbraco. 
Take a look at Umbraco's Integrations and Extensibility features or visit Umbraco Marketplace for ready-to-use Umbraco integrations.
Professionally backed open-source
We believe open-source is the most transparent, productive, and honest way to deliver software that people can depend on. And the huge and vibrant community of developers, agencies, and users from all over the world is proof that this is the case. For more than 15 years, Umbraco has been steadily growing in popularity both due to its flexibility and ease of use, but also the open-source nature and a really friendly community that is currently more than 220,000-strong. 
They are the ones using the Umbraco on a daily basis and are dedicated to helping us constantly improve Umbraco - for example by creating helpful Packages (add-ons, plugins, integrations, etc.) that anyone can download and integrate with their project.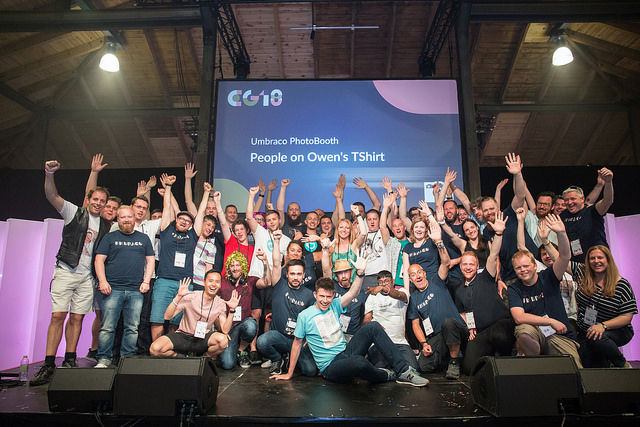 At Umbraco HQ, we value the feedback and contributions from the community, and by investing back in the community, we help foster knowledge sharing and empower Umbraco users to help shape the future of the CMS. This is done through facilitating conferences and meet-ups, community teams that work directly with HQ, live-streamed coding sessions, and much, much more.
Hear it from our happy users
Get started with Umbraco
The best place to work with Umbraco CMS is Umbraco Cloud.
Get the full experience of Umbraco CMS in the Cloud - installed, configured, and ready for development, with: 
☑️ Intuitive content management
☑️ Easy customization and flexibility for developers
☑️ Rich integration and extensibility possibilities
☑️ Clean code and strong performance
☑️ A secure open-source platform that scales with you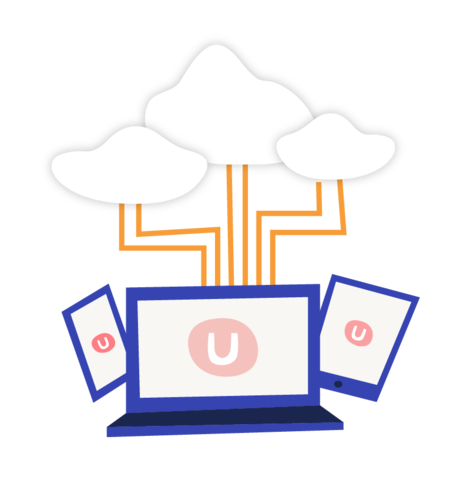 Umbraco Cloud also comes complete with:
☑️ Hosting on Microsoft Azure
☑️ Automatic security and bug updates
☑️ Clone, deploy, and transfer content safely between multiple environments
☑️ Baseline feature allowing you to roll out campaign pages in no time
☑️ Configurable security features, including free TLS certificates
☑️ Project management features optimizing your workflows and user management
Simply put, Umbraco Cloud is the best place to work with Umbraco CMS and the fastest way to go live with a new project.
So let us discover how your business can benefit in a 15 minutes discovery call!
More Umbraco resources
Want to make sure you're starting off on the right foot with Umbraco? Take a look at our additional resources or services that can help with your learning curve!