10 skills to get officially certified in 
You'll save hours by learning how to use Umbraco and its latest features the way they're intended -  taught to you directly by specialists from Umbraco HQ.
Pick from 9 online certification courses and 1 on-demand. They range from the Fundamentals and Application Integration to specialization courses like Load Balancing and Searching and Indexing. Which new skills do you want to achieve? 
Book online courses now 
Pick the time and date to level up. All our 9 training courses are offered online in time zones that fit Europe and North America.
Take a look at our training schedule, book today, and start looking forward to your new Umbraco skills and certification: 
Level up your entire team at once
...and save both time and money! With Customized Team Training, you get to pick the date, time, and specific courses that your team will be certified in.
We offer customized team training online - giving you the ultimate flexibility.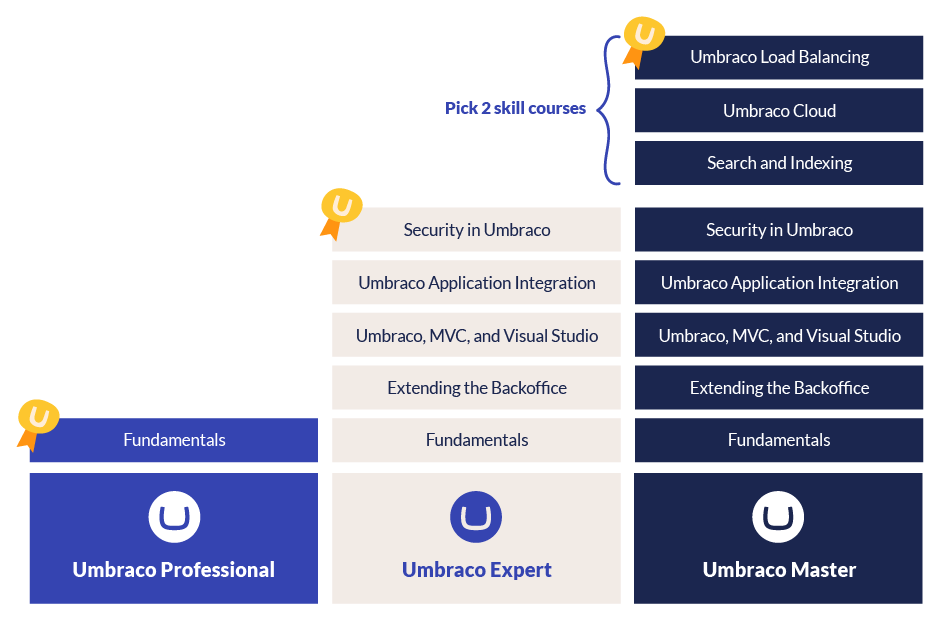 Shout about your Umbraco certification status
The Umbraco certification titles come with a guarantee that you've achieved a certain level of Umbraco skills.
Completing certifications will not just make your work with Umbraco more efficient and delightful, but will also set you apart from competitors, earn you new clients, or perhaps even a pay raise. 
There are 3 levels of certification for you to strive for, with Umbraco Certified Master being the highest and most exclusive level.


Why invest in Umbraco training?
Perhaps you're asking yourself this - or have a manager who doesn't quite get the reasons for sending you off to expand your already impressive skill set.
We've gathered 6 benefits of Umbraco training to help convince your manager (or even you) that Umbraco training is a very sensible investment. Reasons no. 1,2,4 and 6 will definitely have your manager listening: 


Need help?
Do you have more questions about the training we offer? 
Fill out the form below with the questions you have and we will get back to you.