Introducing: Contributing Gold Partner
Over the past 4 years, we've been lucky and happy to see a growth in new Gold Partners. Gold Partners are important for a number of reasons e.g. their annual fee provides funds for, amongst other things, the continued development of the Umbraco software enabling continued usage of the software.
The rise in the numbers of Gold Partners has led to questions from a number of Gold Partners. The "golden oldies". These Gold partners have two common denominators:


A long history with Umbraco i.e. decades.


Have over the years been contributing with more than the Gold Partner fee e.g. pull requests, festival organising etc.


The questions have been centred around how they as long-time contributors could stand out from other Gold Partners? And if it is fair to stand out? 
Our answers to these questions have been; Yes it is fair. 
The remaining question has then been; how to do this?
After both internal and external discussion, we have come up with a badge; "Contributing Gold Partner". A badge awarded to Gold Partners who are contributing beyond the Gold Partner fee.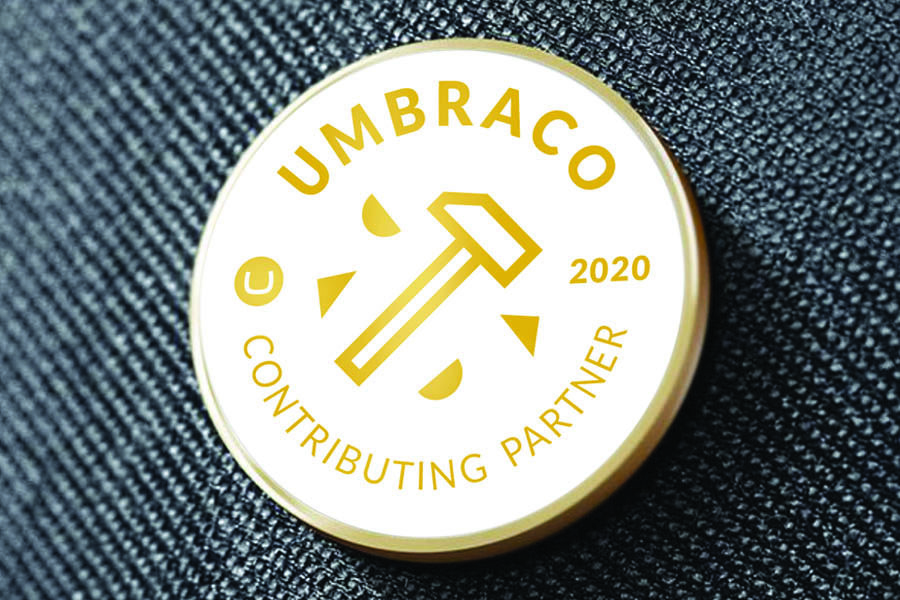 Much like the Umbraco MVP status, we want to reward Gold Partner agencies that year after year contribute beyond their subscription fee - and with something quite valuable; time, knowledge and hard work. So you might call it MVP for agencies.
How does a Gold Partner earn this badge?
Like the MVP status, the Contributing Gold Partner badge is awarded for extraordinary efforts and contributions to Umbraco and the evaluation and selection are done by Umbraco HQ. We have gathered a list of criteria to sum-up what these efforts might be:
The badge is awarded to a Gold Partner which within the last two years has contributed significantly on one or more of the below-listed points:
General:
The badge is awarded (renewed) for a one year period at a time starting June 1st and is announced in a blog post on Umbraco.com.
The badge comes with a year e.g. 2020 and reflects the work done the previous 12 months.
Only Gold Partners allocating agency time are eligible for the badge
Core PR and packages should be updated and be relevant for the current major version
Allowing and encouraging staff to contribute through:
Making documentation
Core PR
Other Umbraco products or technologies relevant to Umbraco 
Packages
Tutorials/YT videos
Supporting current and potential future MVPs in your company
Organising events e.g.:

Meet-ups
Festivals
UmbraCoffee
Codecabin
The above is not a check-list, but a list of potential contribution efforts that lies behind an awarded Gold Partner. We're aware that many things are happening in the community and there might be contributions that are not known to us. Should you find that your company or a Gold Partner is missing this recognition based on the criteria listed above, please let us know. 
How long do they get to keep the badge for?
When being rewarded with this badge, the Gold Partner is allowed to keep it and display it on their platforms for 2 years. Thus, winning a 2020 badge, means you can keep it until 2022. If you continue your community work in 2020 we will award you with a 2021 badge come next year.
Every year, Umbraco HQ will look back the past year to see which Gold Partners are entitled to earn the badge - or get it renewed. E.g. the 2019 efforts will be rewarded in 2020 with a 2020 badge. Going forward, this will be announced around the 1st of June each year. 
What do Contributing Gold Partner's get?
They get a special "Contributing Partner" recognition badge. A badge for them to showcase on their website, email footer, mantelpiece etc. They've earned it - so of course, they get to flash it!
The badge will also be displayed on their Gold Partner profile for potential customers to see.
Who's the 2020 Contributing Partners?
Looking back at the past 2 years, we've found that 26 Gold Partners deserve this special recognition. A massive H5YR and congratulations to the following Gold Partners on their well-deserved new title as a Contributing Partner:
byte5
Cogworks
Crumpled Dog
Equator
Gibe Digital
Impera
KØBEN digital
Kraftvaerk
LEWIS
Marathon Consulting
Marcel Digital
Markedspartner
Method4
Moriyama
Novicell Denmark
Novicell UK
Perplex Digital & Marketing
Rock Solid Knowledge
Scandia
Sigma Consulting Solutions Ltd
The Garrigan Lyman Group
twentysix
Umbrella
Webmind
Yoyo
Zone
Remember, we do not know all that is going on in the community. If you don't see your name on the list or you think we have missed a partner that meets the criteria listed above, please let us know. And we will fix what needs to be fixed asap. 
As this is a brand new effort, there might be some questions or feedback. Please feel free to write to me at sneum@umbraco.com if you have any.