What is a DAM?
A digital asset is content stored in a digital file format. Digital assets include photos, videos, images, audio clips, documents, and any other content that provides value to the company that owns or has the right to use it. Organizations that handle a lot of digital assets such as images, product sheets, videos, graphics, and more, increasingly rely on digital asset management (DAM) solutions. A DAM will provide centralized and improved management of the assets, plus the workflows to support them.
A DAM system works as a central repository and control center for uploading and organizing digital assets, and then users or automation tools tag the files with metadata. Metadata is information that describes an asset and enables system users to search and find files in the system in an efficient way.
Aprimo DAM Experience
Aprimo is a provider of digital asset management and content operations software that, with its robust Marketing Resource Management (MRM) suite, enables content personalization at scale, deeper insights from creative operations and content performance to inform strategy, and seamless handoffs from content creation to distribution.
The products portfolio includes Digital Asset Management (DAM), Work Management, and Marketing Budget Management bringing Aprimo the "Leader" recognition for 2022 from Forrester based on this report.
If you want to find out more about the DAM solution from Aprimo, and see some of the included features, add-ons or integrations, please check out this page or start exploring the Aprimo solution with a self-guided, self-paced, multi-user free trial, which you can sign up for here.
Using Aprimo with Umbraco CMS
To start using Aprimo with Umbraco CMS you will first need to retrieve an identifier for your workspace from Aprimo, called tenant. This is a key configuration item that enables you to access the digital assets from Aprimo directly from the browser, by accessing https://[tenant].dam.aprimo.com/dam or using the Umbraco CMS integration.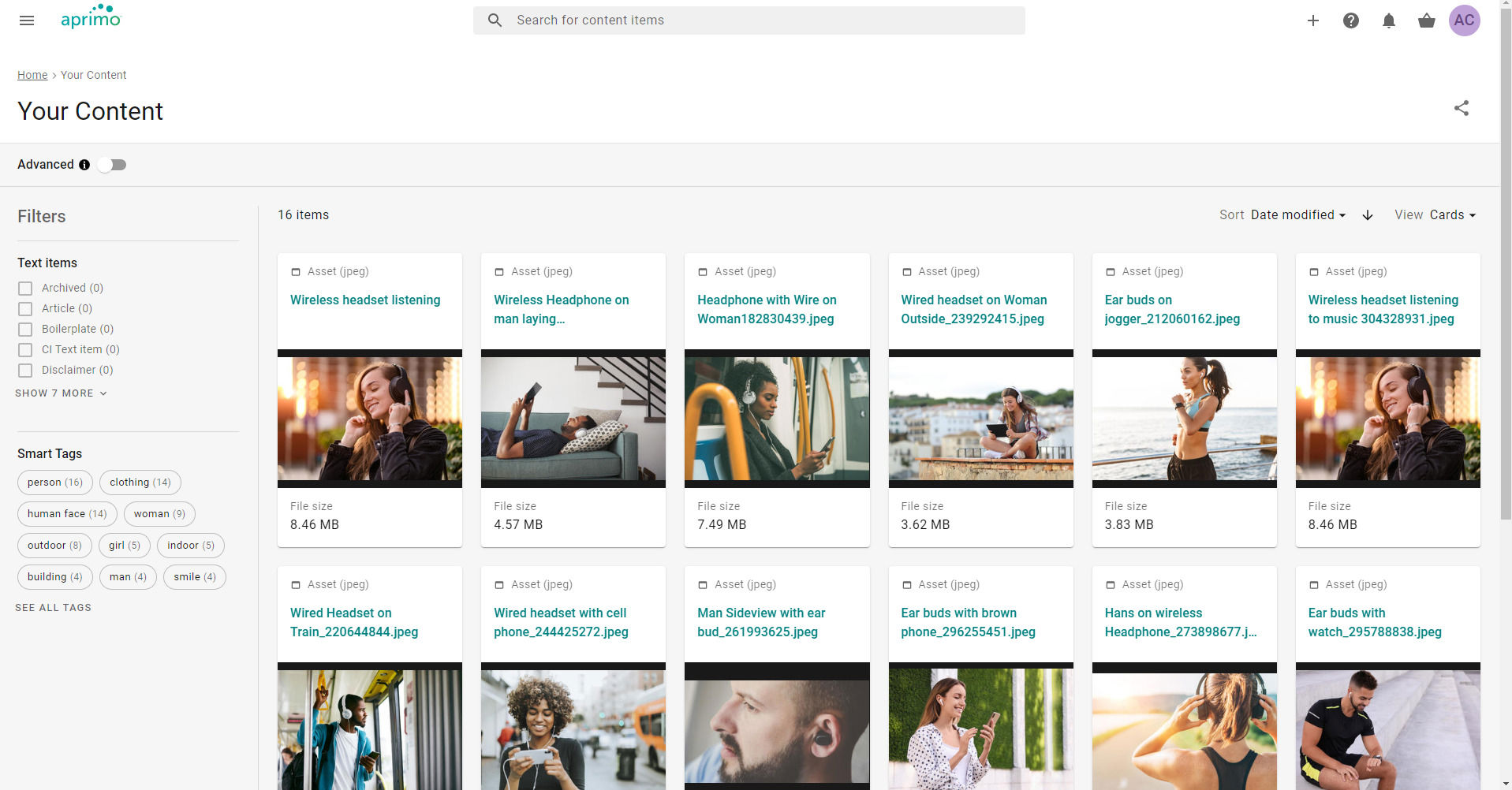 Next you need to make sure that you are authorized and can access the Aprimo DAM REST API. Please follow along as I walk you through the setup in the next section.
Authorization Overview
Aprimo supports several different authorization types, but the one used with this integration is OAuth flow - Authorization Code with PKCE. 
You have to keep this in mind when preparing the authorization setup on Aprimo. This is because you will need to have an Aprimo Client Registration available, (Aprimo team will help you out with this process) to have the necessary OAuth settings available.
Configuration
Integrating Aprimo with Umbraco CMS is just a few clicks away …
Install the NuGet package
Add the following configuration: