Have you seen the repository yet? 
If you have read the previous Package team blog post update you will know that we now have a repository which is a place for you to submit package related feature requests, look for help maintaining your package or just follow our work on our Roadmap. 
Check out the Package Repository.


New Package Documentation
We are making great progress on getting documentation out there for package developers, which was our first focus area in the Package team. We now have a lot of information published and available in the Umbraco documentation. 
So If you have been wondering what the difference is between an Umbraco ZIP and a NuGet Package, or maybe how to create a new Umbraco ZIP package or a NuGet package?
Maybe you want to know how you can create a custom package action or learn more about the built-in ones?
Maybe you want to learn how you can upload a package to Our?
Learn all these things and more by visiting the Packages section of the documentation!

Package related features
There are a few new features out that you should be aware of as a package developer:
The first is Property Actions, this is a nice little addition to property editors where you get a nice little context menu you can use to add additional functionality. It was originally developed for the Nested Content editor in the CMS to allow for some copy functionality. Read more on how to use it in this documentation article.
Next feature is the possibility of creating draft packages on Our Umbraco. 
If you have ever tried making a draft package before by not ticking the "Make live" button at the end, you will have noticed that the package disappeared from your profile but also didn't make it onto the published packages list. This has now been fixed so that draft packages will be shown on your Our profile along with your other packages - no more disappearing drafts & no more public drafts because you had no option to save as a draft! 
We have also added a little indicator that tells you: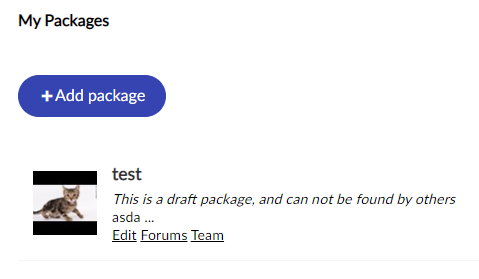 Allow seeing draft packages on the profile page: https://github.com/umbraco/OurUmbraco/pull/526 

What's up next?
With the Package team's work on documentation coming to an end, we will be moving on to a new project - The Umbraco Package Tool.
This project will be about making a CLI tool that can be used to deal with some of the package maintenance tasks. The specific features haven't been finalized yet, but at the very least it will be possible to deploy newer versions of your packages to Our without having to visit the site. 
We are lucky that our own developer Warren Buckley has already laid most of the groundwork for this tool! 
If you are interested in this or want to help out, then you can watch our progress here.
When is next? I'll give you a Package update here on the blog in 2 month's time. Remember that you're also able to sign-up for our dedicated Package Newsletter so you're able to get the latest Package related news in your inbox.