Overview:
To help you test and provide feedback, I've gathered an overview of some of the items that you can help test for this RC. We have run internal testing and are very happy with the current state of the build - but extra polishing and testing is always helpful. So if you have time to help - or just find yourself super curious, feel free to dive into the 8.14. RC today.
What's in Umbraco 8.14?
New Media Picker
You might be asking yourself, why do we need a new Media Picker? Well, using Media Items is a big part of creating and maintaining content in Umbraco and it's been a while since the UX was last updated. This new version of the Media Picker includes several new features that we think will be really helpful to both developers and editors such as limiting what Media Types can be picked and how many, allow specific file extensions and you have the ability to create image crops locally.


Right-click the video to see full screen
It all comes with new and improved configuration options and Property Value Converters to make it easy to work within templates. You also find multiple new default Media Types and you can of course extend these and/or create new ones to suit your needs.
Last but not least, the UI/UX of the Media Picker has been completely redesigned to provide a better preview of picked images and a superior cropping experience.
You can find all the details in the new documentation for the Media Picker. Give it a try and let us know if you find any issues
Improved validation error handling
Being able to save an item before it's finished can be really useful. This has been possible to a certain extent but if the item contained mandatory properties it would result in alerts. Furthermore, it wasn't clear that the item was actually saved and there were cases, depending on the Data Type, that would not let you save at all.
With Umbraco 8.14 the validation messages have been updated to show as warnings instead of alerts (yellow as opposed to red notifications), which is a much nicer experience.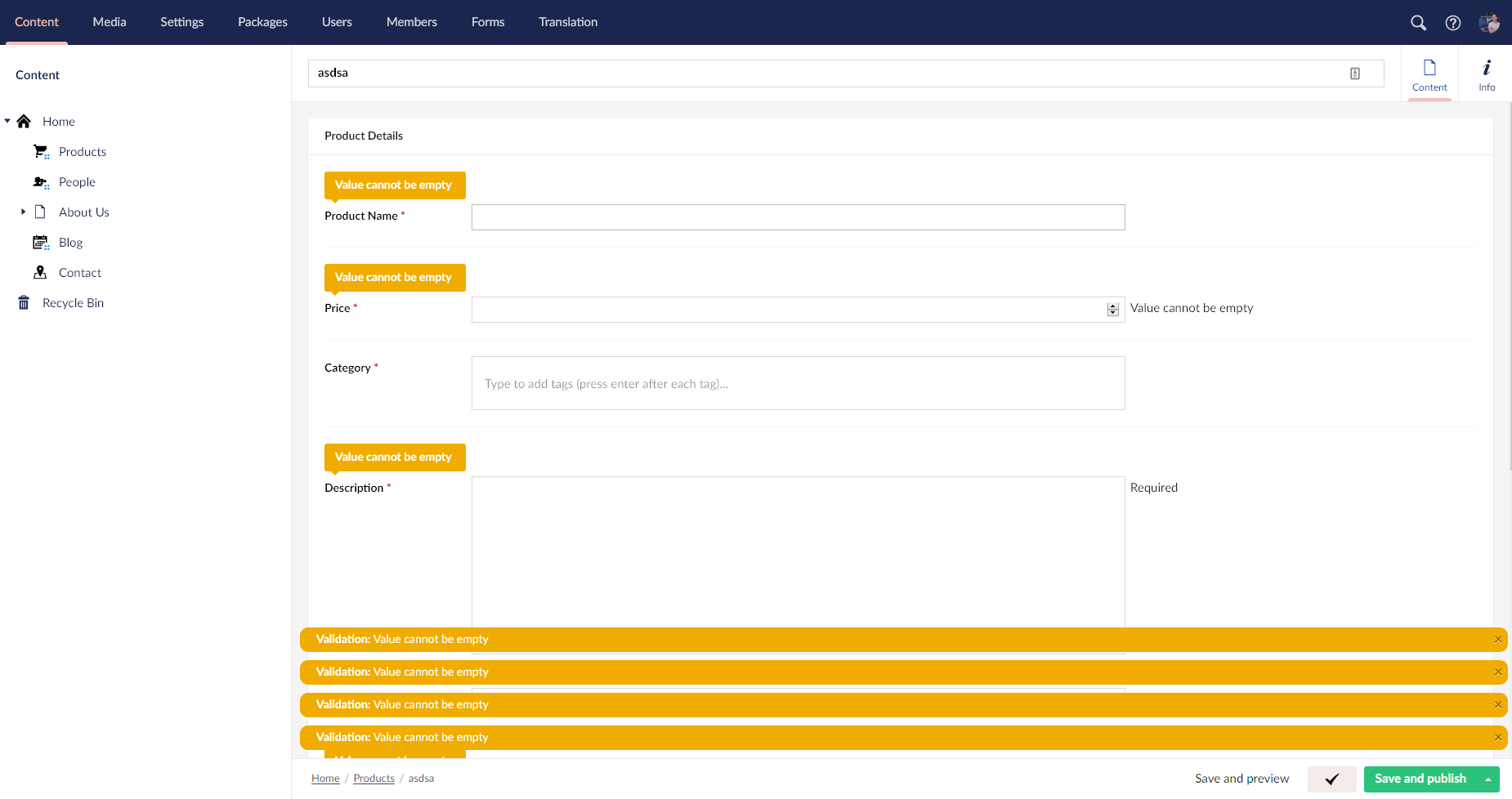 The Save button will also show a ✔ when the item has been saved and finally it should be possible to save all mandatory properties, allowing you to come back to your work. The notifications will still show as red alerts if you try to publish empty mandatory properties. 
The aim of changes is to provide a better (and less stressful) editing experience with a clearer indication of what has happened. 
See the original issue for more details.
Single item mode for the Block List Editor
The Block List editor has also received an update to the UX with an improved way of handling lists where only a single block type is allowed. It will now skip the Block Catalogue, which was unnecessary with only when type and allow for much faster content creation.
Try it out by only allowing a single Block Type on a Block List editor and add some content. Notice that the paste feature has been moved from the catalog to the Add button when in single item mode, this ensures you're still able to paste in copied items.
See the the original issue for more details.
Validation bug 🐛
A bug regarding validation in Nested Content was reported a while back and we've received a lot of help investigating the issue. It essentially made the editor crash when some properties were left empty on Save (e.g Media Picker).
This has been addressed in 8.14 and we'd love for you to test it out and help ensure it's working as intended. See the full details on the bug and how to reproduce in the original issue.
Updated dependencies
Several dependencies have been updated to newer versions with this release. While they are not listed as breaking changes you should be aware if you are using these in any packages or extensions. Make sure to test them out if this is the case:
... and much more
There are plenty of other fixes and improvements in Umbraco 8.14 and many of them have been raised and contributed the wonderful Umbraco community. See the Umbraco 8.14 download page for the full list of features, fixes and improvements.
Known issues/Breaking Changes
The release candidate has 3 known issues listed on the tracker.
This release contains no breaking changes
How to test
First, you need to make a new Umbraco installation from 8.14RC (links below) or upgrade an existing project, both scenarios can provide valuable feedback.If you find things in the RC that are not working, we'd be grateful for feedback on the Github issue tracker. You're welcome to add comments to the features and fixes listed under 8.14 release or submit new bug reports (click New Issue and select Bug Report), please prefix the issue with 8.14RC:.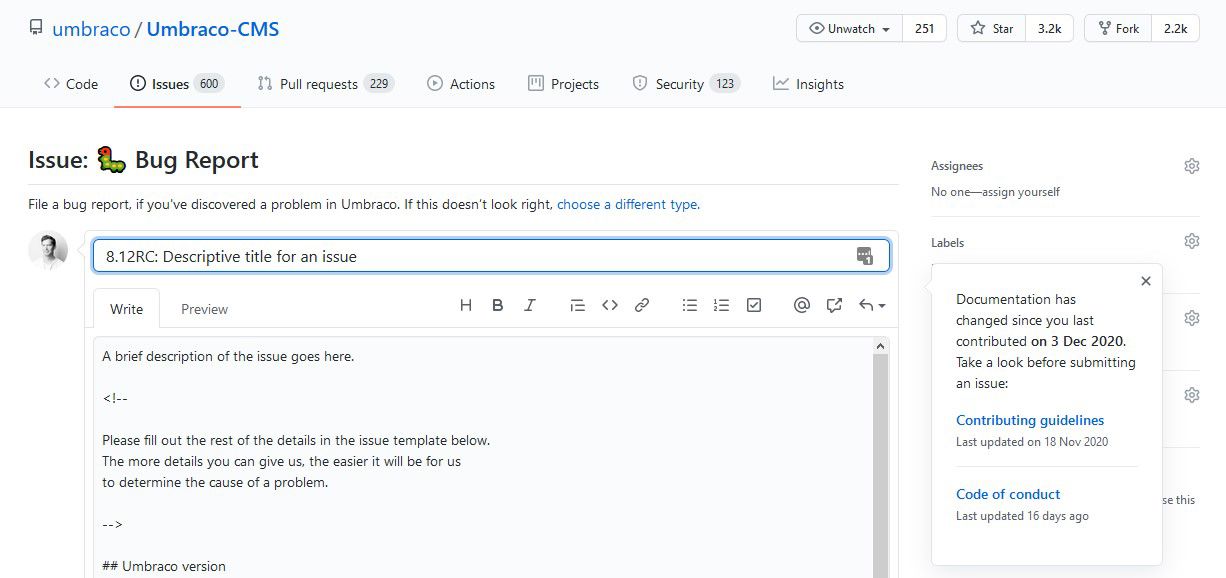 As mentioned previously, the RC is feature complete, so we're not going to add additional features but will, of course, fix bugs that prevent a stable release.
How to get your hands on the Umbraco 8.14 RC
As always, installation and release notes can be found on Our: https://our.umbraco.com/contribute/releases/8140
This release candidate is also available from Nuget: https://www.nuget.org/packages/UmbracoCms/8.14.0-rc
When is the public release?
We're aiming for a full public release on June 3rd, 2021.This means Umbraco 8.14 will be available for upgrade on Umbraco Cloud and via Nuget or the download page. We need a couple of days to wrap up the release so the sooner we get your feedback the better 🙂
Big H5YR 🙌 to everyone who has contributed to Umbraco 8.14 and thanks to everyone willing to lend a hand in testing it out. It means the world to get it validated by the users.
Bug reports are best handled on the issue tracker and as always, we welcome you to submit product feedback and questions to product@umbraco.com