Overview:
We are releasing functionally equivalent minor updates to Forms 10 and 11, so whether you are on Umbraco's LTS (long-term support) or the latest major version, you'll be able to benefit from the same upgrade to Forms.
As with previous releases, we are issuing this one first as a release candidate so you can evaluate what's included and ideally try them out on your existing solutions. Of course, if you do find any issues, or simply have comments for further improvement on the new features, we welcome any feedback.
How to get access to the new version and where to submit any comments and report issues, is discussed at the bottom of the post.

Let's have a look at what you can expect in this latest release 👀
What's new in Umbraco Forms 11.1 and 10.3?
We've focussed this release on various improvements we can make to the flexibility and options for editors creating and managing forms on their websites.
Custom Validation Patterns
When creating a text field on a form, it's possible to associate validation patterns with the entry.  So for example, if a field is intended to capture a URL, feedback can be provided to the person submitting their form if the entry isn't valid.
Up to now, these patterns could either be selected from an easy-to-understand but limited set of options provided by Forms - number, email, and URL - or they could be provided as a regular expression.  Many developers, certainly including myself, will run a mile from having to deal with a regular expression… so this isn't really something we should expect an editor to be familiar with!
With this release, we've added the ability for developers to customize the pre-created options for the editor to pick from.  They can add new ones, as well as remove or re-order the ones provided by Forms itself.
So for example, if you needed validation on UK postcodes, a developer could provide that for the editor to select.

Creating new validation patterns follows the familiar provider and collection models available with Forms, and is fully documented here.
Selection Of Fields For Entries View
When a form is submitted on the website by a site visitor, assuming the default option of storing entries within Umbraco Forms is selected, the information provided can be viewed via the backoffice.
The entries are displayed in a list that by default shows the first three fields of the form, plus some system information such as the state of the entry and the date it was created.  Each entry has a link to see the full detail.
It could be that for particular forms, this default selection for the list view doesn't include the information that's most useful to see.  If that's the case, it's now possible to customize the view via the form's "Settings" section:

You will be able to select from the full set of form and system fields to add, re-order and remove them for display.
Rich Text Options For Messages and Emails
In a prior update to Forms, we introduced a rich text field that can be added to forms to render additional information, with formatted text, links, and images.
In this release, we've extended this to allow the provision of formatted text in some other areas of the application.
When defining the post-submission behaviour for a form, you can select whether to redirect to another page or to display a message to the user. By default, that message remains in plain text, but the editor will now have the option to provide formatted text instead.

We've also added a rich text header and footer field to the "Send Email With Razor Template" workflow.  In the default template that ships with Forms, we render these fields, if populated above and below the form entry details.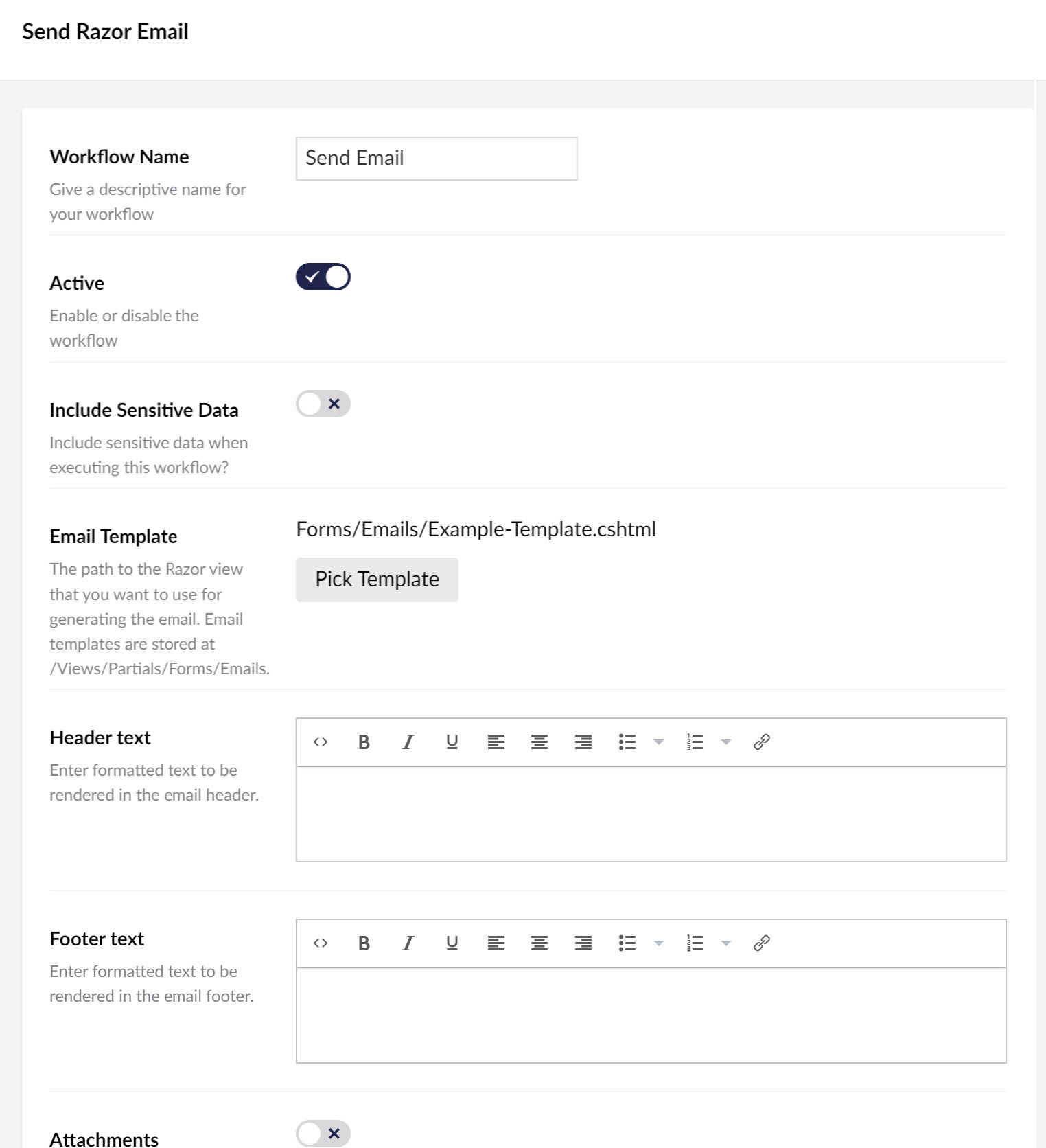 Other Updates
The other updates included in the release are as follows:
How to Test
You can either create a new installation using the package available from the link below or upgrade an existing project.  Both scenarios can provide valuable feedback.  If upgrading, you may find you need to update your cache buster version number.
If you find anything in the release candidate that is not working as you'd expect, we'd be grateful for feedback on the GitHub issue trackers for Forms. You're welcome to add comments to the features and fixes listed linked above or to submit new bug reports indicating that you have been working with the release candidates..

How to get your hands on the Release Candidate
For Forms, release notes can be found on the our.umbraco.com download page. The release candidate is available from the usual NuGet feed.
When is the Public Release?
We're aiming for a full public release on Tuesday, 21st March 2023, when the package will be available for new and existing projects on Umbraco Cloud and via NuGet.
A big H5YR 🙌  to everyone who has contributed to these releases by highlighting pain points, reporting issues, providing feedback, and suggesting solutions. And thanks to everyone willing to lend a hand in testing it out.
Bug reports are best handled on the issue tracker and as always, we welcome you to submit product feedback and questions to product@umbraco.com.