Overview: 
New Umbraco Forms 8.2 and 7.2 releases

Upgrade package minor releases

Upcoming features for Umbraco CMS
Updates to the Roadmap

New "Now"s
New "Next"s
Umbraco Headless progress
New Umbraco Forms 8.2 and 7.2 releases
On October 1st, two new minor versions of Umbraco Forms got released; Forms 7.2 and 8.2. In these new versions of Forms, you can look forward to a lot of helpful bug fixes and a new feature: 
Bug fixes
We have fixed issues related to the usage of magic strings, conditional fields and prevalue sources, in both Forms releases. In addition to this, in the Forms 8.2 release, you'll also find fixes related to date pickers and default field types. 
You can get the full list of details on the Umbraco Forms download page.
New helper methods in Forms 8.2
In some cases, you might have hundreds or even thousands of submissions from a form and being able to display these efficiently is important. Working with record data in your site will now be a lot easier and faster with the new helper methods that are introduced in Forms 8.2. 
To get your hands on the new Forms releases, go to the Umbraco Forms download page.
If you are on Umbraco Cloud the new version of Forms will be available on the project page and an upgrade is only a click away.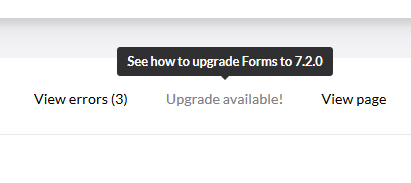 Upcoming features for Umbraco CMS
Umbraco 8.2
Umbraco 8.2 contains the first round of improvements for the Rich Text Editor, performance improvements and a whole lot more, making working and updating content more delightful for your editors! Among other new RTE features, you can look forward to the new drag and drop function for images as well as a better way to copy and paste content from a document directly into the Umbraco RTE without compromising the formatting. 
Last week we released a public preview of the Umbraco 8.2 release and we've already received a lot of great feedback - thank you! - based on the feedback, a few additional changes are needed before release. We plan to release Umbraco 8.2 on October 15th.
You can find the updated list of features and fixes on the Umbraco 8.2 download page and more details on the release with the 8.2 release blog post following the release next week.
Updates to ModelsBuilder
ModelsBuilder is the component in Umbraco making it possible for you to have strongly typed models to provide data for your views. In other words; it is the reason why you can simply type Model.Title instead of having to get your data by non-typesafe methods.
ModelsBuilder is a third party component built for and currently bundled with Umbraco CMS. 
However, as it's now the recommended approach for Umbraco implementations, we've decided to include ModelsBuilder functionality in an upcoming Umbraco minor release, most likely 8.3. This means that the core features of ModelsBuilder - including PureLive and generation of c# classes - will be maintained by Umbraco HQ and become a core part of Umbraco CMS.
In addition, we're making it possible to swap the build-in ModelsBuilder with 3rd party projects - such as Zbu.ModelsBuilder - for those who need more customization. 
Updates to the Roadmap
There's been some movement on the Product Roadmap since our last update. There are new items to be found in both the "Now" and "Next" sections, and then we also want to give you an update on the Umbraco Headless progress. So let's get to it: 
New "Now"s: 
Introducing Data Type Tracking
Data Type Tracking is a new feature that's entered the roadmap directly in the "Now" stage. 
This project is related to the upcoming Media Tracking project and will add tracking functionality to data types, making it easy to track where types are in use and get alerted if you are removing active data types.
Media Overview/Tracking 
The development has started on the Media Overview/Tracking project and has therefore moved from "Next" to "Now" on the Roadmap.

This project will add overview, tracking and alerting to media data used throughout the content published within the CMS, similar to the Data Type tracking project mentioned above.
With this functionality, it will be much easier to find content related to specific media data that needs updating and should you attempt to remove any media data that's actively in use, you will receive a proper warning on the impact it will have.
New "Next"s 
Rich Text Editor (RTE) - Responsive Improvements
We have the first bundle of RTE improvements ready for the upcoming Umbraco 8.2 release, but this is not the end of improvements in the area. We want to add further improvements for content editors using the RTE by making inserted media data respond better to size changes across screens and devices.
The new RTE project has been added as a "Next" item on the Roadmap.
Umbraco Headless progress
Umbraco Headless is the new upcoming SaaS platform from Umbraco. With Umbraco Headless you can use Umbraco for content management in any digital project you might have no matter if you are building a website in a technology stack separate from Umbraco or if you are building mobile applications, controlling IOT devices, building chatbot interfaces or any other exciting projects.
And things are moving along with Headless! 
In recent internal updates, we've added a new API browser in the backoffice of Umbraco Headless to easily let you browse API behaviour for your published content.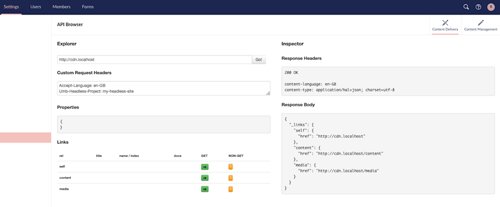 This will make it easy to test the API and the format of your content before creating any code, making it faster to get started and causing you fewer headaches trying to guess the format of your future API requests.
Umbraco Headless is targeted for release this year and is in the "Now" stage on the Roadmap. 
That's it for this update...
A large part of the work we do is inspired by the feedback we get from you. For issues and specific feature request, you can find the issue trackers for our products on the Umbraco Github account. 
If you have product feedback you're welcome to reach out to us on product@umbraco.com, contribute to the RFCs and if you want to get personal, you can find me on Twitter (@hemraker). 
 And remember, the Umbraco festival season has begun, so if you want to meet us in person make sure to attend a conference near you. You can find an overview here.
… Until next time.