Small tweaks to help you on your GDPR voyage
As promised in the "GDPR and Umbraco" blog post, we will make upgrades to the Umbraco CMS and Umbraco Forms in order to make it simpler for you to become GDPR compliant in various areas. This is an ongoing process, but with the new Umbraco 7.9. and Forms 7.0 upgrades we have gathered various GDPR-friendly features that will make it simpler for you to keep track of who's got access to what, what data you collect and give you the option to mark values as "sensitive".

A (very) good place to start your GDPR voyage 😉 : 
What's new in Umbraco 7.9.0:
General API for "logging of consent". This provides a simple way of registering that a person has given consent of any given action. This will allow for reporting and querying of an audit trail for consent for a person/action.


More detailed logging of user actions in the back office. The GDPR requires it to be possible to find out who has done what. For instance: "User X has given User Y permission to section Z" - this is now possible in 7.9.0.


The ability to mark Members as 'sensitive'. If these are marked as sensitive, the values will not be displayed in the back office to any user unless they are part of a User Group that has been flagged to be able to read sensitive data: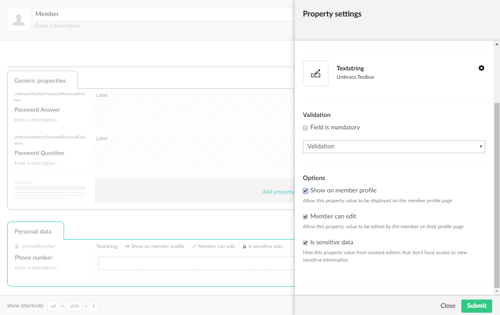 What's new in Umbraco Forms 7.0.0:
To get your hands on Umbraco Forms 7.0.0 you have to upgrade your Umbraco project to 7.9 first. After doing both upgrades you'll then have access to all the above and:


The ability to mark Form fields as 'sensitive' to hide them from certain types of back office users.

 




Forms will have an option to not store values at all in its default data store which will allow developers to use the Form's workflows to store the form data in their own custom data store.


We call it "The GDPR upgrade" because other than these GDPR features, Umbraco 7.9 will be the same as 7.8.2 and Forms 7.0.0. will be the same as 6.0.7. There are no breaking changes in these releases, just additions - which makes them straight forward for you to upgrade (if you've kept yourself up to date so far that is 😉 ).

We'll continue our focus on data privacy and protection going forward, and we'll implement best practices where necessary in future releases to make sure it gets simpler for all of us to stay compliant and take proper care of our client's data in Umbraco.
Please be aware that doing this upgrade won't automatically make you GDPR compliant. You have to do your own research and keep track on what exactly you need to set up and document in order to be compliant. But this upgrade does indeed make it simpler for you to keep track and control your data collection and user data access in Umbraco.
Get your hands on Umbraco 7.9 and Forms 7.0 today!
As always, for our Umbraco Cloud customers this helpful GDPR upgrade is only 2 minutes away. We've wrapped it all up for you - both the CMS upgrade as well as the Forms -, so all you have to do now is follow these steps:
Add a Development Environment to your project, if you do not already have one (Add a Development environment by clicking "Manage Environments" in the project view)


Make sure you also restore the content to the Development Environment from your Live.


When the Development Environment is all set up and you've made sure you don't have any pending changes on the Development Environment - you are all ready to upgrade to Umbraco 7.9. + Forms 7.0.!


It's as easy as clicking a button - like, literally clicking the "Upgrade Available" button on the Development Environment. The auto-upgrader will take care of everything from here! 🚀


Once it's done, check the Development Environment to make sure everything is looking right.


When that's confirmed, you are ready to deploy the upgrade to the next environment - Live or Staging, and start taking full advantage of all the new features.
Non-Cloud and release notes:
As always, installation and release notes can be found on OUR: https://our.umbraco.org/contribute/releases/790
https://our.umbraco.org/projects/developer-tools/umbraco-forms/


This release is also available from Nuget: https://www.nuget.org/packages/UmbracoCms/7.9.0