Tuesday, March 15, 2016
uProfile - Bob Baty-Barr
Name:Bob Baty-Barr, @bootnumlock(photo by Doug Robar @Percipient Studios)
Role/Company:Senior Developer, The Segal Group, Chicago, IL USA
Started working with Umbraco in which year?The version was 2.1.6 the year... Ugh, too long ago to count!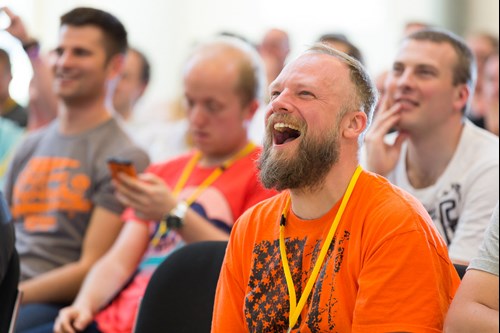 What are you currently working on?
I am currently working on an HTML email engine leveraging the Umbraco Grid to allow content editors to create responsive emails. It was great to discover how flexible the grid could actually be and how easy it was to manipulate to customize the output for both the front and back end views.
Favourite Umbraco moment or achievement?
My favorite Umbraco moment would have to be the Open Space Session last year at Codegarden. The topic was work life balance and the turnout for this open space was simply amazing. So many great contributions and discussions about what we, as developers, can and should be doing to make sure we stay at peak levels of performance and creativity without losing sight of the important things in life, like our health, our relationships and our spirituality.
Piece of Umbraco work you are most proud of?
This question makes me giggle because in my career with using Umbraco, every time I fire up a project, there is a strong chance that the end product will make me more proud than the last one I completed, which at the time, was the work I was most proud of. Growth feels like it is built into the very fabric of Umbraco and the way Umbraco works, allows developers to grow every time they use it. However, if I had to pick one piece of Umbraco work to be MOST proud of… it would have to be the HTML Email Engine I recently completed and launched for our company. The tool allows content editors to use the grid to craft email messaging that is branded and responsive out of the box… all they have to do is pick the type of row and off they go!
What about Umbraco keeps you coming back for more?
The people without a doubt! Sure, the product is great, but the people are just amazing. How many people [outside of Umbraco] can say that they have made life-long friends from half way around the globe simply because of the CMS they selected for a project 10-ish year ago ;)
What is on your desk at work?
I have a lot of little trinkets on my desk, but one of my most favorite, is a hand written thank you note from THE Warren Buckley. This note reminds me daily of how great our Umbraco community really is. The note was a thank you for helping Warren with a microphone upgrade for his uHangOut video podcast that he does on Fridays. The community really stepped up and helped him reach, and exceed, his fund raising goal. It truly is a magical, one-of-a-kind community!
Who inspires you most?
My wife and my children are truly my biggest source of inspiration. My kids are all very different people and each one of them has a trait that I truly aspire to have as a part of my make-up. One is incredibly driven, one is incredibly passionate about teaching children and the third has the ability to turn everything she does into beautiful art. My wife is basically a super hero - there is nothing she cannot do. She volunteers wherever she can to make our little part of the world a better place for everyone and that is just amazing to me. They have all taught me so much about giving more of myself than I think that I have to give.
What is the first thing you think of when you wake?
I honestly have different thoughts from day to day… but I will tell you what… 99 times out of 100, whatever it is puts a smile on my face and a fire in my heart to attack the day.