uProfile March 2019: Joke Van Hamme
Working for: The Reference
Job title: Project & Operations Manager
Country: Belgium
Time working with Umbraco: +/- 3 years
Favorite Umbraco moment or achievement?
One of our latest projects where we suggested using Headless and React. We started the project as a POC so that the client could evaluate if his idea was something he wanted to develop further. It was great to get the confidence to use Headless. Our architectural choices demonstrated we created something future-proof.
What in your Umbraco career are you most proud of?
That would be that same project: we burned our Story Points at a high velocity and teamed up great with content managers and testers at client side. The positive atmosphere in that project was so strong!
We delivered our project in a short period and – fingers crossed – convinced yet another client of the benefits of Umbraco.
What about Umbraco keeps you coming back for more?
The community: everyone is so friendly and eager to help. Sharing your knowledge and accomplishment because you want to give others the opportunity to learn is very refreshing. 
This is also my experience when I talk to everyone I got to know at Umbraco HQ. I remember my first time talking to Poul about an invoice I didn't understand. I wasn't used to a CFO being that friendly and taking time to go through all the details with me.
What are you currently working on?
I'm helping Damiaan in organizing BUUG (Belgian Umbraco User Group) meetups at The Reference. There was one in February and hopefully, there are many still to come.
What are your 3 top tips for an Umbraco newbie?
I'm a big fan of 24 days in Umbraco: it's inspiring for everyone, developer or not.
Start following Umbraco Practitioners on Twitter for the non-developer side of things and to get to know others.
As a newbie, the best way to discover why Umbraco is such a friendly CMS is to "just do it". I learned a lot from taking the role of a content manager and discovering how easy it is to work with Umbraco.
Any aspirations for your future?
I would really want to win an Umbraco Award at Codegarden this year. The past year we launched some cool projects so it would be amazing if we could bring home an award!
On a personal level, I would like to be more active in the Belgian Umbraco Community. I'm still searching for what I could bring to the table as a Project Manager.
What is on your desk at work?
We have a clean desk policy at work but I hang on to little compliments I get from the team. I truly believe in positive communication (probably also a reason why I feel "at home" in the Umbraco community) so they mean a lot to me.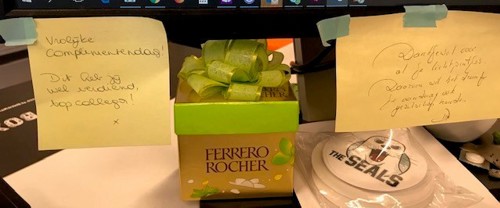 What's playing on repeat on your headset?
I have a soft spot for French chansons: Bécaud, Piaff, Brell… my mother played them a lot when I was a child and they remind me of my time working as a French teacher.
What's your most memorable meal?
Diner at Likoké in 2013 with my brother. It was our first time in a gourmet restaurant. Timing was perfect: we celebrated my brother's birthday and our once in a lifetime achievement of running up the Mont Ventoux.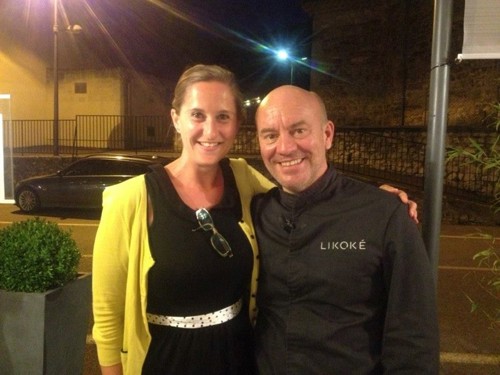 H5YR to Joke! 😊 If you'd like to connect with here, you can find Joke on Twitter or LinkedIn.
Know someone who'd be perfect for a uProfile? 
On Our Umbraco you are able to find a description of what it takes and how you're able to nominate a uProfile candidate who you think deserves to be given some spotlight due to their Umbraco journey or difference they make in the Umbraco community 🙌