Being the first of its kind in Denmark, WonderTech was an event to celebrate the achievements of women in the tech industry and to inspire diversity in tech.
The event was organized by WonderCoders, Women in Tech DK and Women Techmakers Copenhagen and was a day that brought together leaders, entrepreneurs, engineers, students and other enthusiasts for a lot of inspiring talks, session and workshops - and I had the great pleasure of participating!
4 Keynotes, 4 Wonder Women
After check-in and a delicious breakfast - and coffee, of course, the day was kicked off with a welcome from Plamena Cherneva, founder and CEO at WonderCoders, giving us a great introduction to the day:
"We don't need women because they are women, but because we need people."
The program before lunch consisted of 4 keynotes from 4 very prominent women in the tech industry in Denmark.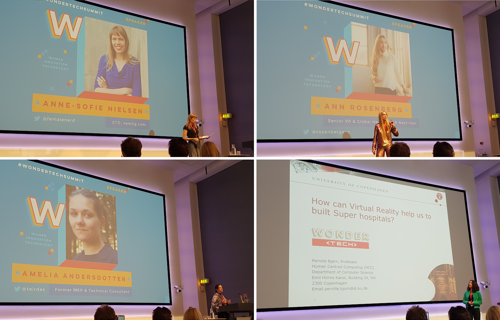 First up was Anne-Sofie Nielsen who's the CTO at the Danish company Nemlig.com - one of the first virtual supermarkets in Denmark. She did a great job sharing her story about making a career in the tech industry.
The second keynote speaker talked about a very time-relevant topic: GDPR. Amelia Andersdotter has worked on the General Data Protection Regulation directly from the European Parliament in Brussels, and was able to give all of us some great insights and she put a lot of effort into assuring us, that GDPR is not so scary after all! 🙈🙉🙊
Third woman on stage was Pernille Bjørn, Computer Science professor at the University of Copenhagen. Besides sharing her story about becoming a professor in Computer Science, she also talked about a project she's currently working on, about how we can use VR (Virtual Reality) to design super hospitals.
Finally, Ann Rosenberg took the stage. She is Senior Vice President & Global Head of SAP Next-Gen, and she gave a very inspiring talk about the current global state of the tech industry, and emphasized how diversity is in great demand. I remember her mostly for this quote:
"I never saw myself as a woman - I see people as people."
All four talks were very inspiring, and it was a great mix of personal stories, statistics and examples from the industry. To round up all the keynotes, a speaker-panel took place. Here we could ask questions to the 4 amazing women who'd just shared their very inspiring stories.
The future is here!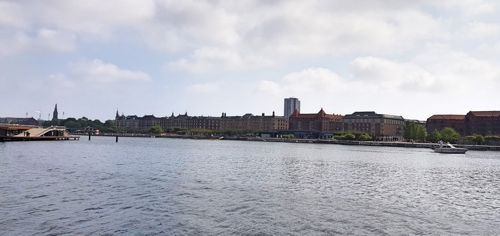 After enjoying a tasty lunch in the sun by the water, it was time for the workshops. There was a lot of great workshops planned, and I had quite a hard time deciding which ones to go to.
The first workshop I went to was "Conversing with machines" with Goran Vuksic. Sounds pretty futuristic, right? Well, it kinda was.
We learned the basics of how to create a skill for Alexa - a cloud-based voice service made by Amazon. It was super interesting and I must admit that even though this technology has been here for a while now, it still amazes me how you can simply use your voice to, say, turn the lights on and off 🤯 - I mean, that's just scary cool!

Between the workshops there was a quick coffee break - yes, we were well provisioned with coffee and delicious snacks throughout the day 🤤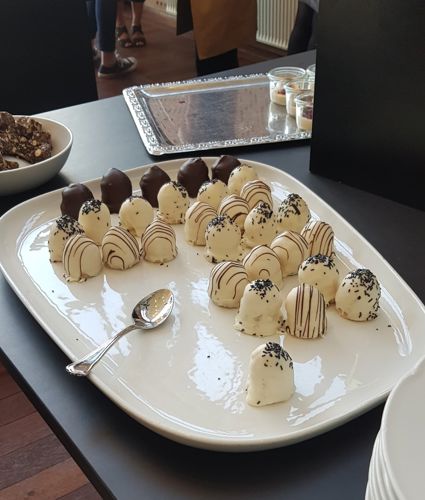 The second workshop I attended was called "Embracing chat bots – How to build a chat bot". KPMG NewTech, who specializes in the business aspects of implementing emerging technologies took us through an engaging hour of learning how to build a simple chat bot using Google's autobot service, DialogFlow. It was very hands-on and fun to see how easy it actually is to create a chat bot that gives you various answers depending on the message you send.
And the award goes to…
The summit concluded with the first ever Women In Tech Awards in Denmark. A total of 11 awards were handed out. Amongst these were: Role Model of the Year, Young Leader of the Year, Entrepreneur of the Year and Women in Tech Advocate of the Year.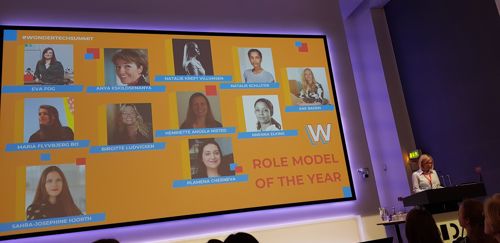 It was a great way to celebrate the achievements of some outstanding women who are doing a lot for the tech industry in Denmark and who are all making a great effort to inspire other women to venture into the growing world of technology.


Inspire Diversity!
All-in-all, I had a wonderful day - it was well-organized and the talks and workshops where really well put together with a wide range of different and relevant topics.
The overall message of the day: Inspire Diversity.
It's a fact that more people will be needed in the tech industry in the coming years as it's growing at a very fast rate. As Goran Vuksic put it:
"It's the most interesting time in human history."
I agree 100%. So many things are happening, new technologies are emerging all the time and you really have no way of knowing where the industry is 10-15 years from now.
Being part of this day inspired me a lot, and I've decided to join Women in Tech Denmark to do my part in helping to inspire other women / girls to do more tech! You can read more about the organization here: Women in Tech DK
If you want to read more about the WonderTech Summit head over to their website.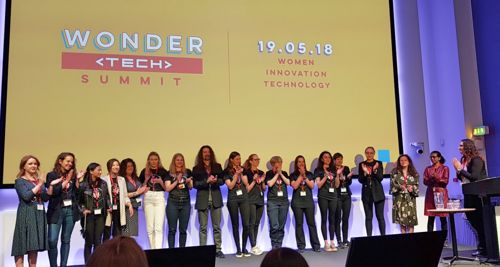 Finally, I want to give a big shout out and #H5YR to all the people who organized this day! They did an amazing job, and we are very proud to have sponsored an event like this 👏 I really can't emphasize enough how truly inspiring it was!