https://www.roomtoread.org/
Room to Read is a worldwide non-profit organization that seeks to increase literacy, focusing particularly on girls who have fewer educational opportunities in many corners of the globe. They had an aging site, which was a true challenge to rebuild due to both its breadth and depth. Hundreds of pages needed to be restructured in a more streamlined way. FYIN was up for the challenge and built a modern, user-friendly website, that makes it easier for Room to Read to share their vibrant story and connect with supporters.
Skills used
Architecture
Communication
Digital Strategy
Integrations
Sector
Education
Public sector & charity
✅ stellar visitor & editor experience     ✅ mobile-friendly     ✅ multi-site configuration
Upgrading to Umbraco 8 🚀
Room to Read had an aging Umbraco 7 website that was functional but also somewhat convoluted in its structure (both in the back office and on the front end). The FYIN team was tasked with rebuilding the site in Umbraco 8. Room to Read wanted the new site to provide a stellar visitor experience as well as a painless editor experience. 
The site was a challenge to rebuild because it is both broad and deep. With hundreds of pages that needed to be restructured in a more streamlined way, the project involved many areas of expertise within FYIN, from development to content migration and everything in between. 
Ultimately, the endeavor was a successful one, with Room to Read being able to tell their story and connect with supporters more efficiently.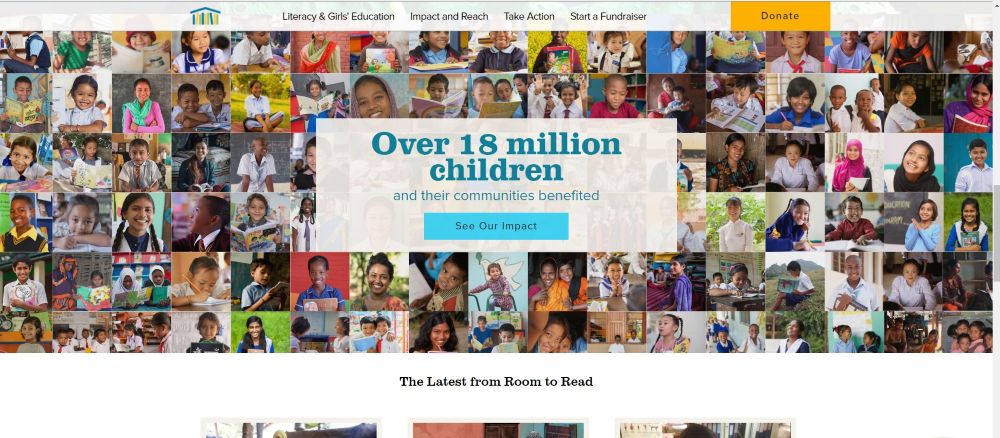 The goals
Room to Read's overall goal as an organization is to expand and support literacy and gender equality programs through donations. Having a well-structured site that inspires supporters and enables those programs to continue is critical. 
Room to Read's editors were frustrated with the editing experience on the old site. It took many clicks just to update a node (providing the node could even be found). They felt that their creativity was stifled in trying to accommodate both desktop and mobile users. The old structure favored desktop users. 
The project's primary objectives were: 
👉 Streamlining and improving the site in general 
👉 Improving the user experience by reducing the number of clicks to reach critical information
👉 Cleaning up the navigation 
👉 Providing a better experience for mobile users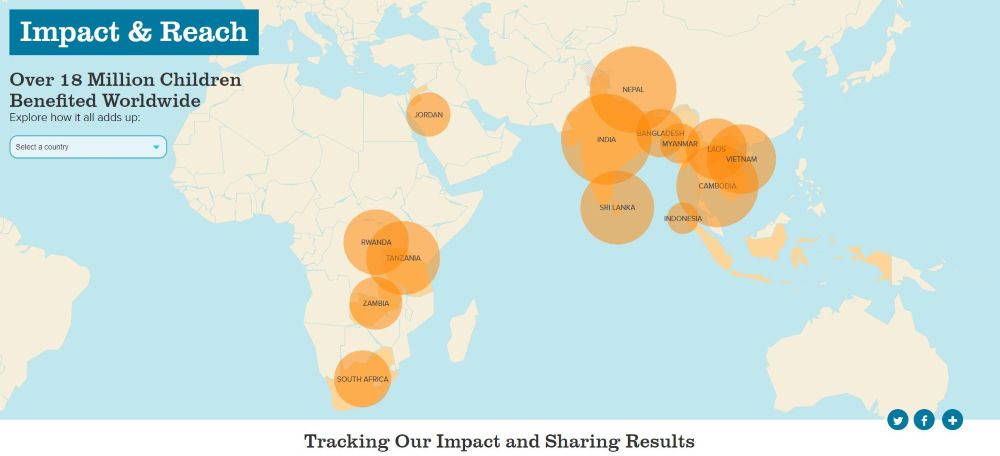 "Work smarter, not harder" 
Joe McKinley, FYIN's Lead Developer for this project, gave a lot of thought to the site and its architecture at the outset. The old site was using a somewhat outdated grid system, which led to the editing woes the Room to Read team was experiencing. 
Joe noted, "We streamlined the site by building feature containers to make it easier for their editors to select exactly what they need for each page."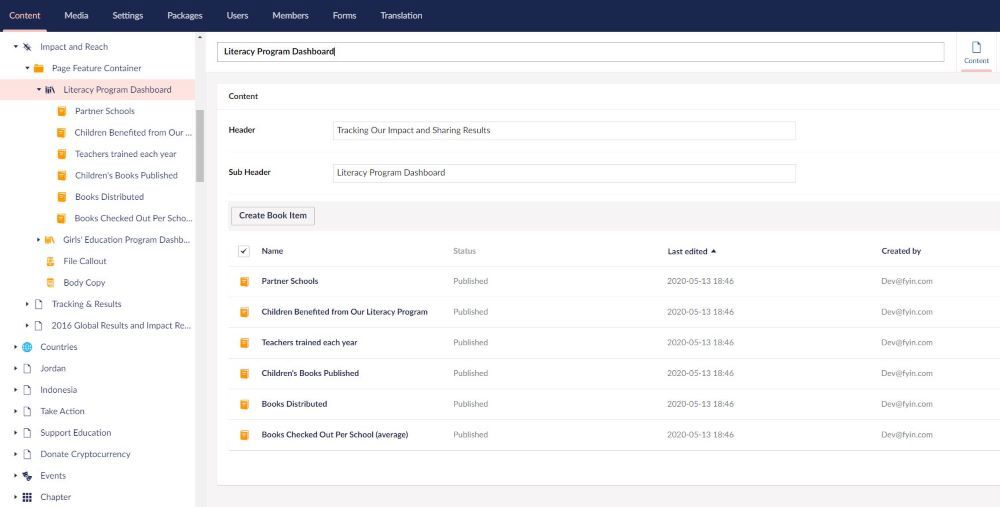 The FYIN team built the entire framework in Umbraco v8, making sure to accommodate all of the needed call-outs, containers, and doctypes. The site also contained dynamic maps that needed to be rebuilt. Our speedy data team invested many hours in adding all content pages plus accompanying images and other files. The goal was to leverage Umbraco in a "work smarter, not harder" way in order to set Room to Read up for success. 
In addition to its main website, Room to Read had a standalone site for its audience in Japan. This site needed to be rebuilt and rehomed. We migrated the Japan site into the same Umbraco installation as the primary site. This multi-site configuration allows editors to access and edit both sites with one login.

The new site gives us a better way to present the work we do. Editing the site is now fun instead of feeling like a chore. I can now flex my creativity in a new way.
Exceeding expectations 
The Room to Read team reports that the new site has exceeded their expectations. Likewise, everyone at FYIN has a deep appreciation for Room to Read's mission and the work they are doing all over the world. Literacy is critically important to every nation and culture, and Room to Read's impact is undeniable. FYIN was happy to deliver a solution that makes it easier for them to tell their vibrant story.