Umbraco for businesses
Empower your editors - and your business - with Umbraco: the flexible, cost-effective open-source content management system that offers endless extensibility.
Design a digital experience that's tailor-made to fit your business strategy, gives you faster time to market with sheer ease of use, and grows with you at whatever pace you need.
What can you achieve with Umbraco?
An example of what you can build with Umbraco is worth a thousand words. So see some of the stunning solutions our clients and Solution Partners created over the years:
Want to see firsthand how Umbraco works and what it can do for you? Book a free 1-on-1 demo with no strings attached where a friendly Umbraco expert will show you around the backend. Get to know some of the most beneficial functions the software can offer your team!
Dive into our Integrations and Extensibility Features.
Future-proof your business with amazing flexibility
You often need more than a CMS to get the job done. With our composable DXP philosophy, you'll be able to extend Umbraco and build the tech stack that fits your exact needs.
Integrate with tools like eCommerce, email marketing system, CRM, analytics, campaign management, personalization services, or PIM - and many more. Explore Umbraco integrations or helpful community packages.
And there's no vendor lock-in. So if you change your mind about what tools you need, go on and switch up your tech solution providers to customize your digital experience down to a T and take things to the next level!
Content management made simple
In Umbraco, adding and editing content on your website is downright delightful. With a smooth, simple, intuitive editing experience, your editors can work faster, independent of developers' help, and without interruptions.
Your team can edit text, upload images, or write catchy SEO descriptions - all without leaving the page they are editing.
This way, your team can push content out to your website without delays, giving you faster time to market and ensuring always-updated web content (and a smile on your editor's face).
Trusted by businesses you know
How does Umbraco make your editors' lives easier?
Multilingual editing
Translate your pages with ease! Thanks to the side-by-side mode, you can edit two pieces of content at the same time without the need to switch tabs.
Multi-device preview
Before you hit publish, make sure your content will look as intended across all screens with Umbraco's Responsive Preview function.
SEO
Optimize your content and rank better with search engines with our technical and on-page SEO feature - from meta descriptions to adding schema markup.
"Umbraco provides a huge array of tools as standard, allowing for a great deal of personalization and tailoring. Furthermore, many other systems/partners can be easily connected to the Umbraco platform. Ultimately, this means Umbraco can be quickly and easily set up to best meet the needs of our visitors (and our member firms' visitors and clients)."
Adam Grainger, CIO & Neil Robinson, Digital Marketing Executive at Baker Tilly International
Make your website comply with accessibility regulations
Umbraco has accessibility in its DNA so your developers can make sure everything from content to colors on your website complies with accessibility regulations.
Are your editors struggling to remember little things such as putting in alternative text for images?
With customizable requirements, your developers can make these accessibility-related tasks a natural part of editors' workflow - and adapt them as new demands arise, keeping your website future-proof and accessible to all your visitors.
Transparent pricing that won't break the budget
A great software solution shouldn't cost you an arm and a leg - and definitely shouldn't come with unpleasant surprises on your bills.
With no start-up fees or hidden costs, Umbraco is a cost-effective solution. We've made sure the pricing for all our products is transparent so you can rest assured that you can succeed with your project without breaking the bank.
And if your needs change? There are multiple plans for you to choose from so you can always move to a plan that fits your business - see our pricing plans here. 
Need a hand with your implementation?
If you don't have enough developer hands on deck, hiring an agency may be the right step. Luckily, we know the best of the best - our Umbraco Gold Solution Partners!
With officially certified Umbraco experts on their team, they are always up-to-date on their Umbraco knowledge and have the skills and experience to build you a powerful digital solution that will help you succeed.
We have talented Gold Partner agencies all around the world. So reach out to us to help you find the best match for your business needs!
Keep up with the latest knowledge
The world of technology is always changing - but we'll help you stay on top of all industry trends.
Read through our whitepapers or watch our case webinars to keep up with all things digital!
Explore our products
Whichever Umbraco product you choose, our refined open-source CMS is the base for it. So whether you are interested in a cloud-hosted or headless solution, you can be sure to find wonderful ease of use and flexibility at its core.
A CMS backed by a solid ecosystem
As an open-source CMS, Umbraco's .NET Core source code is free for everyone to see and modify. Thousands of users worldwide engage with it every day. In fact, our Umbraco Community is more than 220,000 strong! More eyes on the code add to a higher level of security and provide frequent contributions to continuously improve the CMS for all.
But rest assured - the CMS is backed by a professional and talented commercial company, the Umbraco HQ, built on openness and transparency. With more than 17 years of experience and with 100+ dedicated (and friendly) employees, the company is working hard to keep the software and services secure, up-to-date, and a joy to use for content editors and developers.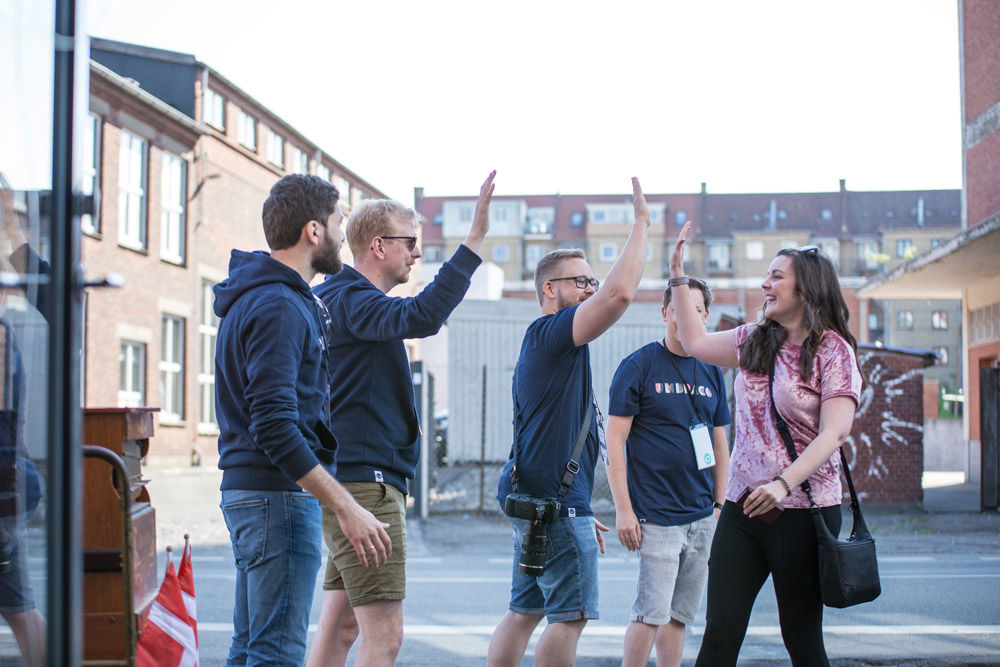 Get started with Umbraco
It's important that your new CMS works for your needs and your team - from the very beginning.
Here are our recommendations for your next step depending on your situation or your team:
I'd like to see Umbraco firsthand
Picking a new CMS is an important decision and we'd like to help you make sure you have all the information you need.
Book a free live demo of Umbraco and a specialist will take you on a personalized tour of Umbraco where you can get all your questions answered!
I have a developer
If you have one or more developers in your team, it's important for them to also feel good about the CMS they will be using.
We have plenty of resources for developers, and if they'd prefer hands-on research, they can play around in a free 14-day Umbraco Cloud sandbox!
I want help building my solution
If you want help developing your website, you should look at our Solution Partners with officially certified and skilled developers.
If you need help with choosing the best agency for you, let us know a bit about your website and we will hand-pick 3 agencies that are the very best match!