17% of all new Umbraco sites run on Linux in production!
That's one of the learnings from the detailed telemetry data you've sent us recently. However, we should add a disclaimer; Not many of you have enabled detailed telemetry… So, we shouldn't put too much emphasis on these numbers or be too hasty in drawing conclusions, …. - yet. 
Hopefully, you'll help us change this so that we can have more data and more certain conclusions. Not just for us at HQ but for all of us. Because we want to share the findings. The data we are gathering through telemetry is fully anonymized, so it should be possible to use the Detailed Setting for most projects. 
It's all in the details
We believe there's so much we all can learn from having good usage statistics. So if you haven't done so lately, take a look at current and upcoming projects and make sure to enable Detailed Telemetry Settings. This can be done upon installation or subsequently in the Telemetry data dashboard in the Settings section.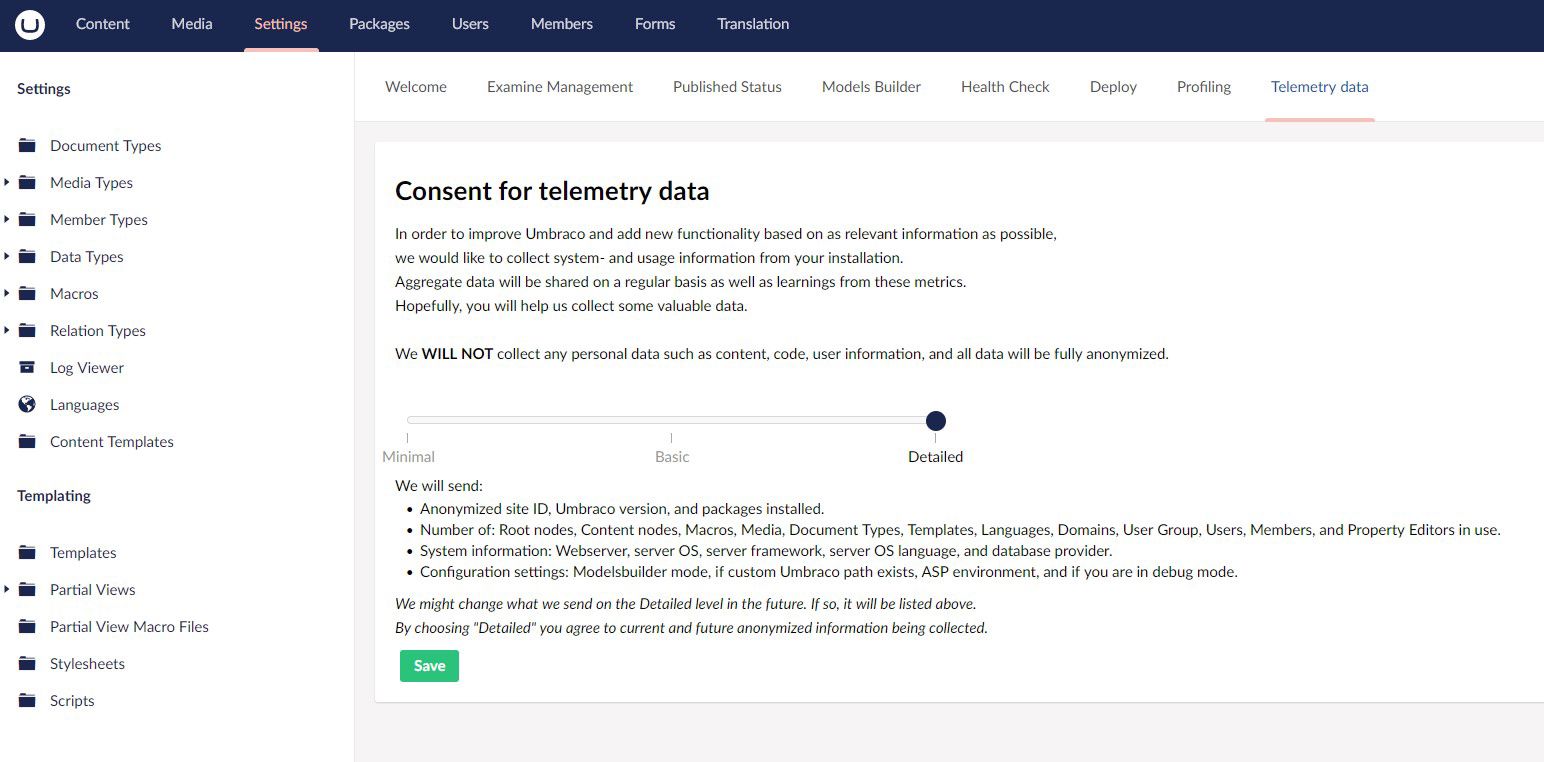 The two other options provide far less information, with Minimal being a simple install counter and Basic, the current default, including the Umbraco version number and packages that have telemetry enabled. 
Just to let you know, here is an example of the JSON sent on the Detail Settings level:
50% use the Block List Editor
The data we receive from you can help inform decisions around Umbraco products, upgrades, package development, and more. As we aggregate more data we can start summing up and get an idea of how Umbraco is used and where to focus our effort. We can e.g. see that 50% use the Block List Editor. That's a high number, which is encouraging, as we've expanded on the Block Editor technology with the Block Grid Editor introduced in Umbraco 11 and 10.4, and have both Reusable Blocks and Block-level variants on the roadmap.
We can also see that the only Property Editor that is not used is Picker Relations. It might be included in projects that do not report on a detailed level, but it's still interesting to see that there might be built-in property editors that add limited value to the users of Umbraco. Not surprisingly, the single most used Property Editor is Text Box. The Text Box is used in 92% of all projects, with Text Area (86%) second and Tiny MCE (83%)  as the third most used Property Editor.
How big is an average build
While we are at it, have you ever wondered what an average Umbraco site looks like - here is how the numbers sum up as of today: 
64% have less than 100 content nodes
61% have less than 100 media items
53% have only one language
36% have only one root node
81% don't have any members
Be aware though, that we also see some sites that differ significantly from an average project. E.g. 19% have more than 1000 content nodes, 26% have more than 1000 media items, 22% have more than 3 root nodes, and 3% have more than 250 members. It underlines that Umbraco can be used for many things both big, small, standard, and specialized.
Looking a bit more into the implementation part, we'll see the differentiation materialized once again, as there seem to be many ways to bring a project to life. The most common approach is to:
Have less than 50 Document- and Element Types (61%)
Have 5 user groups as is the default (81%)
Use SQL Server (86%)
Have no domains added (58%)
ASP.NET Core is now the preferred framework
Finally, besides data received from Detailed telemetry settings we also have the Basic setting that has been active since Umbraco 8. This setting has been enabled is enabled by default and has a much higher response rate as a consequence.
The Basic setting includes the Umbraco version and from that, we can see the spread of usage:
53% are on Umbraco 8
15% are on Umbraco 9
25% are on Umbraco 10
8% are on Umbraco 11 
From the "Basic" numbers, we also see that uSync is the most installed package (24%) outside HQ add-ons with Contentment (7%) as the second most used.
We'll keep you posted 
That was a lot of numbers - but hopefully, it showcased some ideas on what these numbers could be used for - especially if we have more who provide Detailed Telemetry. In future telemetry updates we will work towards a more standardized format that will allow us all to track key numbers, and of course highlight, anything that has changed significantly, or can contribute to ongoing product discussions and development.
We have discussed with some of our partners if we should simply set the telemetry level to detailed by default on new projects. The idea was well-received, so this is being considered as an approach going forward. We'd love to hear what's holding you back or if you have any concerns or ideas regarding telemetry. You can reach us at product@umbraco.com.
And of course, a big HIGH FIVE YOU ROCK if you already have enabled Detailed Telemetry when installing a project or on the Telemetry Data dashboard in the Settings section 🙂 
Hope to also count detailed data from your projects for the next telemetry status blog post.