Overview: 
New Releases:
Upcoming Releases:
New Releases✨
Umbraco 11.1 and 10.4 
We started off the year with a bang - two releases of Umbraco CMS in one day 🚀 OK, it's cheating a little as they contain almost the same features and improvements. 
Umbraco 11.1 brings highly-requested features such as a maintenance page for upgrades, additions to Block List Editor and Element Types, with single Block mode and support for the Tag Editor, which make them even more useful. It also brings feature parity with Nested Content, as well as new improvements such as drag and drop support for the Media Picker. All things along with a huge list of contributions from Hacktoberfest make these incredibly worthwhile upgrades.

It's all backported to Umbraco 10, so everyone on the LTS version benefits from this. And finally, Umbraco 10.4 also includes the Block Grid Editor. You can get all the details in the release blog post.
Umbraco 11.1 and 10.4 were released on January 12, 2023. 
Umbraco Workflow for Umbraco 10
More great news for Umbraco 10! Umbraco Workflow, the successor to Plumber, was released in December last year for Umbraco 11 and is now available for the LTS version as well.
Workflow is updated to run on the latest version of .NET, including substantial rewrite and cleanup of the code. It also comes with new features such as content refresh notifications and the ability to send rejected content back to a specified stage in a multistage workflow. You can read all about what Umbraco Workflow can do for your projects in the release blog post. 
Umbraco Workflow for Umbraco 10 was released on January 18, 2023.
Umbraco UI Library 1.1
As you'll see in the roadmap section, the work on the new backoffice (aka. Future-proofing the Umbraco Backoffice) is in full swing and part of that is the switch to using web components for the backoffice UI. A large part of this work is gathered in the Umbraco UI Library, released last year, and the library is naturally evolving as it is being used more heavily for both the new backoffice and the Umbraco Cloud portal.

This also means that bugs are discovered and fixed, and new features and improvements are  implemented. A couple of weeks back this resulted in the 1.1.0 release of the Umbraco UI Library. As you might recall, the UI library is included in the latest versions of Umbraco 10 and 11, and the new version of the UI library will be included as a dependency update in the next minor release for both. You can find the details of what's included and fixed in the release notes.
Umbraco UI Library 1.1 was released on January 11, 2023
Marketplace Updates
The Umbraco Marketplace was another December release last year and the reception has been fantastic. There are already 100s of Umbraco packages listed - so cool to see. And there are updates in this area as well with improvements to the website and new tools available for package developers.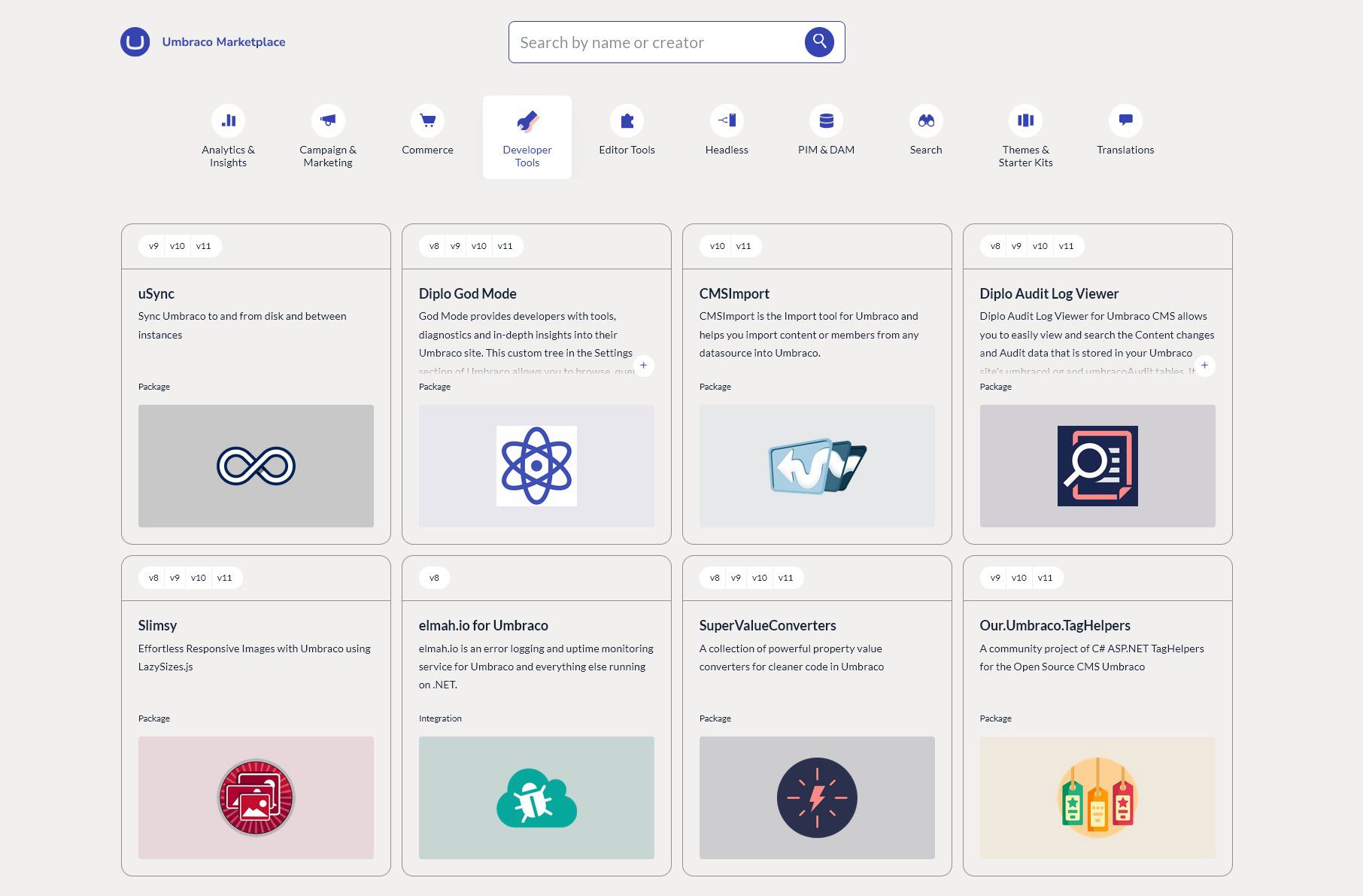 In the Marketplace Update blog post for January, we detail some new features that have been added since launch to streamline and improve the package listing process, as well as highlight some features that not everyone may have realized are there and are available for use.
If you want to be updated on the latest Umbraco package-related news and events, you can subscribe to the Umbraco Package Developer Newsletter and we'll make sure to send you relevant updates and heads-up related to package development.
Patches for Umbraco Forms
Forms 8.13.5, 9.5.4, 10.2.2, and 11.0.1
Wrap-up release of a number of resolved issues for versions of Umbraco Forms from 8 and above. Release notes and links to the specific issues included in the updates are available from our.umbraco.com.
Released on January 17, 2023.
Multi-factor Authentication (MFA) Settings and Prefixed Secrets for Umbraco Cloud
A couple of additions have been added to the Umbraco Cloud toolbox, and that means there are new release notes for you to browse through - starting with the new overview of MFA settings on a per-user level for Cloud organizations.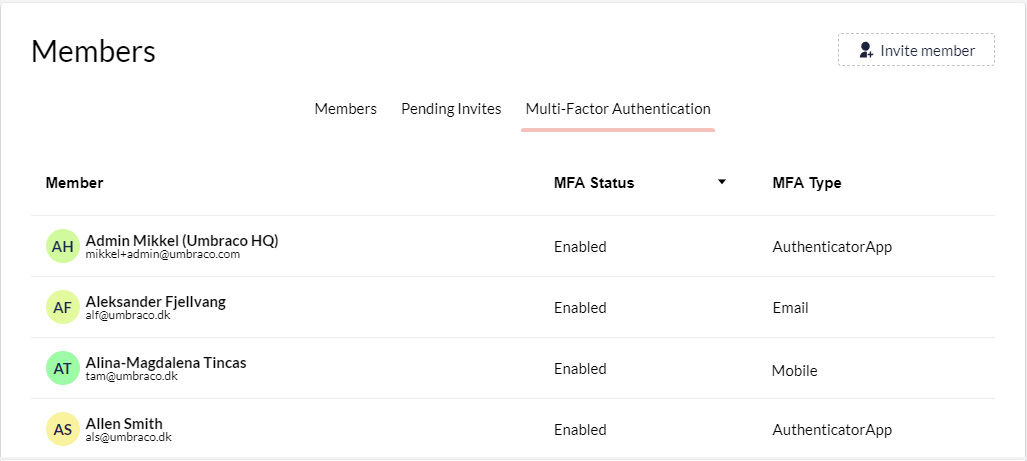 This makes it possible to easily see who is using MFA and what type. Handy to keep track of and help make your Umbraco Cloud experience even more secure. There will be further updates and features added to this area in an upcoming release.
We've also added some accepted prefixes if you're working with the recently launched Secrets Management feature. This is to allow you to follow proper conventions for naming for some of the most used configurations.
… aaaand, you might have noticed there's something about a new hosting option for Umbraco Cloud; more on that below 🙂
Upcoming Releases 💫
UK Regional Hosting Option for Umbraco Cloud
As you might have gleaned from the Umbraco Cloud release notes above - you have a brand new region to choose from when creating new projects on Umbraco Cloud 🎉 Based on demand we have added the ability to store and serve data from the UK, as well as the already existing Europe and US options. Big news for all our partners and users, and for everyone working with clients in the UK. 
So why under upcoming? We're "officially" launching the feature on February 1, in just a couple of days. The feature was ready and tested, though, so why not soft-launch and make it available to all who need it? Launch blog post and press release will be out on Wednesday but you can already make use of it now - enjoy! 
Scheduled for ("official") release on February 1, 2023.
New features and Improvements for Umbraco Heartcore
Another round of features and improvements are being rolled out to Umbraco Heartcore this week. Along with new options for the rich text editor, URLs for draft content in the Preview API, and a bunch of smaller fixes, you also get all the latest updates and features to Umbraco Forms and Deploy. See more on the scheduled update on our status page.
Scheduled for release on January 31, 2023.
inriver Integration for Umbraco CMS
On Monday, February 6, 2023, a new integration for Umbraco CMS will be released. This time it's for the popular inriver Product Information Management service and a package to help with easy integration will be made available.
With the package installed, you will have access to a custom product picker that can be used as a property editor for content, a value converter providing a strongly typed model for rendering, and a sample rendering component for the selected product.
Scheduled for release on Monday, February 6, 2023.
Umbraco 11.2
And just as a little reminder: The release train is full steam ahead and the next minor version of Umbraco CMS is in the works. The release candidate for Umbraco 11.2 will be available Thursday, February 10, 2023, and the public release is scheduled to follow 2 weeks later.
You can already follow along and see what's coming up in the release notes.
Umbraco 11.2 is targeted for release on February 24, 2023.

Updates to the Roadmap
There are a whole bunch of exciting updates to the Product Roadmap, make sure to head over there for the full description and latest target release windows. 
New in "Now"
New backoffice
The repository for the new Backoffice project is open and includes a readme detailing how to get the project up and running locally. There is an active issue board with up-for-grabs issues and an active discussion board. The project is under development and things may not always work. Please note that we do not accept bug reports at this time, but we encourage you to take a look and participate in the discussions on GitHub and our Discord server.
You can also take advantage of our contributing guidelines to get a head start on what it is like to develop with the new Backoffice. You will find a list of issues marked as "good first issue", which are ideal for you if you want to get to know the new backoffice, and you will find a guide on how to build a dashboard as well as a brief overview of the different technical solutions we are working on.
Testing the new backoffice with the CMS
We have added the new Backoffice as a submodule to the development branch of Umbraco 13, which you can draw advantage of by cloning it down and running the project. This allows you to see the Backoffice in action against a real Umbraco instance. This branch is also where the bulk of the work for the new Management API is happening, which is the replacement of the current Backoffice API that the new Backoffice will use.
This item has been moved from Next to Now on the roadmap and continues to have a target release of December 2023, as part of Umbraco 13. 
Entity Framework for Umbraco CMS
Introduce Entity Framework Core in Umbraco CMS so that developers can benefit from the broad usage of this framework, its support, and its alignment with .NET versions. This item has been moved from "Next" to "Now". 
Target release: June 2023 (as part of Umbraco 12).
Form Editing Features for Umbraco Forms
We're planning updates for the next feature release of Forms for Umbraco 10 and 11, focusing on providing additional flexibility and improved experience for form editing.
Target release: February 2023.
Integration with InRiver PIM
As mentioned above the new package for Umbraco CMS integrating with inriver is on its way and has received a release date.
Target release: February 6, 2023. 
New in "Next"
Improved Performance Monitoring for Umbraco Cloud
A new addition to the roadmap targeted at developers and admins working on Umbraco Cloud providing them with more helpful data and statistics on project performance. We are currently looking into what we have available and prioritizing the most useful information first. We'll have more to share on this as we get closer to releasing the new feature(s).
Additional Integrations for Umbraco CMS
2 additional integrations are planned in the upcoming months as part of the cDXP (composable Digital Experience Platform) strategy. With an integration for Aprimo scheduled for February and Trustpilot a little later in March. 
New in "Later"
Import and display of package install information on Umbraco Marketplace
We'd like to synchronize some information from the Umbraco telemetry data that gives an indication of the use of packages in active Umbraco installations and make this available as information and an ordering parameter for the display of packages. This is a new item on the roadmap.
… Until next time
A large part of the work we do is inspired by the feedback we get directly from you. If you find issues or have specific feature requests, you can find the issue trackers for our products on the Umbraco Github account. You're also welcome to reach out to us at product@umbraco.com with questions and suggestions related to all things product, be it roadmap, communication, or feedback.