Hi there!
I'm Halldór, a 32-year-old web developer joining the S.W.A.T. team at Umbraco to be one of the friendly Support Warriors (and no it's not just because that team name sounds hardcore 💪)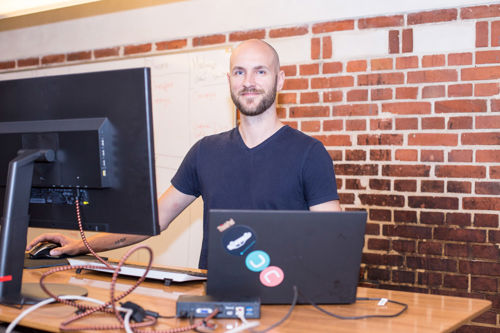 I recently finished studying Multimedia Design at Erhvervsakademiet Lillebælt and now I'm about to finish my Web Development studies there as well.
I first heard of Umbraco at school when one of our teachers started using it in his classes. I then used Umbraco for a project and later got to finish the Umbraco Fundamentals training. When the time came to search for an internship I sent an application to Umbraco and long story short, here I am 😃
But who is Halldór though...
Well, I'm from Iceland, so obviously I'm a Viking! I even have a beard, but sadly no hair 👴
I was born in a tiny little village in the Western part of the country, so small you can't even find it on Google Maps! (ok maybe you can, but it's really small though)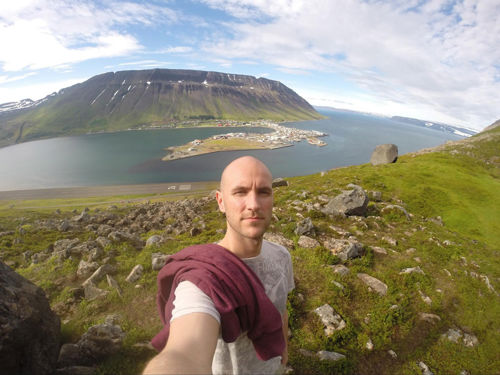 Like all smart kids, I fell in love with football and dreamt of being the next Brazilian Ronaldo (A.K.A. Il Fenomeno). I played football 24/7 all year round. Didn't matter if it was during a blizzard in the winter, I was always playing. Can't even remember how many toenails I've lost actually, but that's another story...
My greatest football achievement till this day is finishing in second place in The European Championship in Swamp football 🥈. What is Swamp football you might ask? Well, let me tell you about this wonderful event. Every summer during the first weekend of August there is a tournament in Iceland. There are a couple of small muddy fields that are soaked in water until they become a dirty swamp that will try to murder you ☠️. Then they stick one goal at each end and let the games begin. There aren't that many rules, but there are two additional cards from football:
Pink card: If someone gets hurt (perhaps accidentally) the one who causes it must "kiss the booboo".
Black card: For very severe fouls, the black card is shown. The one who gets it must play with a black head-bag for 2 minutes.
Then the refs are very lax on rules of contact, so minor pulling and pushing are allowed, even encouraged 🤔.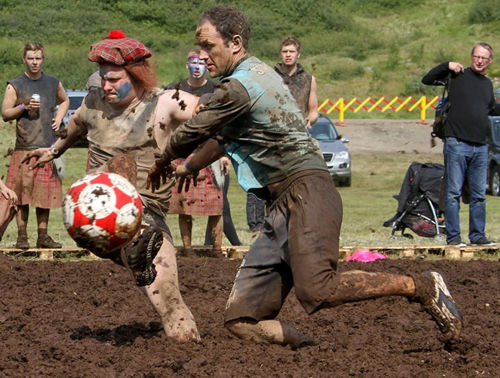 As you can see from the photos this is incredibly difficult and brutal on the body. So difficult actually that many people have lost all their hair after playing more than two tournaments. See photos for proof. There is a lot of beer though so it's quite fun 😂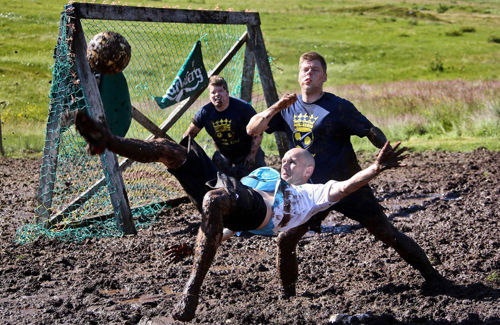 After realizing that I might not become a highly paid footballer 😞(shocking news), I decided to move from my hometown to Reykjavík (the capital) and pursue an education in engineering. But like most good plans that didn't quite work out the way I intended. So I spent a couple of years bouncing around different educations and working at different places.
So finally I had enough of that and decided to move to Denmark with my wife-to-be. I had always liked graphic design so why not try Multimedia Design? It had some design elements that I was interested in learning about. I soon realized that coding was actually a lot more fun and what I really enjoyed doing 🙌🎉. When I was done there I wanted to learn more, so I enrolled in Web Development as a BA Top-Up program.
So that's basically where I'm at now. Living on Odense with my wife Linda and our daughter Magnea 👪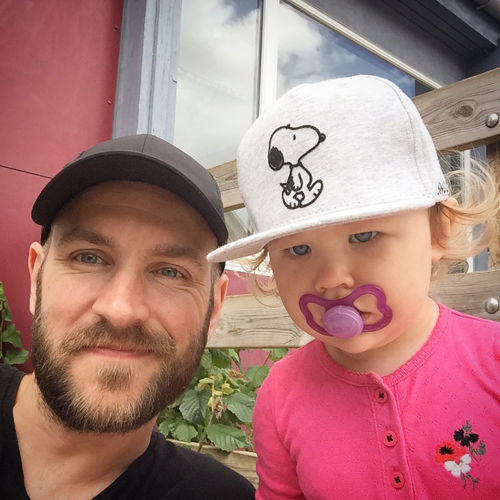 What's next!
Well, I'll be working in S.W.A.T. and I'm looking forward to helping all the beautiful customers of Umbraco.
There is also a lot of Umbraco training and knowledge being crammed into my brain these past weeks, but I've got a great buddy Georgs who's helping me out and well, Friday bar also makes it all worth it... SKÅL! 🍻