Umbraco 8 is still no. 1
… in terms of the Documentation that's being written 😉
It's been a few months since the last update from the Documentation team, and you know what? A lot has happened since then.
More and more articles with new and updated Documentation on functionalities in Umbraco 8 come in every week. I cannot mention all of them here, so I've chosen a few to highlight. And if you ask me, I've picked some pretty exciting ones!
Content Migration 
A few months back, we released Umbraco 8.1.0. In this minor version, we introduced Content Migration - a database tool that helps you migrate your Umbraco 7 site to Umbraco 8. With the release, we had Documentation ready to make it as easy as possible for you to get started migrating your sites!
There's a guide on how to use the Content Migration tool for Umbraco on-premise, and there's a guide on how you migrate your Umbraco Cloud project from 7 to 8 - the Cloud one even has a video series as well if you're more of a visual learner!
Pretty neat, right?
Using services in Umbraco 8
More and more of you keep requesting Documentation for Umbraco 8. We do our very best to keep up with the requests and get all the articles tested and verified against Umbraco 8.
One of the things many of you have been requesting is how to use different services in Umbraco. Marc Goodson (@marcemarc) has taken up the task and has already been writing some awesome stuff about Services and Helpers. Be sure to check it out!
Scheduled tasks
Just about a week ago, our very own Warren Buckley (@warrenbuckley), wrote an article about Scheduled tasks in Umbraco 8. He even added a full (and quite funny!) example of how you can set it up! A must-read for all of you out there working with scheduled tasks in your daily Umbraco work.
Is that it? Oh no, not at all!
You can also find 
Alright, I think that's all I can fit into this blog post for today! Thanks to everyone who contributed - please keep up the awesome work! #H5YR
… and speaking of contributing:
The Umbraco Documentation needs you!
… WE need you! 
We want to continue our work on making the Umbraco Documentation better and greater than ever before. And to do this, we need your help!
So, therefore, I ask you:
Are you using Umbraco on a daily basis? 
Do you use the Umbraco Documentation, but often find yourself lost or coming up empty?
Are you an experienced Umbraco user with a lot of information to share with Umbraco newbies?
Can you answer yes to one, more or perhaps even ALL of the questions above: then we need your help!
You're the one using the Documentation.
You're the one actually working with Umbraco on a daily basis - who better to know where our documentation is lacking a bit?
I'm not asking you to necessarily fill in the gaps - I know that can seem like a big task! - but just letting us know about missing or outdated documentation is enough. Not only is it "enough" - it's a HUGE help, and it's also a way of contributing!
I mean, we cannot update the documentation that we do not know needs updating, right? 😉
To make it clear just how serious I am here, let me share with you a couple of inspirational stories about contributing to the Documentation:
From reported issue to live article in 4 days
A few months back, an Umbraco user reported that our article about setting up Azure Blob Storage hadn't been updated for Umbraco 8 yet. He discovered this as following the current guide, made his website fail. He reported this by making an issue on the Documentation Issue tracker.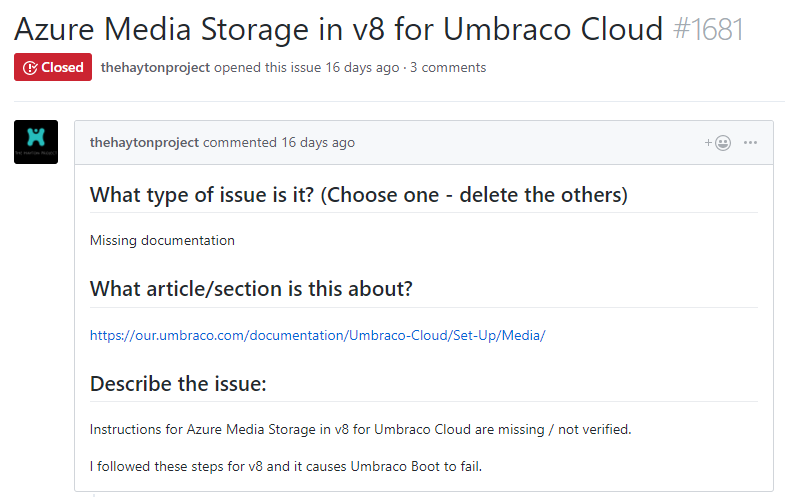 Jeavon, one of the Umbraco Documentation Curators, was quick to reply with a workaround that would allow the user to set it up on Umbraco 8. And, as a result of this, only 4 days later a brand new article about how to set up Azure Blob Storage on Umbraco 8 was published.
"My very first Umbraco Documentation article"
Another example is the experience our community member, Dennis Adolfi had, when he wrote his very first article for the Umbraco Documentation. He was looking for information about Unit Testing but came up empty when browsing our current articles. Since he had some extra time on his hands, he decided to write an article about it himself even though he found it a bit intimidating at first.
What I'm trying to say: We care about the Documentation, and we want it to be as good as possible, so you can benefit from it as much as possible. 
Now you might be thinking (I hope!); I want to contribute - where do I start?
Not to worry! I've got you covered. Head on over to the Contributing section. You'll find guides on the various ways you can contribute to the Umbraco Documentation.
And remember: Every little contribution helps - even if it's simply making us aware that an article is outdated 🙌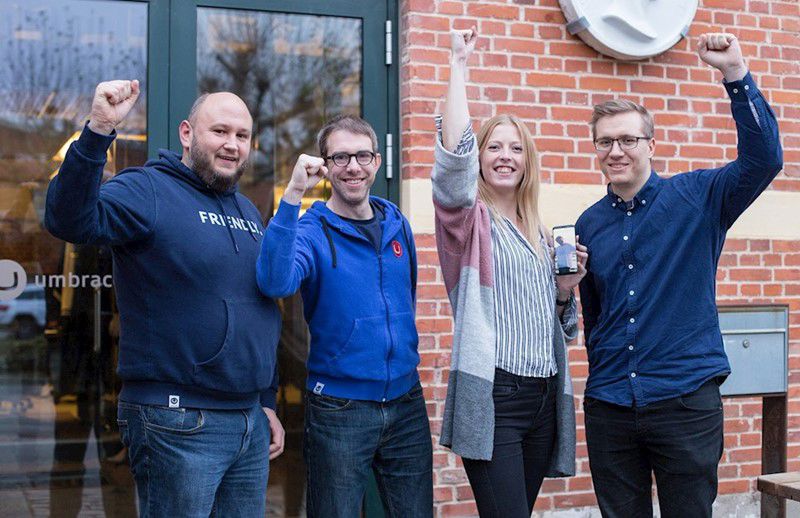 We know that many of you Umbraco users out there are active on Twitter. So, we had an idea: Let's reintroduce the #umbracoDocs hashtag! 
Use it whenever you're tweeting something related to the Umbraco Documentation - and we will be doing the same! 💪
Doing Documentation with style 😎
We're working on putting together an official style guide for the Umbraco Documentation. And RFC (Request for Comments) was started in May and now there's a week till we close it down.
If you want to have any say in how the style guide should look, please head over to the RFC, read it through and let us know your thoughts about it!
RFC: Documentation Style Guide
Deadline for comments: August 26th 2019
Numbers … 
I know I've been keeping you for a while already, so I'll just give you a quick run-through on how the numbers look.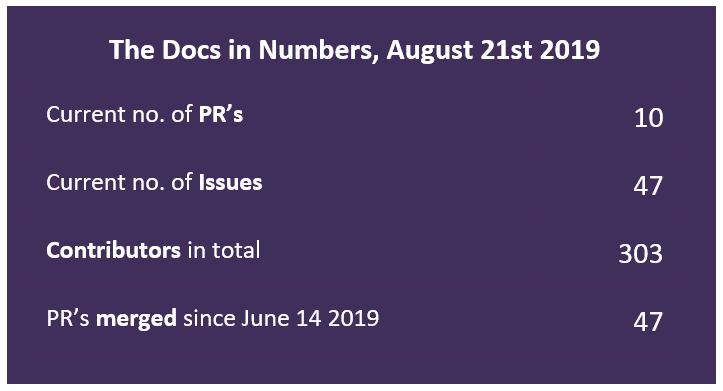 As you can see; we need to celebrate! We've reached more than 300 contributors on the Documentation 🎉🤯 That's just Umbazing! 
That was all I had for you this time!
Until next time