On the Documentation Curators team, it's very much business as usual... Oh, wait a minute. It actually isn't.
Why not? Well, because since our last blog post back in February, two Curator "Interns" have joined Marc, Damiaan, Jeavon and I - we've got two more on board!
The Curator "Internship" is really just the same as a regular team member, but without having to commit to a lifetime of membership - which is why we use the quotation marks. 😉
Let's get to know our new "Interns"...
I am a senior QA engineer and have been enjoying a weird and wonderful life here at Gibe Digital for the past 5 years. We pride ourselves on our Umbraco Gold Partner status, and we want to feel part of the Umbraco family. To us, that means giving as much back as we can - you might have heard of a little event we host called Umbraco Spark? 😉 
In my day to day, I support the development team and our clients by ensuring everything works as well as it possibly can. A large part of that is understanding how best to utilise this fantastic CMS to create perfect website solutions for bespoke needs.
I've long since wanted to get more involved in understanding the nuts-and-bolts of Umbraco. But as I don't have any coding experience, I didn't know how. That is, until I saw the opportunity for an internship with Docs and I can't believe how lucky I am to have been selected to join the Documentation Curators!
My aim over the next 6 months as an "intern" is to work closely with all of you. I'd urge anyone with ideas/complaints/musings about the documentation to contact me. Let's make it work better for everyone!
I'm a junior developer at Front Page LTD., a digital agency based in Glasgow. I work with an amazing bunch of people - everyone is really open-minded, so supportive and it's an amazingly diverse environment. I just love it!
I've been working with Umbraco since I started working at Front Page, so that's a bit more than a year now - which also makes out my entire development career already. Before that, I used to be a high school maths teacher in Turkey.
In my daily life, I work with different versions of Umbraco - from version 4 to the latest of version 8. I do support jobs mainly and also some extensions whenever needed. I also have a few really cool side projects with Umbraco! 
I had a quick and painful(!) entry to the community at Umbraco UK Festival back in November 2019. There was this chili-challenge, where you got to ask Niels, "The Chief Unicorn", a question if you could eat a vegan nugget with a really hot chilli sauce on it. I asked "When will the Stacked Content be released for V8?" and I beat Niels at it -  he even had to leave the stage as there was no answer🙈
After the UK Festival, I've joined UmbraCoffee, I've written an article and a blog post and now I'm joining the Umbraco Documentation Curators as an intern. I also recently published a package on Our 🤩
I applied for this "internship" program because I know the best way to learn something is to be able to teach it, in this case, write about it so people can understand how it works and how to use it. So I'll be learning a lot and I am going to contribute at the same time.
On a more personal note:  I love to cook/eat, swim, hike, go to the movies alone(like a lot!!), dance, read, knit… I'm also a really loud laugher. 
During the 6 months "internship", Busra and Sophie will be involved in the regular fortnightly calls to discuss activity on the documentation repo and helping assist the community with guidance on updating pages. They'll also get their own pet project for a thing they'd like to improve over the 6 months. And who knows - once the 6 months are up, perhaps they'll want more and continue to help out 🤞
Documentation Appreciation Day (#uDAD)
We've been looking into the statistics and figures around the visitors to the Documentation pages; it's useful for us to see popular pages, and assess how often people engage with the content. 
Did you know that there are around 2 million page views on the Umbraco Documentation per year and that the "Getting Started" section is by far the most popular section? This indicates a pretty big audience and where we should focus our efforts, but it also got us thinking… Other than measuring popularity and activity, what do the numbers really tell us?
How do we know there has been a real improvement to the content, and that people are actually finding the right documentation?
We've talked about adding a "voting system" to each article - but we need the context of how useful the article is.
So we came up with another idea: why not ask you - the documentation consumers - whether there has ever been a standout experience with the Umbraco Documentation, a time when it has really helped you out?
That's exactly what we're going to do, and we're going to make a big thing out of it: 
We're calling it the Umbraco Documentation Appreciation Day (uDAD) and it's happening on Twitter, this Friday, the 3rd of April.
How do I get involved?
On Friday,  we encourage all of you to share your (success) stories with the Umbraco Documentation on twitter with the hashtag #uDAD. This is the perfect opportunity to flag when an article has helped you out - or perhaps indeed hindered you. 
It could be an article that introduced you to a new and much smarter way of working with a concept in Umbraco - something that has significantly improved your understanding of the underlying structure. Or it could simply be a guide that helped you fix a little but yet very annoying issue. 
We want to hear your stories, as we believe it will help us understand how we can make the Umbraco Documentation even better. 
Will expressing thoughts openly about the Umbraco Documentation bring new insights into ways they can be improved? Or will everyone just be confused as 'Services and Helpers' starts to trend on Twitter? 🤔 We won't know the effect until we've tried it!
It's your Documentation, your Umbraco Community, and it is your Umbraco Documentation Awareness Day - so own it! 💪😎
We look forward to hearing your #uDAD story this Friday!
Numbers and shoutouts 📢
Now for the mandatory part of each of these blog posts: the numbers! And this time, we're gonna spice up the numbers with some shoutouts. We have some really active contributors who are doing an amazing job, and that calls for celebrations and high fives.
First though, let's see how the numbers have been looking the past 2 months: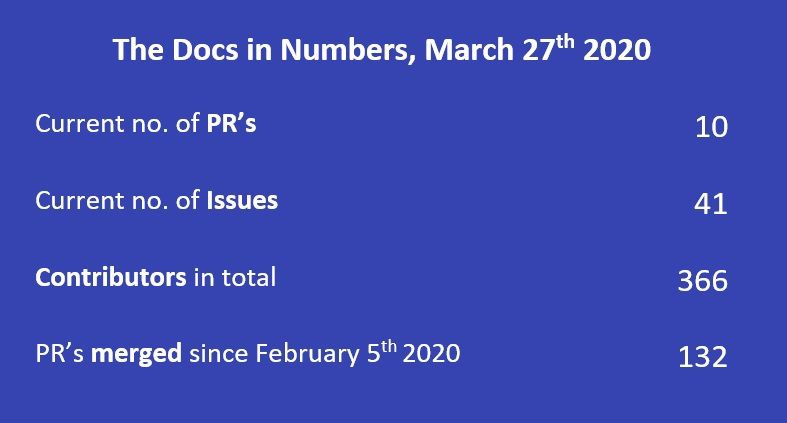 So many contributions the past two months, and so many of them have been merged already. It's truly amazing to see how you're all so keen to help us keep the Umbraco Documentation up to date.
"Sharing is caring", and there is no doubt that you all care very much about Umbraco and want to share all your knowledge with the rest of the Umbraco community - and the world 😍
Now, as promised, let's do a shoutout to some of the most active contributors:
First up, is Erik-Jan Westendorp. He's our top contributor of 2020 so far. On January 17th he made his first ever PR to the Umbraco Documentation. Since then, he's made a whopping 38 PRs 🤯 Mainly he's been helping us get the Documentation verified and updated for Umbraco 8, but he's also made other smaller changes. 
Here's a fun fact: In under 2 months, Erik-Jan has moved up to become the second most active contributor on the Documentation repository over the past 12 months! Wow. Just, wow! 
Another contributor who's been over-the-top active on the Documentation repository the past couple of months is Poornima Nayar. She's already part of the Core Collaborators team who manage the CMS contributions, but she still finds the time to help update the Documentation when she falls over something that needs updating 🤩 now, that's dedication!
A total of 30 contributors have helped out with the Documentation in 2020 already - and that's not counting any contributions from Umbraco HQ members; of those contributors, 9 have even made 2 or more contributions. 
We love and appreciate all the effort and work all of you are putting into improving and updating the Umbraco Documentation and making the friendliest CMS even friendlier to use.


Thank you and #H5YR 🎉


And with those words, this blog post has come to an end.
As always, go check out the Documentation Issue tracker if you're looking to help out, share your Umbraco knowledge or just want a piece of all the action 😁
That's all. Until next time.
Stay indoors. Stay safe ♥