Core Collaborator team activity 
Well, the world has changed quite a bit since I last blogged about our activities, hasn't it?
While the whole situation has meant that the Core Collaborators Team has had very little activity, I am happy to report that we are all doing well. Everyone is eager to resume their activities as soon as they can.
We're also seeing a bit of a drop in incoming pull requests in the past few months, which is why we've still mostly been able to keep up with new incoming PRs in the last few months.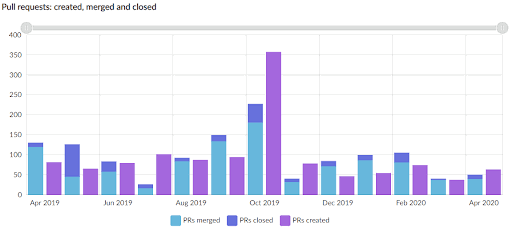 As you can see in the current statistics, we managed to merge more pull requests than came in during February and March (close one!). However, we did fall behind a little in April!
The numbers since February:
February: incoming 74, closed/merged: 105 (🎉)
March: incoming 37, closed/merged: 40
April: incoming 63, closed/merged: 50 (😬)
The good news is that we are in an excellent position to catch up on those missed in April in May. 👍 


Contribution highlights
Steve Megson has fixed a good number of v7 to v8 migration issues, making that process easier bit by bit. 
Under the guidance of Nathan Woulfe, many community members have been working on helping us break our strong coupling to AngularJs, read more about this here! 
Multiple people are also still chipping away at making Umbraco more accessible: many thanks to Jan Skovgaard, Bjarne Fyrstenborg, Rachel Breeze, Poornima Nayar, Mike Masey and Joe Glombek for continuing to make these improvements.
We've been working with Daniël Knippers from Perplex, to introduce segment variants into Umbraco, allowing for variants other than languages to be used in the near future.
Finally, a lot of progress is being made on the .NET core project. With help from Steve Temple, Scott Brady, Ollie Philpott and cyberdot, the Unicore team is going full steam ahead. 🚂
New contributors
In February, March and April, 19 brand new contributors got their first pull request for the Umbraco CMS merged: 
their first ever pull request! ⭐

their first ever pull request! 🌟

their first ever pull request! 🥇 
followed up by 2 more PRs, that's the spirit!

their first ever pull request! 🏅

A big #h5yr to these people who are new to helping make Umbraco better - awesome job, keep it up!

Hackathons galore 

Though things have been a little slow, there is still some great activity in other ways. Our team member Emma, together with her Candid Contributions friends Carole, Laura and Lotte, organized their first virtual hackathon in April called the CanConHackathon. I had the privilege to join them and 30+ other community members at this great event.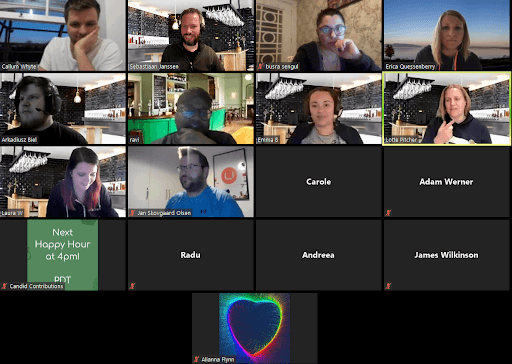 Not only did we do some hacking at the CanConHackathon, there were also presentations about contributing, a workshop for first time contributors and plenty of random learning opportunities. Even just by listening in on attendees discussing a particular problem and how they tried to solve it can teach us so much. For me personally it is always super interesting to see how people work, there's always something new I can pick up on!
I highly recommend you give Carole's blog post about it a read and learn about the many different ways you can contribute to Umbraco. or even take a moment to relax and be social with a lovely bunch of people from our lovely community.


But wait, there's more! 
If you missed it this time around then don't worry - another chance is coming soon!  As in, this month soon.
This upcoming event, aptly named "CodePatch" will run with a similar format and promises to be even more fun and educational! CodePatch will take place on Friday and Saturday the 29th and 30th of May, and yes -, that is indeed the Friday at which this year's Codegarden was supposed to conclude. This will surely help make up a little bit for the sadness of having to miss out on Codegarden 2020!

In conclusion
While we're all dealing with the world situation, work continues on contributing to Umbraco and we have a healthy dose of new contributors, some of whom have joined us for the first time through community-organized online events. ✨


That's it from me for now, happy contributing! 👍🌟🏅