Reminder: the PR team is new and we've previously blogged about it's inception and the first month of progress.
Progress for June and July 2018
In our previous update on June 21st we were already very happy with merging a record number of 40 PRs, but since that blog post we have managed to merge another whopping 41 pull requests in the last week of June, bringing the total number of merged pull request in June to 81! 😮
Over the month of July we've managed to maintain a similar number of merged PRs (86, another record!) while the amount of new incoming ones have dropped a little bit.
Below we can have a look at the activity over the past year of pull request created (blue) and merged (red).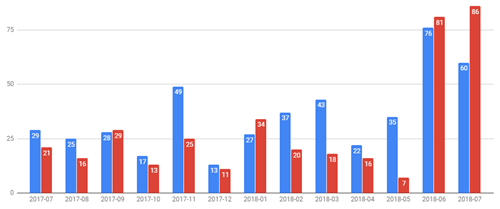 Does that mean that every pull request is merged into Umbraco?
No, the PR team is carefully evaluating each pull request to make sure that everything lines up with where we want to go with Umbraco. To that end we've also closed 22 open PRs without merging them. Of course we focus on quality over quantity but hey, with this great interest in contributing we are also very proud of being able to merge so many of your contributions! (pssst… want to know more about the PR  process, then you'll find the steps in the previous PR chronicles).
Overall this has made a significant dent in the number of PRs still open. In June we closed with 159 PRs still open and in July we made a significant drop down to 111 PRs still open. The last time that number was this low was in November 2016(!). This goes to show that our dedicated focus on PRs is really starting to pay off.
Below you see a monthly overview of the number of pull requests submitted by community members that have not yet been closed or merged: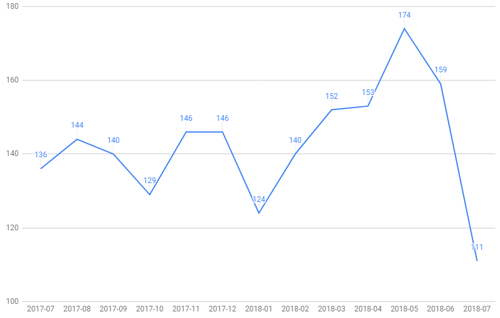 Notable pull requests
While we appreciate all contributions we receive, it's fun to highlight some of them.
Adam Shallcross has been working with Umbraco for over 10 years and has finally created his first PR for Umbraco! We hope to see many more Adam!
Owain Williams had been working on his first pull request for a while and while his initial PR was very innocent, soon the community came up with new ideas and improvements. We encouraged him to stick with it and we are happy to have merged his improvements to the document type editor (available in the upcoming v7.12). He has blogged about the process, going from a complete newbie to a seasoned contributor.
Great work Owain and the result looks beautiful!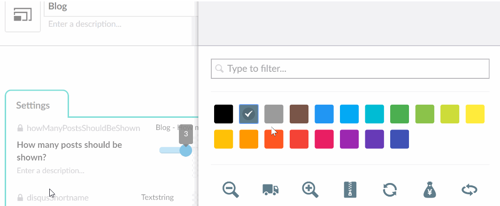 Upcoming release
In the next few days we'll be completing a new version of Umbraco (7.12.0). There are almost a 100 changes and improvements coming in 7.12 and nearly all of them came from community contributions. Thank you all so much for helping to make Umbraco better, #h5yr!
A few of the highlights of that upcoming release:
Umbraco V8 Hackathons
It's not all about v7 though! In the last few months our friends at Cogworks have been organizing monthly Umbraco v8 hackathons and we've been providing them with input on which issues could use some community help. This has resulted in a few dozen PRs and we've been able to merge most of those PRs already on the same day or in the days after the hackathon.
We're excited to be involved in the future v8 hackathons as well, they happen every last Friday of the month. You too can join, either on location in London or remotely through the video link.
The executive summary: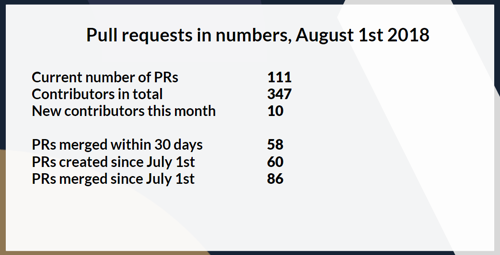 Thanks again to everyone for the wonderful contributions!
There was a few people this month who stood out in being very active: Andy Thompson, Bjarne Fyrstenborg, Chris Houston, Jan Skovgaard, Nathan Woulfe and Sébastien Sougnez. 💪🏅 H5YR!