If you already know what Umbraco Awards is, then you know that you want to submit your best Umbraco solutions to us as soon as you can in order to win one (or more?) of the 10 prestigious Umbraco 2019 Awards. If you don't know about Umbraco Awards, then read on and learn how to win international recognition in the Umbraco world:
What is Umbraco Awards?
Umbraco Awards is the yearly celebration of all the greatest Umbraco solutions. The winners are announced live on stage at the spectacular Umbraco Awards show during the biggest Umbraco conference in the world, Codegarden.
Not only will be winners be awarded with prestigious titles, they will also be promoted in case studies, mentioned in talks and highlighted as the cutting edge of Umbraco technology going forward.
The winners are hand-picked by a jury consisting of Umbraco experts from the Umbraco community and Umbraco HQ. They are putting all submissions to the test and are making sure that only the finest Umbraco projects make it to the end game.
The jury will select the 3 top nominees for each of the 10 categories. All nominees will be introduced in a video-presentation at Codegarden 2019.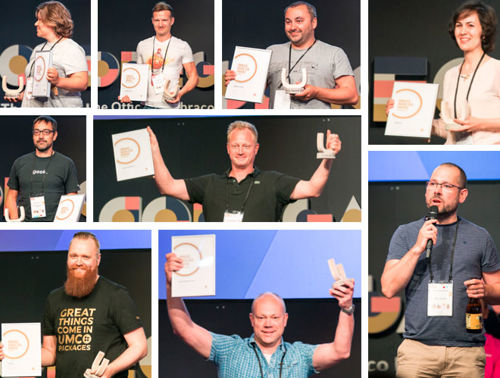 10 award categories
These are the 10 categories that you can submit your project to:
Best Cloud Solution
Best Custom Solution
Best Editing Experience - Headless is also welcome
Best Designed Site
Package Award
Best Gold Partner Solution
Best Certified Partner Solution
Best New Tech
Best Content app (Umbraco 8)
Jury's Choice Award
If you want to know more about each category then head over to the Codegarden 19 site.
How to submit your solution to win
As mentioned previously, the awards, and not least the award show, is a massive celebration 🎉 We want to show your great solutions as beautifully and thoroughly as possible.
That is why it is a requirement that you demonstrate the solution in a video which you have to submit along with a description of how you built it, and other collateral. The video should take the viewer (the judges 😉) on a convincing, descriptive and inspiring tour of what you've built, and, if you're one of the lucky nominees, the video will also be used at the award show where it will be shown to hundreds of Umbracians.
Why is it important to follow the submission requirements? We need sufficient info from you in order to be able to judge fairly. So make sure to read the requirements in the submission form carefully and who knows, perhaps we see you snatching that trophy on stage? 😉
4 things to be aware of:
The solution submitter must be the creator of the work.


The solution you're submitting has to have been created in the timespan following  Codegarden 2018 (May 2018).


Submissions are open to all - not just Codegarden attendees (but if you have got an awesome project and you end up winning, it would be such a shame not to get up on stage at the big Umbraco Awards show at Codegarden 2019!)


Submissions will be closed on March 22nd 2019
Ready to become an award-winning Umbraco superstar?
Then submit your solution for the Umbraco Awards 2019:
Submit your Umbraco solution now
We wish you the best of luck and hope you win! 🙌