Our first-ever hybrid Codegarden is coming around the corner soon, with the date set for June 15 - 17, 2022. Which means…
The Umbraco Awards show is back and better than ever in 2022! 🏆 We want to see and celebrate the incredible Umbraco solutions you've been working on in the past year and spread the inspiration to our 220,000+ strong Community and beyond.
If that's all you need to hear, then we salute you: Submit your solution for consideration here. If you want to gain some background in the Umbraco Awards, what we're looking for, and this year's categories, stick with us a little longer…
What is the Umbraco Awards?
The Umbraco Awards is our way of giving credit where credit is due in our larger Umbraco ecosystem. In short, it's a yearly celebration of all the greatest Umbraco solutions. The winners are hand-picked by a jury of Umbraco experts both from the Umbraco Community and Umbraco HQ. We announce the top 3 nominees in all 11 categories as well as the winners themselves during the biggest Umbraco conference in the world, Codegarden.
But the recognition goes farther than that. Not only do winners get a prestigious title and their very own Umbraco Award to display, we highlight the shining star of your innovation in Umbraco case studies, talks, and more ⭐
Clare Millar, Client Engagement Director for Scotland-based Brightwire, accepted the Award for Best Cloud Solution for her team last year. Upon receiving it, she shared, "We were delighted just to have been shortlisted, and it's amazing to win. We've been working with Umbraco for a number of years, but this is the first time that we've submitted an award. So I'm so thrilled to accept this on behalf of our wonderful team [...] they deserve all the thanks for getting us to this point. I don't think any of this would be possible without a fantastic platform, a super-strong community of people, our team, and of course, our client, the Legal Ombudsman [for England and Wales]."
There you have it - don't be afraid to submit, even if it's your first time. The judges found Brightwire's solution "well-designed," "super-easy to use," "responsive," and importantly, "compliant." (Check out all the winners of the Umbraco Awards 2021.)
What will we say about your solution?  👇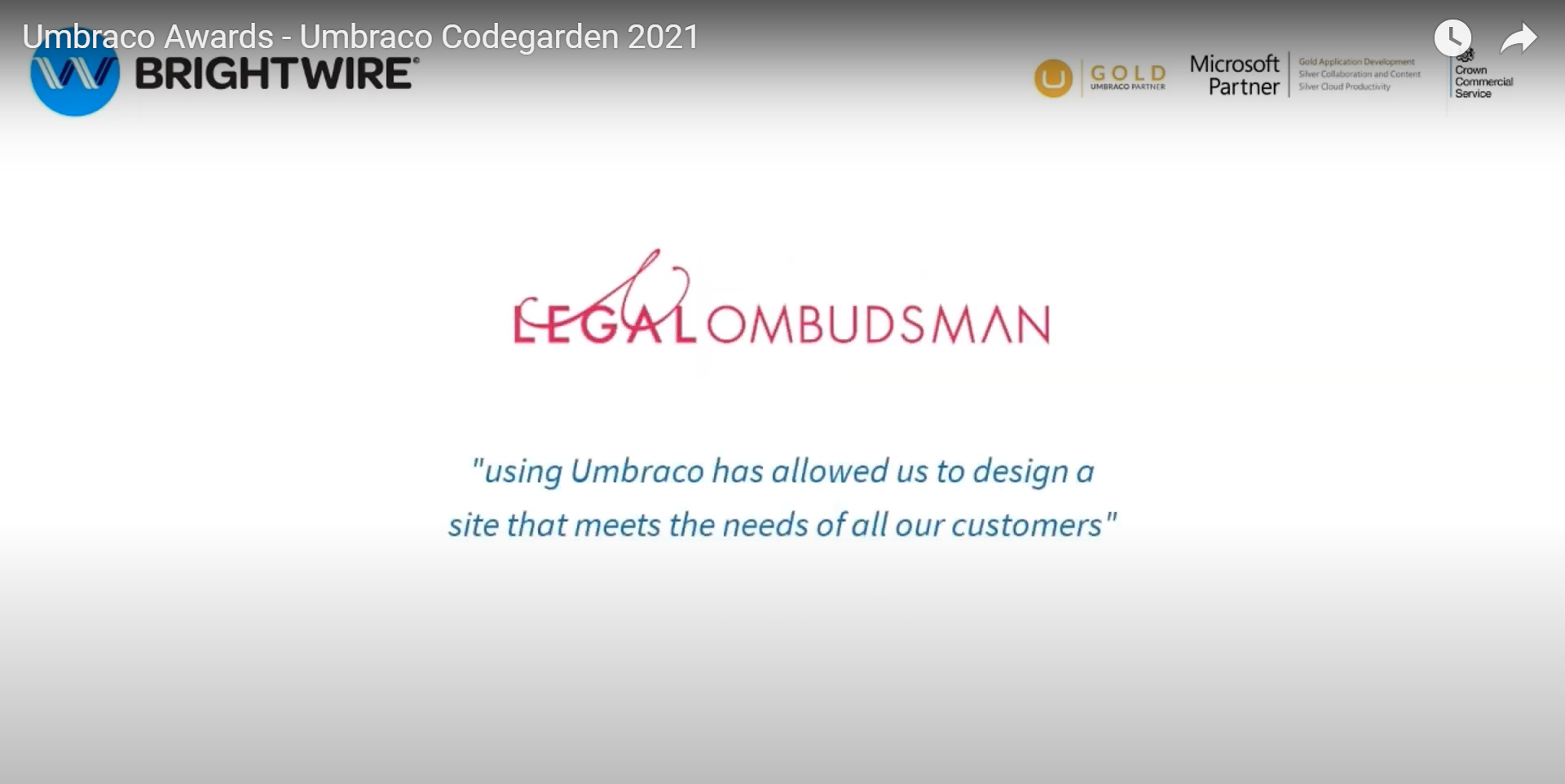 11 award categories
These are the 11 categories that you can submit your project to:
Best Education Sector Solution
Best Health Care Solution
Best Public Sector Solution
Best Professional Services Solution
Best Cloud Solution
Best Custom Solution
Best Editing Experience - headless is also welcome
Best-Designed Site
Best Gold Partner Solution
Best Certified Partner Solution
Jury's Choice Award
The two new categories this year are "Best Education Sector Solution" and "Best Professional Services Solution." 
To read more about each category, head over to the Codegarden 2022 site.
How to submit your solution to win
We want to celebrate you 🎉 Here are a few things to keep in mind:
You must demonstrate your solution in a video with a description of how you built it. Take the judges on a convincing, descriptive and inspiring tour of what you've built. If you're one of the lucky nominees, we'll show your video to hundreds of Umbracians at the Awards show. No pressure 😉
Read the requirements in the submission form carefully so we can showcase your solution for the standout it is!
The fine print:
The solution submitter must be the creator of the work.
The solution you're submitting must have been created since July 12, 2021 (just after Codegarden 2021).
Submissions are open to all - not just Codegarden attendees. That said, we hope to see you there (whether live or virtually) so we can recognize you properly!
Deadline for submission: May 15th, 2022. 
Ready to become an award-winning Umbraco superstar?
Submit your Umbraco solution now
We wish you the best of luck! 🙌