I've told you about the new smooth workflows thanks to Infinite Editing. I've told you about the new way to handle multilingual content directly in Umbraco. Now, it's time to introduce you to a new customisable companion that will give your marketers and editors useful insights, tips and checklists in Umbraco and thus, help you create better content. 
Umbraco 8 is the first new major version launched of Umbraco CMS in five years so we used this opportunity to reiterate what's most important for any Content Management System: The content! - it's even in the name 😉 So how can we strengthen the focus on content in Umbraco 8? How can we make sure it's not only about managing content but increasingly about bringing great content to life and ensure its success with the audience?
Introducing Content Apps
To increase the focus on great content in Umbraco a new extension option called Content Apps is introduced in Umbraco 8. Content Apps are available as part of the content node, making it easy to use the apps while you create, edit, publish and update your content in Umbraco.
A Content App is intended to be a companion to your editing experience which means that a Content App is not directly part of the editing experience but can give you information and feedback on the content you are creating as well as statistics and results of the impact of the content you have published. It can even bring you suggestions on how to improve your content while you're creating it. No need to jump to external platforms or checklists to get these insights - now you're able to get it right where you need it. Thus, Content Apps will be a "content companion" that will save you time, help you create better content and even prevent mistakes from happening. How friendly! 
How to get started with Content Apps
In Umbraco 8.0 you will find the Info Content App available for all your content nodes. The Info app replaces the old info tab of Umbraco 7 and provides you with information on links, status and history of the selected content node.

The introduction of Content Apps in Umbraco 8 is a framework that enables any developer to build their own app and make it available as an Umbraco extension. If you would like to know more about how you can create a new Content App look no further; Content Apps documentation.
This also means that Content Apps very much depends on you and your needs. We give you the possibilities to add these helpful and insightful apps for your editors as an integrated part of Umbraco, and thereby invite you to use your creativity and talent to make these apps come alive. A tip - go talk to your content editors or customers as they might have great ideas as to what could make a great content companion for them. And then wow them 😉!
Examples of Content Apps - and a Content App Contest winner!
A Content App can be anything related to content creation in Umbraco, examples of such functionality could be:
Analytics integrations for details on adoption, engagement, audience etc.
Support tools with information and analysis of composition and structure of content.
Information from 3rd party applications in relation to the content (e.g. Ecommerce statistics)
Workflow support tools to guide an internal process for content creation and review.
Even though Umbraco 8 has not been officially released yet, we already had a small kick-off for the concept of Content Apps with a competition which finished on the 20th of January 2019. A competition where the best app would be rewarded with a free ticket to the biggest Umbraco conference of the year, Codegarden, as well as free accommodation.
Thank you to everyone who submitted their Content App idea to the competition 🙌! But there could only be one winner:


And the winner is:
By following the exact purpose for how Content Apps can help editors write better content, the winner is Preflight by Nathan Woulfe.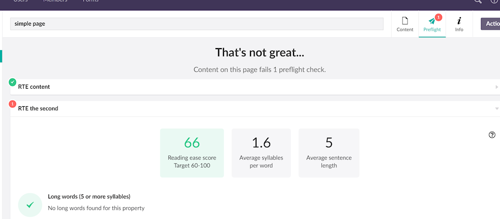 While field validation is great it doesn't allow for complex logic or rules - validation can tell us that field is an email address but it won't tell us if the text in an RTE property actually makes sense. Preflight does that by offering a configurable ability to validate reading score, forbidden words, automated search/replace for your typical typos and validating links for both whether they work and whether they're safe using Google's Safe Browsing API. In addition, it's pluggable so you can extend it with your own rules. The User Experience is slick and with well-thought attention to detail such as letting you know if some of the tests take longer than expected.
We're super excited to see a high-quality Content App even before Umbraco 8 is launched and love how it raises the bar of what you can expect! Congratulations and H5YR, Nathan!
Other promising entries
There could only be one winner, but we'd still like to highlight two other competition entries that look very promising.
The first one is the Google Analytics integration by Anders Bjerner. It shows the other potential of Content Apps - giving you insights on how your content perform after you've published your page. In addition, this Content App proves that when developers give attention and care to the installation experience even complex application that integrates with third-party APIs can be installed without the need of a developer. The whole process from installing to authentication with the Google Analytics APIs is done through a nice and guided user interface.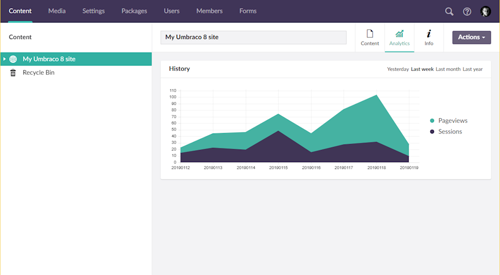 Finally, Media is also content and we really like the potential of ImageFilter by Paul Seal and Nik Rimington. The idea behind this Content App is to allow simple image manipulation such as brightness/contrast, rotation, flipping and applying filters on an image.
We are very happy to see these great Content App suggestions being presented already before the launch of Umbraco 8 and we can't wait to see even more apps become available with new thoughts on how we improve the focus on content in Umbraco 8.
The wait is nearly over - we promise!
With this post, I've completed the Umbraco 8 feature trilogy. Now you know exactly what to look forward to when it comes to Infinite Editing, Languages Variants and Content Apps in Umbraco 8.

Do you feel ready? Excited?
We sure do.
And we sure can't wait to see what great projects you'll end up creating with Umbraco 8. Ready for the release date?... unfortunately, I won't reveal a release date right here, BUT I'll leave you with this insider-tip; keep an eye on the Umbraco Twitter and the Umbraco.com front page in the upcoming weeks. Something interesting, perhaps Umbraco 8 related, might be announced there 😉 


Try Umbraco 8 today
If you simply can't wait, don't forget: Umbraco is open source and you can try the latest nightly build of Umbraco 8 already today! Or go straight to the source code at GitHub for a closer look at the codebase and options for contributing.