In August 2022 we launched the first Regional Hosting Option for Umbraco Cloud, making it possible to host and serve data from the US region. The work that went into this means that we are now able to open up additional regions as the need arises. 
The message has been clear from both partners and end clients: There is a big demand in the UK. That's why we're now happy to say that this is now an option on Umbraco Cloud.

"UK is the fastest growing market when it comes to choosing Umbraco Cloud as the hosting and development platform for Umbraco projects. Up by a whopping 32% from last year. I'm delighted that all the feedback we've gathered, especially from our UK-based partners, is already manifesting in a UK region on Umbraco Cloud. With this, we acknowledge the high demand from both partners and customers to expand the regional hosting options, meet the data privacy requirements of countries outside of Europe, especially required in the public sector, and continue to reap the benefits of Umbraco Cloud."
UK region on Umbraco Cloud is important!
There are 2 main reasons why enabling a UK option on Umbraco Cloud is an important step.
First and foremost, many projects have requirements for where the data is stored. Depending on the type of data you're working with, it can simply be a hard requirement that this is stored in a data center located within the UK. This is instantly addressed with the new UK region and allows more projects to make use of the many benefits of running your Umbraco CMS projects on Umbraco Cloud. 
Secondly, the choice of region can have a positive effect on performance. The closer you are to the data center, the faster response times will be. Now, the impact is not as big as was seen with the US region but especially for development purposes, this will have an impact. For most of the data served, the performance gains will look almost negligible, mainly due to the already great response times combined with CDN and caching features also available on Umbraco Cloud. 
So, how does it all work?
It couldn't be any easier. The only thing you have to do is select the South UK option when creating a new project on Umbraco Cloud. That's literally it!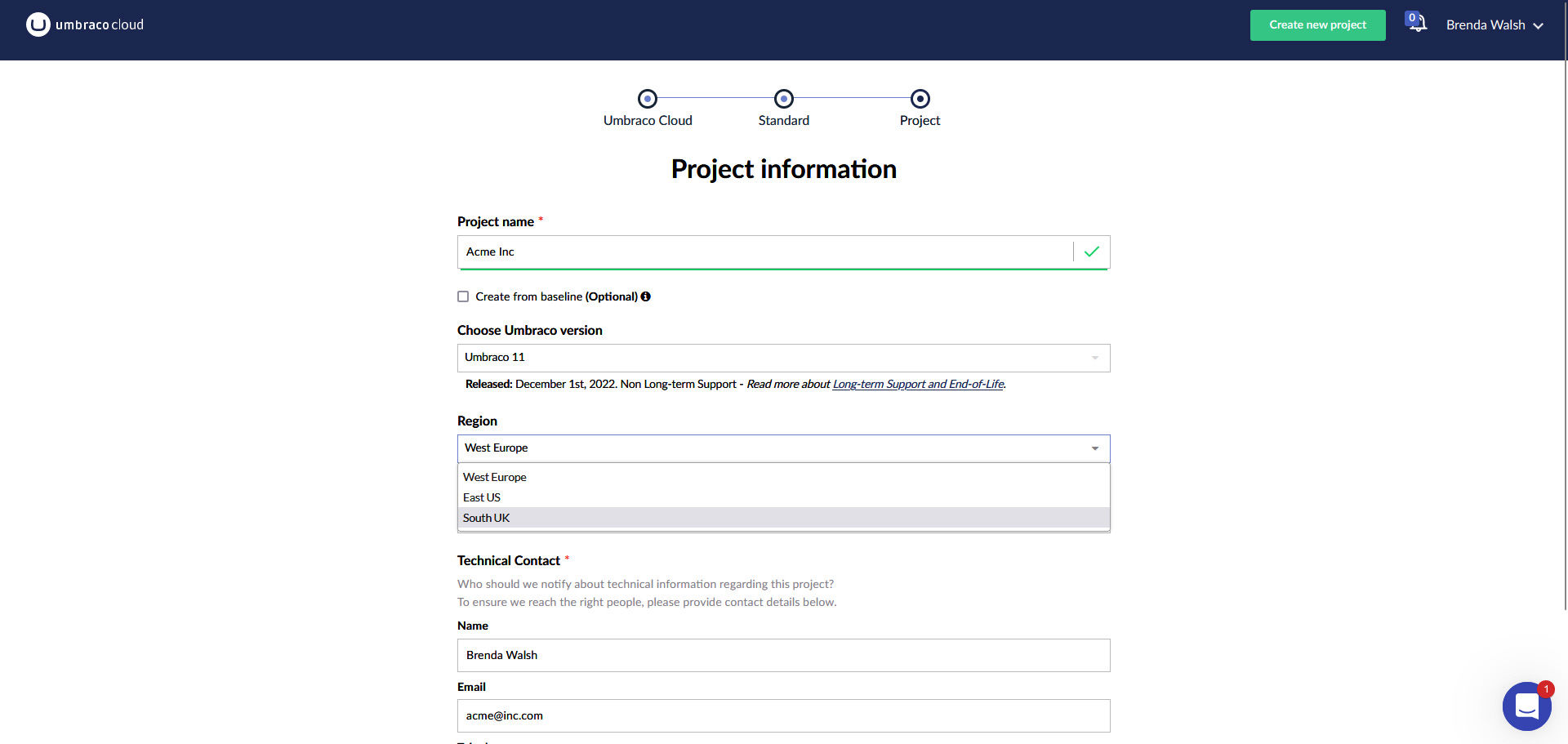 Having multiple regions to choose from simply means more flexibility for agencies and companies that work internationally, or have requirements for specific regions. You'll now see there are 3 options available when choosing a region for your Umbraco project:
West Europe is the same Azure data center that Umbraco Cloud has always used. Located in the Netherlands, it is a central location for Europe-based clients and projects, and with good connection to the rest of the world.
East US is the perfect option for US-based projects and clients, and an attractive option for the Americas in general.
South UK is the new option available, allowing you to make use of the UK Azure data center to host your Umbraco projects.
Existing projects can also be migrated to a more suitable region. For more on this see the Migrate between regions documentation or reach out to your partner manager or the support team if you have any questions.
Enabling more Umbraco projects to succeed 🌤️
We want to see partners and end clients succeed with Umbraco. The flexibility gained by adding more options and control in terms of hosting is another piece of the puzzle that makes Umbraco Cloud the natural choice for new Umbraco projects. It fits perfectly with all the other great tools and features that are built for the platform such as automated upgrades, content synchronization, deployment workflows, CDN, caching, and security features, just to name a few. 
If you want to learn more about the Umbraco Cloud platform you can book a free session with one of our Cloud Experts and they'll get you up-to-speed on the features and roadmap, and how it helps you build and maintain Umbraco sites. 
Learn more about Umbraco Cloud
As excited as we are about making Umbraco Cloud available in the UK, it is equally as exciting to have the ability to expand to new regions in the future. If you have specific requests regarding the next region you want Umbraco Cloud to expand to or other features you think will help you and your clients to succeed, you're always welcome to reach out at product@umbraco.com.