Overview:
What's new in Umbraco Deploy 4.7/9.5/10.1?

Single Language Content Transfers
Deploy For Scheduled Publishing
Performance Improvements
Other Updates

How to test
How to get your hands on the release candidates
When is the public release?
The releases are available for solutions based on CMS versions 8, 9, and 10 and are functionally equivalent. As such if you are using the product in Umbraco 8, you can update to the release candidate for Deploy 4.7.  With Umbraco 9, Forms 9.5 should be used.  And if you've started a project with Umbraco 10, then 10.1 is available as a release candidate as an upgrade.
As with previous releases, we are issuing them first as release candidates so you can evaluate what's included and ideally try them out on your existing solutions. Of course, if you do find any issues, or simply have comments for further improvement on the new features, we welcome any feedback.
How to get access to the new versions and where to submit any comments and report issues, are discussed at the bottom of the post. 
Let's have a look at what you can expect in this latest release 👀
What's new in Umbraco Deploy 4.7/9.5/10.1?
Single Language Content Transfers
In terms of features in this release, the main focus has been on giving editors more control over how they transfer content between environments.  Many customers make significant use of this option, allowing them to prepare and fully review content in a staging environment before deploying the updates into production.
Up to now, even if a piece of content exists in multiple language versions, it's only been possible to deploy it as a single item.  This means that for example if publishing an English version, edits made in a Danish variant will also be transferred, even if they aren't yet fully reviewed.
With the latest release we've added an option to the Queue for transfer dialog, allowing editors to select a single language for deployment.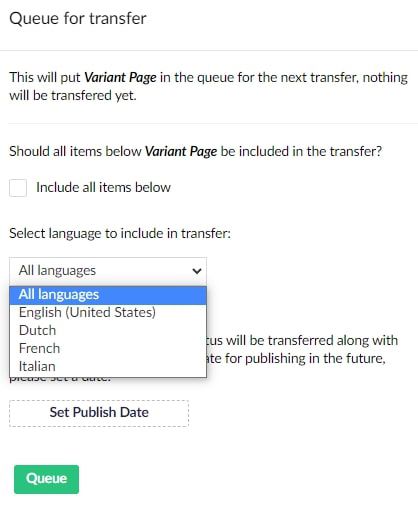 The option is also available from the immediate "Transfer now" dialog available from the content editing screen.
Deploy For Scheduled Publishing
When transferring content into an upstream environment, the published status of the items will be deployed too.  So if the content is published in the current environment, the changes will be deployed and the item immediately published in the destination.  If the content is unpublished, it will be transferred in its unpublished state.
For most situations, this is what is required, and will continue to be the default behavior.  However, there are cases where editors have changes prepared and reviewed, want to schedule them for publishing in the future, but don't want to remove the changes from being published in the staging environment.
This option is available now via a second addition to the Queue for transfer dialog, where a publish date can be set.  If selected, when the queued items are transferred, the content changes will be saved but not published, and the selected publish date set.  The content will then be published live at the appropriate time, using the standard scheduled publishing feature of the CMS.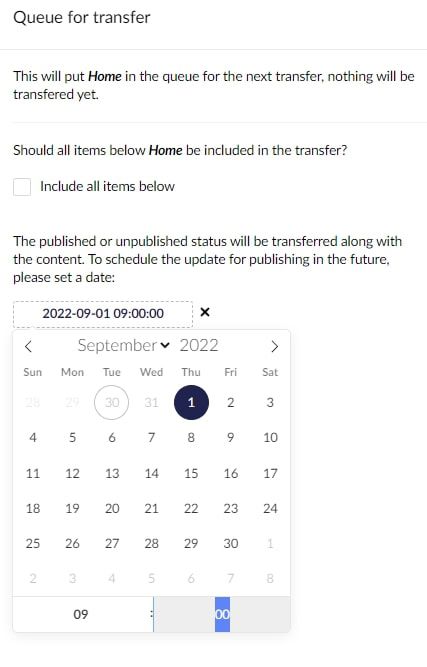 As part of these efforts, we also improved the transfer queue feature, abstracting and re-implementing it using a database table. With this in place the user's selections of items for transfer will persist across application restarts.
If for any reason there was a need to revert to the previous implementation, which uses an application in-memory cache, a configuration setting is available
Performance Improvements
A lot of focus for this release has gone into improving the performance of existing Deploy operations.  We've had reports of and seen ourselves situations where a customer has a "heavy" site - in terms of amount of content, use of nested or block content and/or multiple languages - significant slowdowns of CMS functionality can be experienced.
Umbraco Deploy maintains a "signature" representing each item within Umbraco, created based on its properties and dependencies.  This is updated when items are saved in the backoffice and hence can be a cause of slow save times, as well as impacting deployment operations themselves.
With this release we've introduced an internal cache available for all Deploy operations, allowing us to ensure repeated data requests - for example when checking the existence of dependencies, or looking up user information - don't need to go back to the database each time.  You can see this in use within the open-source "contrib" component of Umbraco Deploy, in the value connectors used for nested content and the block list editor.
For small sites, or sites not using the particular combinations of complex content property editors and multiple languages, there may be no noticeable difference.  But we expect significant improvements to be apparent for customers making heavy use of these features.
Other Updates for Umbraco Deploy
The other updates included in the release are as follows:
How to test
You can either create a new installation using one or both of these packages that are available from the links below or upgrade an existing project.  Both scenarios can provide valuable feedback.  If upgrading, you may find you need to bump your client-dependency version.
If you find anything in the release candidates that are not working as you'd expect, we'd be grateful for feedback on the Github issue trackers for Deploy. You're welcome to add comments to the features and fixes listed linked above or to submit new bug reports (click New Issue and select Bug Report), please prefix the issue with 4.7RC, 9.5RC, or 10.1RC.
How to get your hands on the release candidates
Release notes can be found on the our.umbraco.com page. 
The release candidates are available from the appropriate NuGet feed:
We've also updated the Deploy Contrib project, with release candidates for this also available from the respective NuGet feeds:
If you are using Umbraco Cloud and are happy to run some tests there, please reach out to Umbraco support and we can make available the files to run the RC on your project.
When is the public release?
We're aiming for a full public release on Thursday, 22nd September 2022, when the packages will be available for new and existing projects on Umbraco Cloud, via Nuget, and/or the download page.
A big H5YR 🙌  to everyone who has contributed to these releases by highlighting pain points, reporting issues, providing feedback, and suggesting solutions. And thanks to everyone willing to lend a hand in testing it out.
Bug reports are best handled on the issue tracker and as always, we welcome you to submit product feedback and questions to product@umbraco.com.